What It's Like Recovering From a Surgery While Planning the Next One
---
I have Ehlers-Danlos syndrome (EDS). As a result of this, I have had some of the most challenging last few months of my life.
Due to the EDS, I was getting extremely weak, dizzy and sometimes even passing out. I was having extreme pain in my neck and at the base of my skull. I had trouble bending over because I would get a strange burning in my face that I described as getting highly chlorinated pool water up your nose. The back pain I was having I described to my doctors as "make you not want to live anymore." I was so desperate for help and I just wanted the pain to end. I was in a dark place. I just couldn't imagine living the rest of my life like that.
My geneticist had suggested that she thought I had craniocervical instability  and possibly  Arnold-Chiari malformation and tethered cord syndrome. After some testing it was determined that I did have these things. The problem was the top specialist for neurosurgery in EDS is in Maryland. I live in Florida.
I immediately put my pride aside and asked friends, family and strangers, via the Internet for help getting me the funds I would need to see the neurosurgeon, travel costs, expenses for follow-up care, back and neck braces – you name it. It all adds up.
I was fortunate enough to have my Chiari decompression and fusion of occipital bone to cervical vertebrae 2 on February 8, 2017. I've had multiple surgeries over the years, but by far, this was the most difficult. I awoke to difficulty swallowing, occipital neuralgia and trouble with my memory. These are problems I'm still working on, now five months later. They say sometimes EDS can delay healing as well as cause issues with dysphasia, so these are things that are a new reality for me. Some symptoms have improved, such as the burning in my face and the dizziness. The headaches I was getting are somewhat better. It was determined I had brainstem compression and my bones in my cervical spine and the occipital bone were all subluxing, causing a dangerous situation for my brainstem and cerebrospinal fluid flow.
At a recent re-check, I mentioned my continued weakness of my legs, problems with bowel and bladder function and loss of feeling in my lower extremities. I've had to start using an ultralight wheelchair. After some further testing, my neurosurgeon determined that I will need to have tethered cord surgery. When you have the cervical fusion, it can lengthen your spine, therefore exacerbating any tethered cord issues.
This explains why the issues I've had related to the tethered cord have gotten worse since fixing my cervical spine. When I got the news that I would soon be getting ready for yet another major spinal surgery, I was filled with emotions, "I am ready for this? I'm still healing from the last surgery. How will I afford this all over again?! Why me? Damn this EDS!"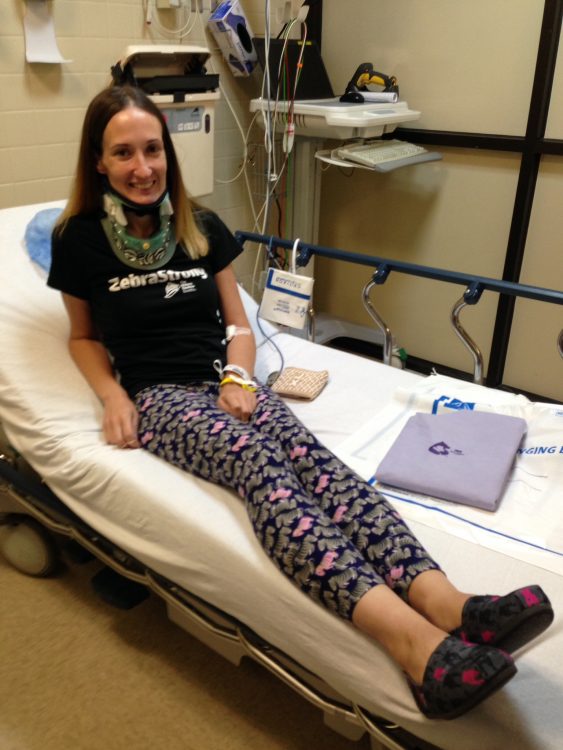 My last surgery resulted in a major life change. To say the least, not all families are prepared for a partner who's chronically ill and will have multiple, serious surgeries. The good thing that came from this is I have now found people who do want to be there, to hold my hair back when I'm choking and vomiting. People that don't mind pushing my wheelchair and have become experts at explaining to doctors, nurses and the general public just exactly what is wrong with me. Those who take time to educate themselves about EDS and all of it's fun friends, so that they can safely take care of me and speak up for me should the occasional fainting spell or brain fog come along. Family that steps up and volunteers to sit with me round the clock at the hospital to be sure the nurses crush my pills, and make sure I'm never alone.
With this next surgery rapidly approaching, I may not be financially prepared, but I do know this: thanks to the last surgery and recovery, I know who has my back (pun intended). I know that this small clan will rally around me and pick me up both physically and emotionally when I will inevitably fall. They will be there to feed my fur kids, talk with me (even when the pain meds make my speech garbled), feed me and dry my tears.
I'm still very anxious for my upcoming surgery. I'm wondering how I will get the means for it all and if it will help my symptoms or just stop the progression. One thing I do know is that I've been through this before and I've made it through each time. No matter how hard, I can do this again!
If you or someone you know needs help, visit our suicide prevention resources page.

If you need support right now, call the National Suicide Prevention Lifeline at 1-800-273-8255, the Trevor Project at 1-866-488-7386 or text "HOME" to 741-741. Head here for a list of crisis centers around the world.
Follow this journey here.
We want to hear your story. Become a Mighty contributor here.
Thinkstock Image By: wernerimages