Finding Strength at Rock Bottom With Chronic Illness
---
Ironically, the sharp contrasts in my general appearance seem to reflect a similar contrast in my life day to day. At times, hour to hour.
• What is Ehlers-Danlos Syndrome?
• What Are Common Ehlers-Danlos Syndrome Symptoms?
It's surreal how fast it happens.
How unpredictable it can be.
How quickly I can go from "OK" and looking fantastic to severely unwell.
It's a perfect visual for the contrast between my life, visually, when l am able to leave the safety of home and what often happens when I return home.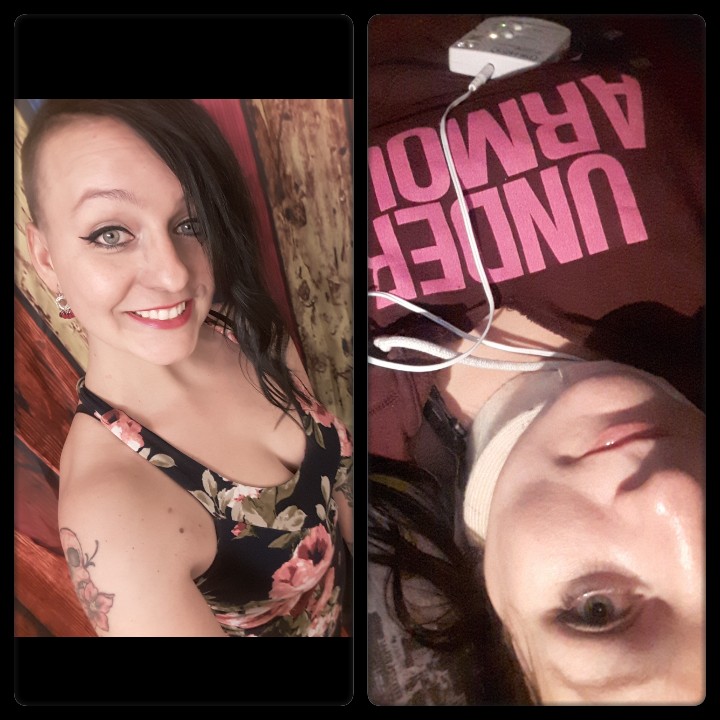 My neck has been a big problem again lately after a few months reprieve.
I'm learning not to expect symptoms to disappear when they come and go but to accept that, often, they will wax and wane, with occasional storms or flares along the way. I'm noticing seasonal trends, new issues as some review treatment. I had to learn this on my own through dozens of terrifying waves of some of the weirdest physical symptoms I've ever seen, eventually being thoroughly tested for the possibilities of immediately life-threatening issues, and coming out the other end alive, sometimes better in terms of that symptom or issue. It's always temporary and that kind of acceptance can seemingly disappear at the drop of a flare's hat. I've been forced into gratitude I find difficult to articulate on days I am able to enjoy very freely, with symptoms only existing in the background.
These are the days people see me and may feel confused about the severity or realness of my illness. Because it's never talked about, most don't understand these basics about chronic illness. It's easy to make moral judgments or incorrect assumptions based on inconsistencies inherent and generalized to many chronic illnesses. The mechanisms may vary but often symptoms overlap and the medical tendency is often to look at the most common causes first. Apparently regardless of my own experiences.
It's been a long road to the diagnoses I do have and there is still so much we don't really know for sure or fully understand. The obstacles don't decrease but with hard work and self-advocacy at least decrease or change. I'm learning some tips and tricks along the way and starting to connect and build my networks and emotional supports with the power of technology and online support groups.
And I'm beginning to reap some of the benefits of unpredictable health, since I certainly can't cure the genetic defects.
It's an incredible blessing to be able to move freely with my kids, to laugh and smile without being tainted by sharp reminders of how different life is in my world. How random life can be in distributing its oddities and challenges and how, when looked for closely enough, really aren't that rare or uncommon.
I'm learning to understand that reaching my breaking point is an unavoidable part of living with my chronic disease(s) and that each time I collapse, breathless, certain I can't keep holding on another moment, I do just that. Somehow, time moves forward anyway.
I'm learning to speak up for myself in situations I could once never imagine, to value my extreme sensitivity and attention to detail, to communicate in different ways that don't rely on my ability to say it in any given moment or circumstance.
I'm learning to trust and believe in myself in ways I could have never learned otherwise.
I find my own personal growth sky rocketing after some of the most desperate moments, and as much as I hate to admit it, despite all the brutality along the way and the unclouded knowledge that the obstacles, flares and ignorance may never end, I am able to find some peace in that gratitude and acknowledgement, even if there's not a lot of hope or guarantee I will ever be "normal" again.
Originally published: November 3, 2017