The Moment I Decided to Stop Hiding My Braces, Slings and Crutches in Photographs
---
It was a perfect night at the beach. The warm breeze tickled my face as I watched my two children chase each other towards the rock pier. My husband's hand felt strong in mine as we walked through the soft sand. The moon rose slowly above the water, reflecting the sun's rays as it sank behind us to welcome the night.
"Let me take a picture of you," my husband said as he climbed into the lifeguard's long-abandoned chair. Our daughter ran up and put her arm around me for the shot, nestling her head on my shoulder. "Don't you want to take off your sling?" my husband asked before pushing the shutter.
Four weeks before this moment I had my second elbow surgery in four months and am still wearing a compression sleeve and sling while I recover. As someone with hypermobile Ehlers-Danlos syndrome (hEDS), wearing aids is not new for me. I often have a brace of some kind either on my body or tucked into my purse for emergency moments. Crutches and a cane live in an easily accessible closet in my bedroom.
While they may be a part of my regular life, I've always felt embarrassed about their existence. I hate the stares I'm given from passers-by and the unprompted questions I receive about my health from strangers. I hate drawing attention to myself in public and wearing a health aid makes hiding in the shadows impossible. Funny, since most of the time I feel invisible when struggling through the pain, nausea, dizziness and exhaustion that come along with my condition.
In my mind, I don't need braces or crutches or slings. Although I live in constant pain and have frequent injuries and dislocations, I try to visualize myself without these aids in an attempt to feel more "normal." When it comes time for someone to immortalize a moment, such as the beautiful moon rise that night on the beach, I quickly remove a brace before a photo is taken, hide my crutches or ask someone to take the picture waist-up to hide any tell-tale signs of an aid on my knee or ankle. I want my kids to look back on these photos and remember the moment and the place, not my illness.
During the six years I was lucky enough to live in London, we traveled extensively with our family, trying to make the most of our time overseas. We took photos everywhere – from Bali to the Seychelles. Knowing we may never return to these incredible spots, I wanted to make sure we preserve them in photographs. In York, I hid my crutches behind stone walls. In Spain, I wore an air cast on my ankle, prompting photos to be taken from the waist-up. In the Seychelles I stood behind volcanic rocks to hide an ankle brace. In Italy, I hid my wrist braces under a coat.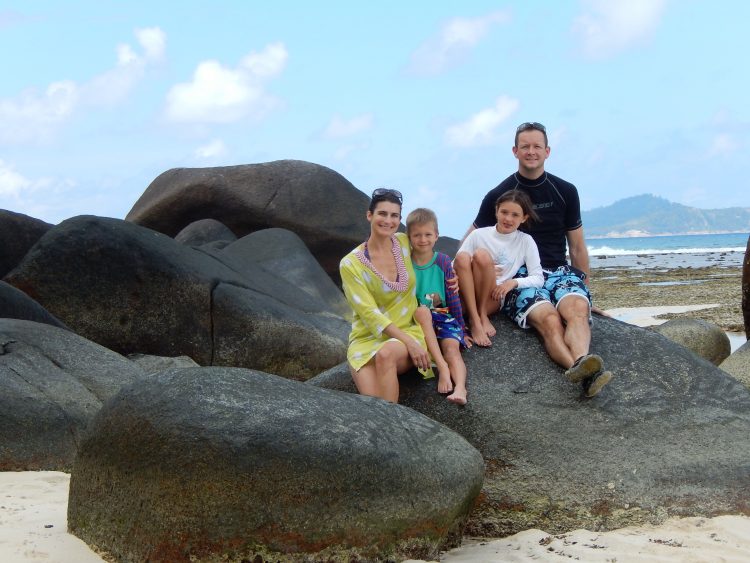 When I look back at these albums now, I find stray photos that were taken before I had a chance to hide my aids, or I can see a crutch poking out from behind a kid who was purposely placed in front of me to hide it. It's a bit like trying to find Waldo when searching through these memories. When I catch sight of a rogue cane, I remember the dislocation, subluxation or fall that led to the use of that aid. That is what I remember first. The beautiful Portuguese church behind it comes next; hence my desire to send my crutches into obscurity.
The other night, when my husband prompted me to remove my sling, he was doing something I had trained him to do – altering our memory to one that was more "perfect." We all do it. Spend a few seconds on Facebook and you'll see what I mean. It's swamped with photos of happy, smiling families. Chances are, just before those shots were taken, one of the kids was whining, talking back or pummeling his sibling. The adult had likely downed a glass of Pinot to try to calm her nerves. Once those photos are posted, however, all we see is perfection.
As I looked at my husband, my iPhone gripped in his two strong hands, I realized I was sick of pretending to be perfect. I was tired of the effort it took to hide my aids. The weight of my daughter's arm resting across my back reminded me that she, too, has hEDS, as does her brother. My habit of secreting away my aids might have taught my children to be ashamed of using the braces, crutches and slings they may need when they're older. Instead of being reluctant to show off my aids, I need to be grateful that they exist; for without them there are days I would likely be stuck in bed, unable to walk far enough to see Big Ben, the Eiffel Tower or my son's little league baseball game.
With that in mind, I readjusted my sling, pulled my daughter in closer, smiled and said, "Nah, I'm going to leave it on."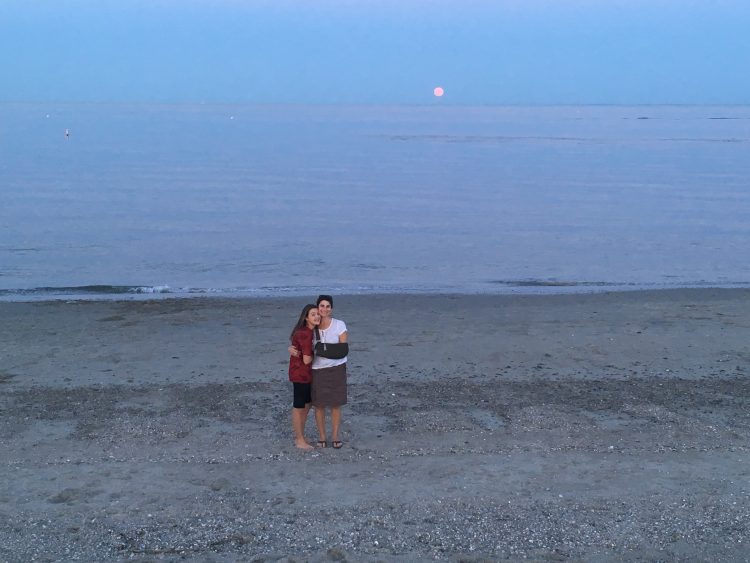 We want to hear your story. Become a Mighty contributor here.