40 Brilliant Ways to Make Ehlers-Danlos Syndrome Medical Devices More Fashionable
---
Living with a connective tissue disorder like Ehlers-Danlos syndrome (EDS) often means wearing braces, using assistant devices or other aids that make our lives easier. In my case, it is a neck brace that accompanies me through large parts of my life. My wardrobe is full of braces for my knees, hips, neck, ankles, and wrists. I also have ring splints, compression tights, canes, and sometimes I get the impression that my Amazon shopping list consists mainly of medical products. While other people shop cute shoes or bags, I try to find affordable products that relieve my symptoms.
Whether I show my braces or cover them up — for example, I might wear a scarf to hide my neck brace — depends on how I am feeling and where I am going. I am not ashamed for wearing my braces; I just feel they could be a bit more fashionable — especially if I have to wear them for most of my life.
We can choose our clothes, so they fit our personality, but we don't have much choice when it comes to the supportive devices we need to function in daily life. So I started to search for people who personalized their braces and found amazingly artistic work that inspired me to re-design mine as well. Since I am not a very talented handicrafter but was sure the EDS community had a lot to offer, we asked for their fashion tips for living with EDS. 
And those are the incredible tips they shared with us: 
Wheelchairs
1. "My hair matches my wheelchair, so that's fun! I also got these lovely push rim covers on Amazon that are cute and functional. I like to bedazzle braces too! I sported a bedazzled neck brace for a while. It definitely helps lift my mood!" – Mahala H.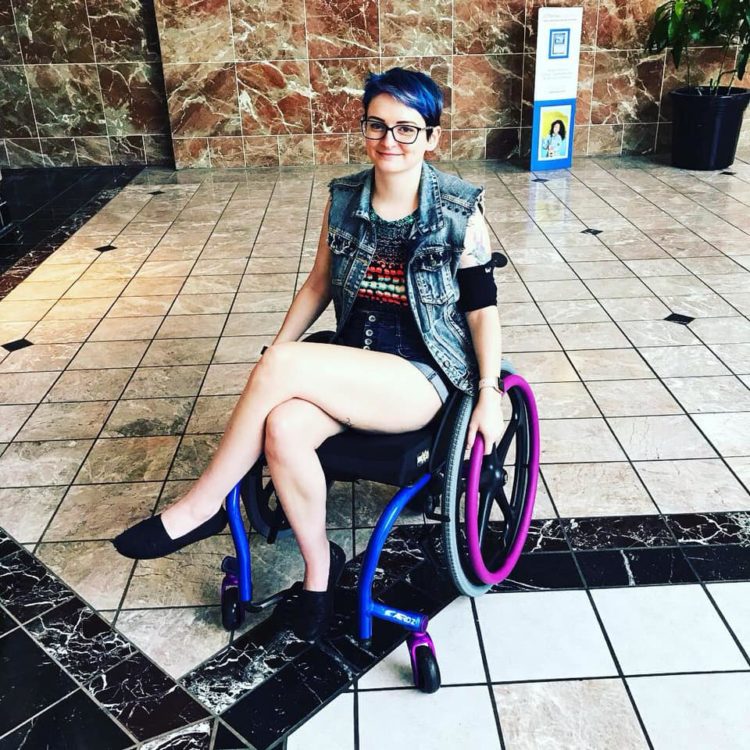 2. "I made my chair a little more colorful. I tried to get my doctor to do a heart shaped incision when he implanted my second pacemaker, but he refused. LOL." – Jamie H.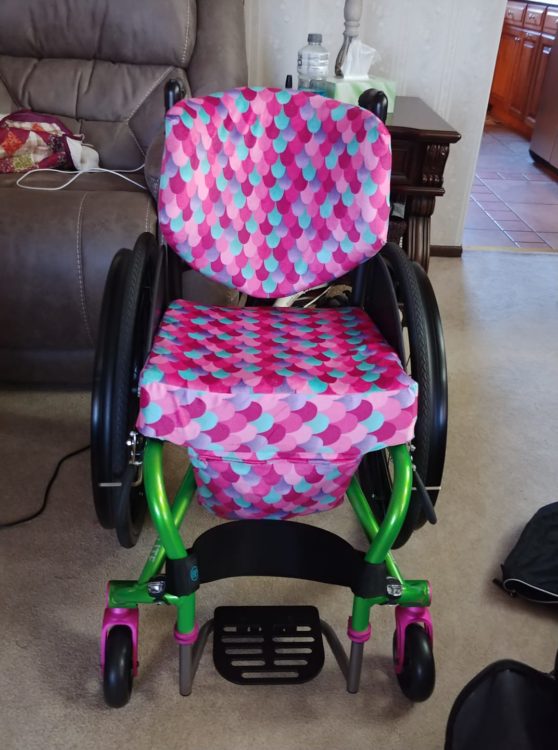 3. "My wheelchair is a great teal color, my gloves match. I try to wear a color that complements it also. If you can't choose your wheelchair color, you can always call around to car painting or industrial powder coating places and see what they would charge you. I wear fantastic headscarves for spiritual reasons, but they are also just great fashion accessories." – Brittney B.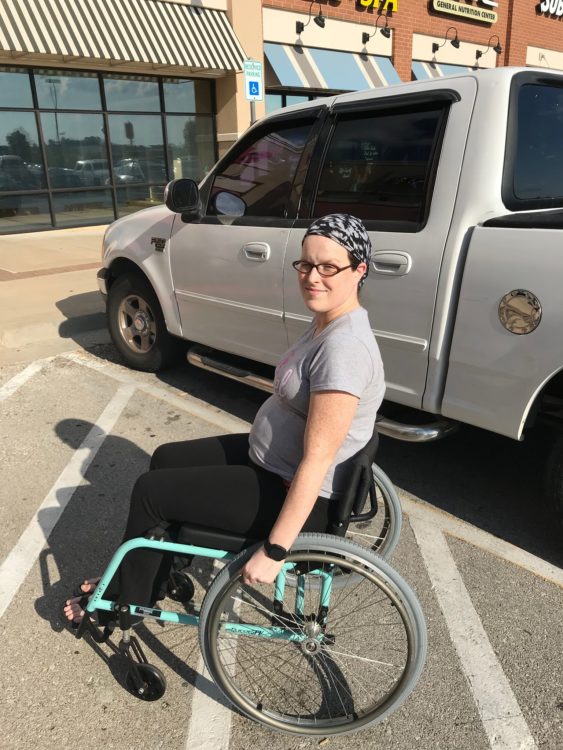 4. "I used copper foil on my plain wheelchair to give it a more expensive and chic look. Before that, I used sticky-back plastic on the side panels to add some pattern. I was inspired when I found a zebra print version on sale for £4!" – Amber B.
5. Gullu K. suggests wheel covers from Izzy.
6. "I found accepting I needed a wheelchair really difficult. To make it a little less 'wheelchairy' I decorated it with patches on the back, to make it reflect me a bit more!" – Jas O.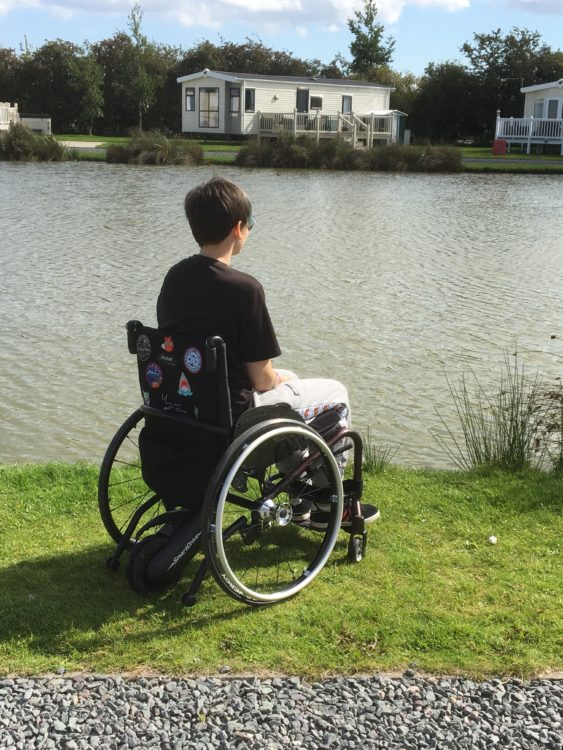 Canes
7. "My cane is painted to look like a sunset! I had it for a year (NHS standard issue) before I finally decided exactly how I wanted it to look. I always get loads of comments, and it matches most of my outfits too!" – Taran V.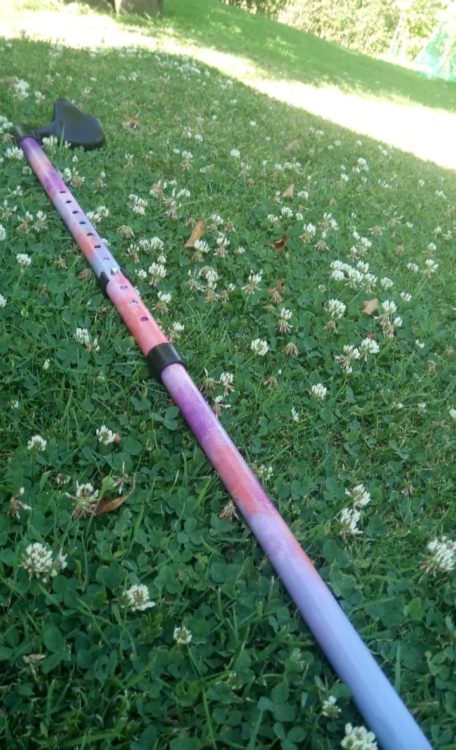 8. "I decorated my cane with a pride flag I got last year and a couple of badges. The handle glows in the dark and is squishy. I also wear faux leather gloves to help with Raynaud's, and I got a short haircut that doesn't need styling so I can conserve energy. I'm still looking for more decorations for my cane." – Lucy E.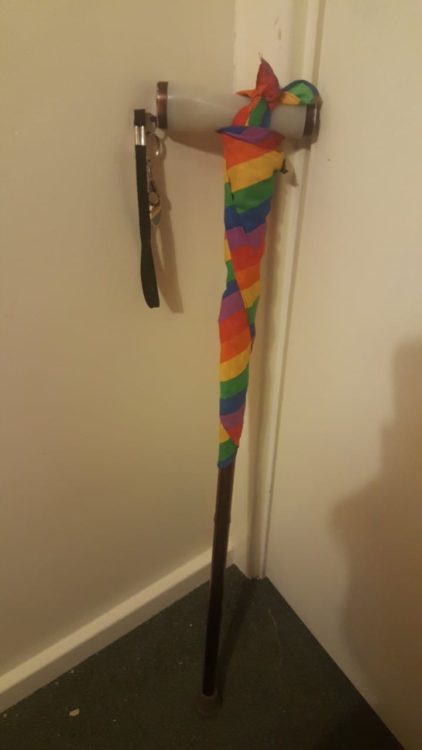 9. "Cane decorated in the style of a homecoming mum." – Kristen M.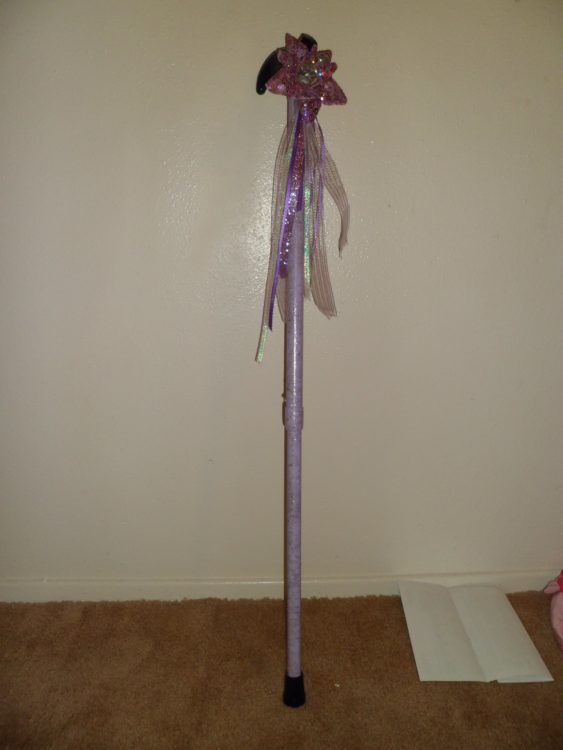 10. "A few tubes of glitter glue, a sponge brush, and clear acrylic turned my cane into a galaxy! I call her Robin Sparkles." – Brenda P.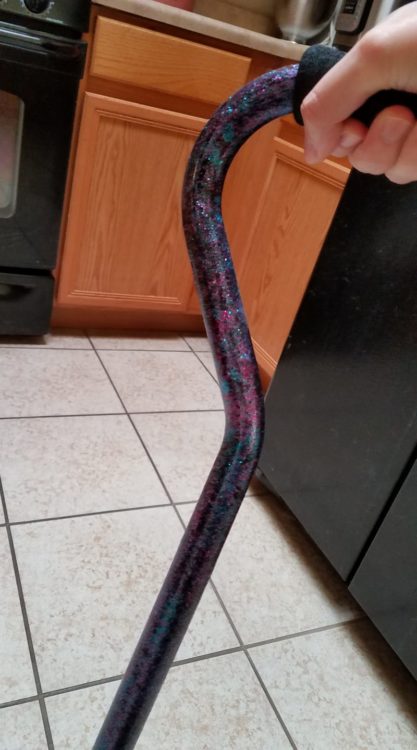 11. "This is just one cane. I haven't done anything to my walker or other cane yet." – Donna C.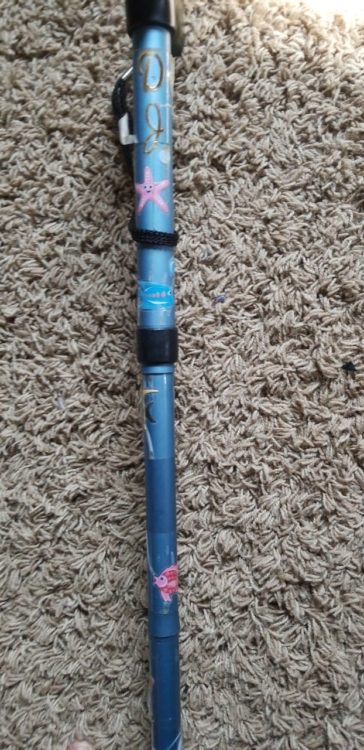 Walkers
12. "I pimped my walker with galaxy duct tape. I took it to class the other day (I teach kids robotics), and all the girls were obsessing over what color their walker would be. I had to remind them it's not just a fun accessory but an actual health tool!" – Skyler K.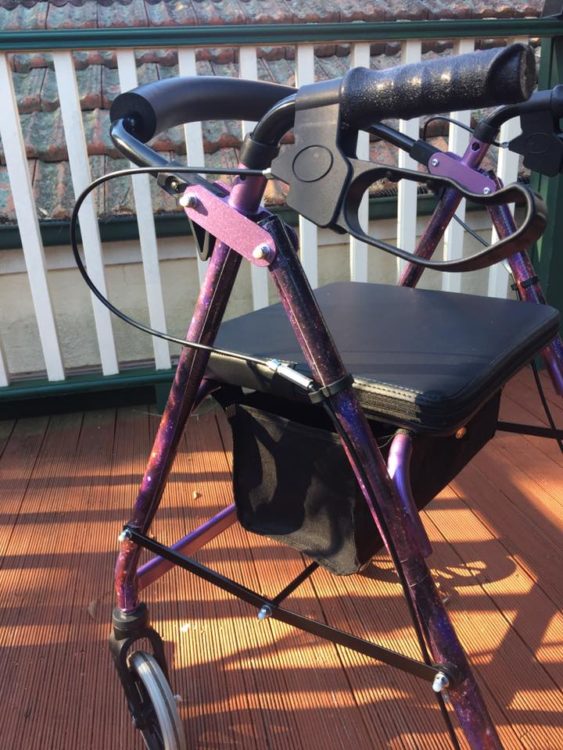 13. "This is a picture of me when I first decorated my walker. I bought it secondhand and spray painted it purple, with a coat of silver glitter spray paint on top. I then glued and tied ribbons on the backrest. I take it to university and get loads of compliments and people asking where I got it from, but I tell them I did it myself. It was hard work, but it really brightens my day and makes me feel less self-conscious about my disability." – Mel E.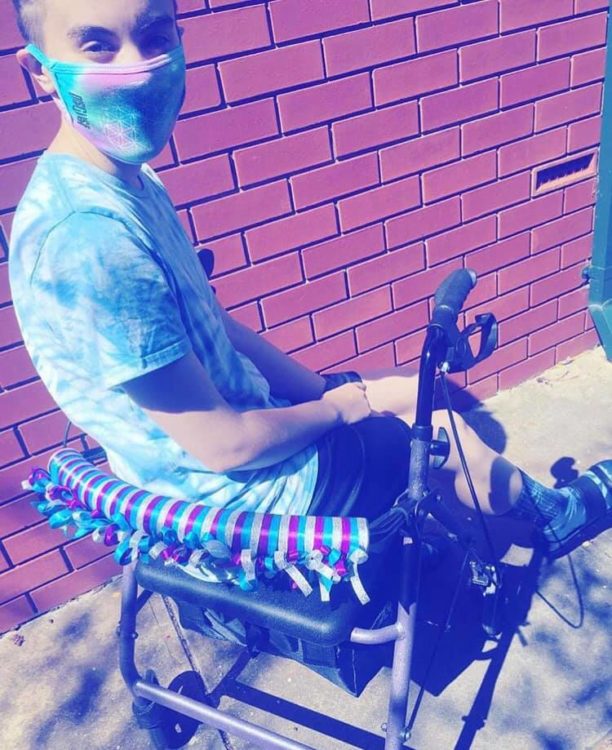 14. "I've recently needed to start using a rollator. Since it's a red rollator, I decided to give it a name and some 'official' identification." – Laura T.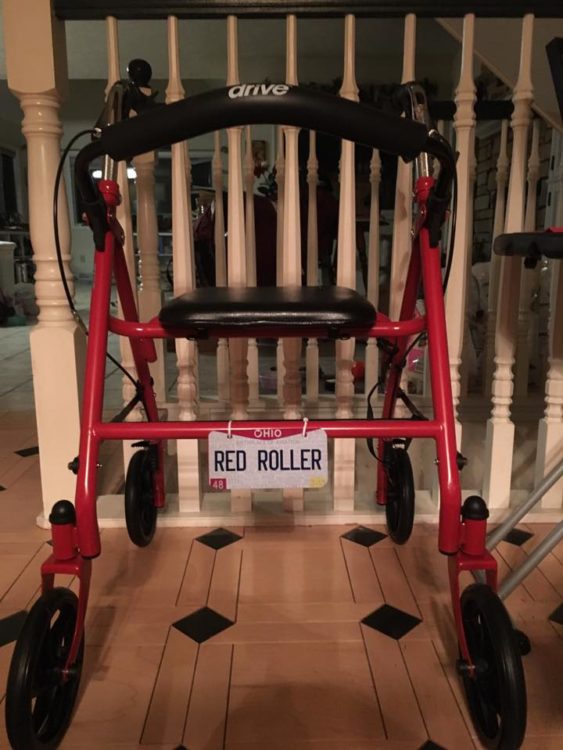 15. "I have a red mobility scooter. I put a Ferrari logo sticker on the front of it because that's my sense of humor. People in town always laugh and talk to me when I'm out on it. It's a nice conversation starter." – Sophie L. 
Crutches
16. "Put a dose of zebra  on my crutches that get way too much use with all my knee surgeries." – Amy T.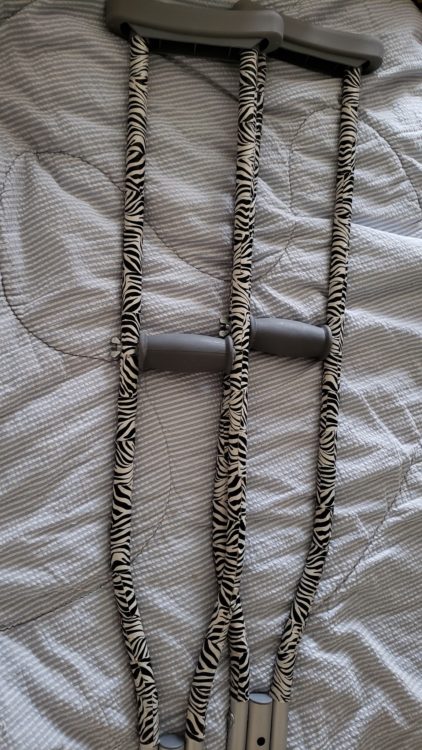 17. "Sticker bombed crutches." – Craig R.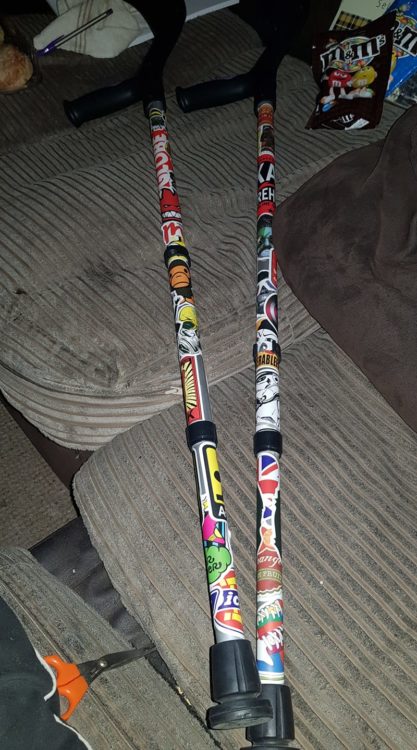 Hands/Fingers
18. "OPI gel manicure with my finger splint." – Stacey G.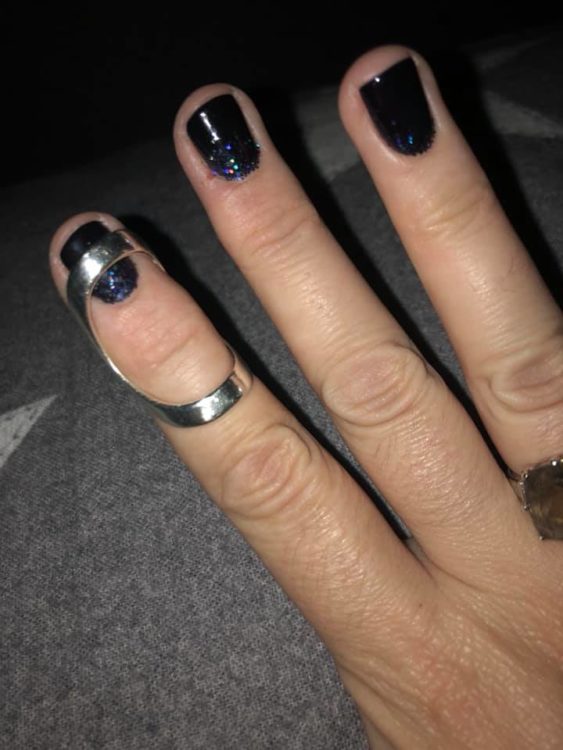 19. "I wear Jamberry nail wraps. They are non-toxic, celiac safe, they don't chip, and they last for weeks. My nails look awesome even when I feel and look terrible." – Sarah A.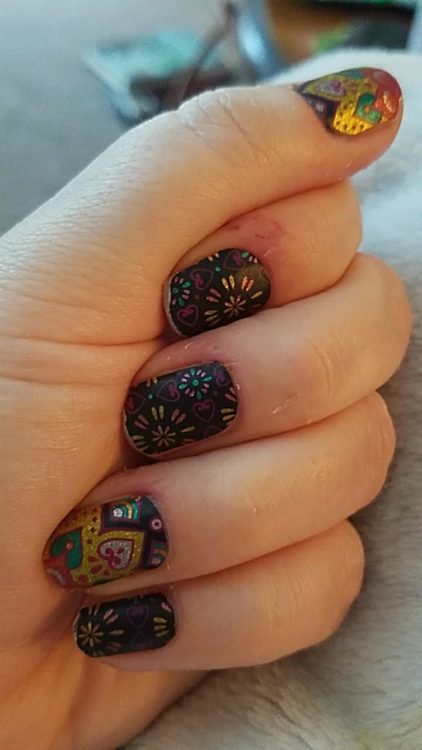 20. "Glitter glue (to use with your glitter of choice/color) and hotfix heart studs (also comes in Swarovski crystals) work wonders on neoprene braces. Those finger splints are actually cheap rings from the clearance section of Charming Charlie's." – Kristen M.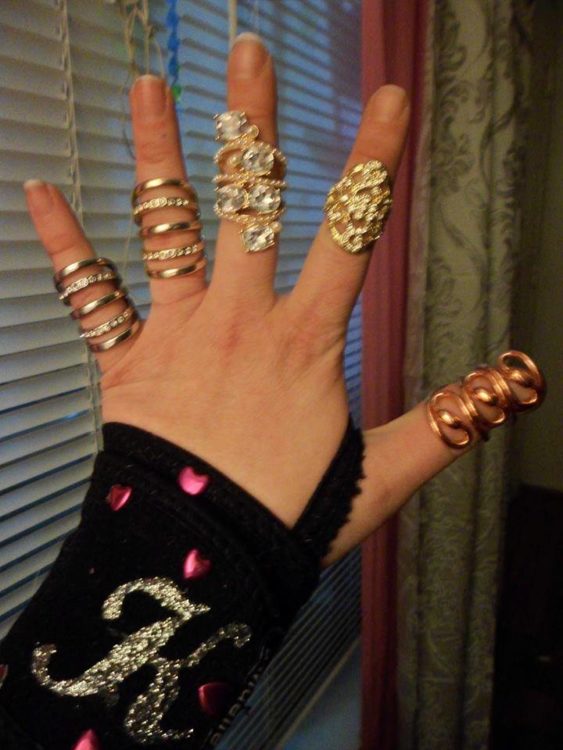 21. "I love painting my Oval 8's!" – Brittany N.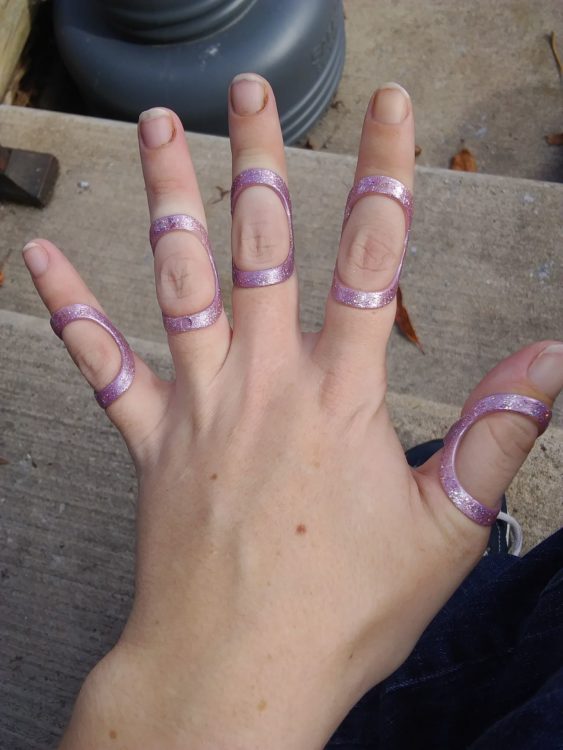 22. "Sometimes when I have a good day, I'll paint my nails to match my service dog's. Even if I look like crap, I make sure she's always on fleek." – Jamie H.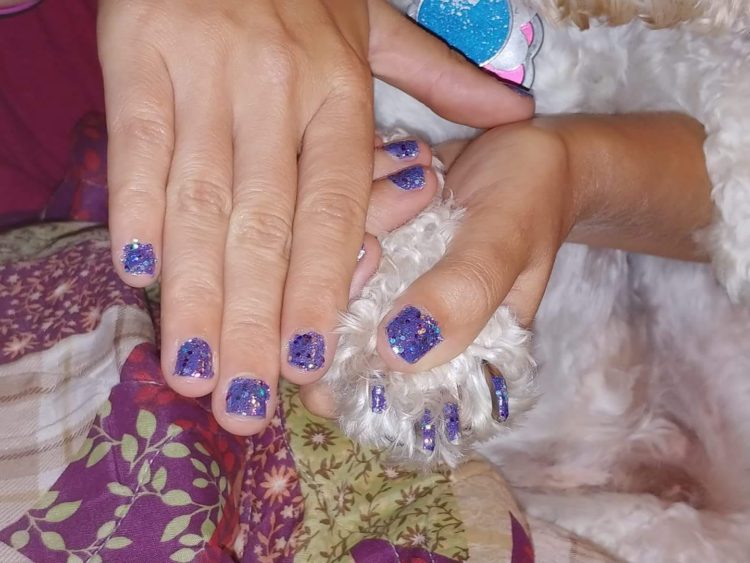 Braces/Tubes
23. "Bedazzled neck brace(s)!" – Maura G.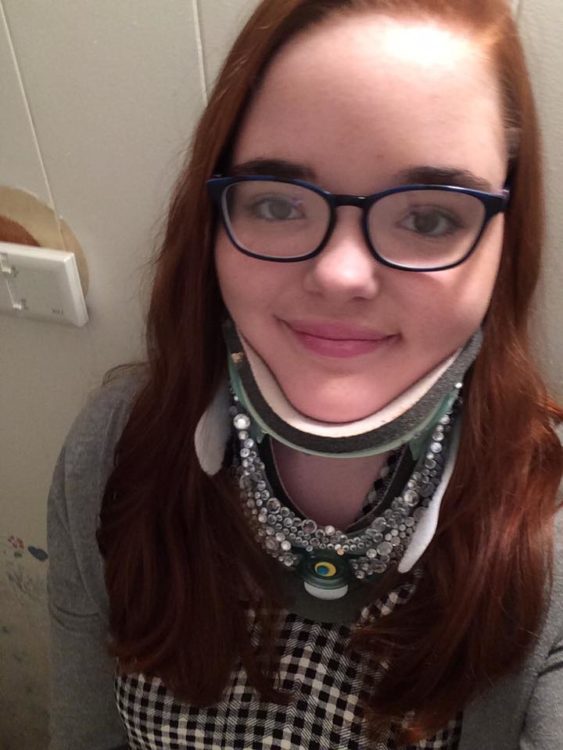 24. "Zebra-field brace!" – Heidi J.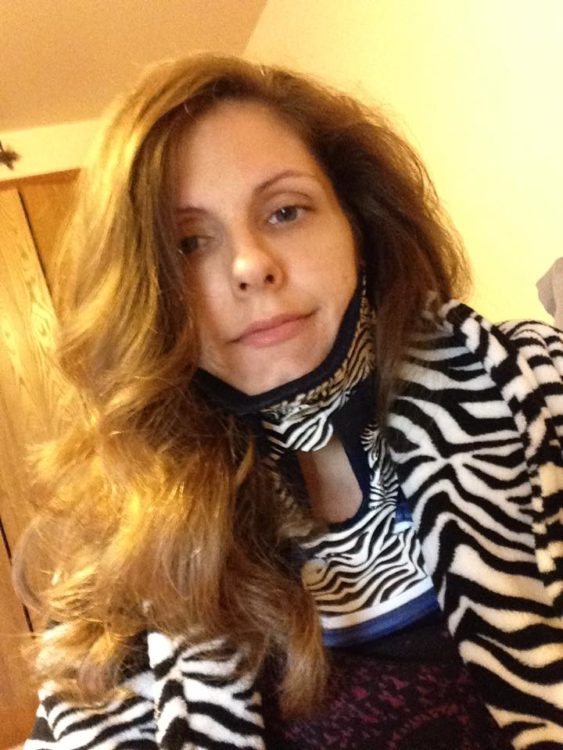 25. "Little sticker gems on my feeding tube!" – Brooke R.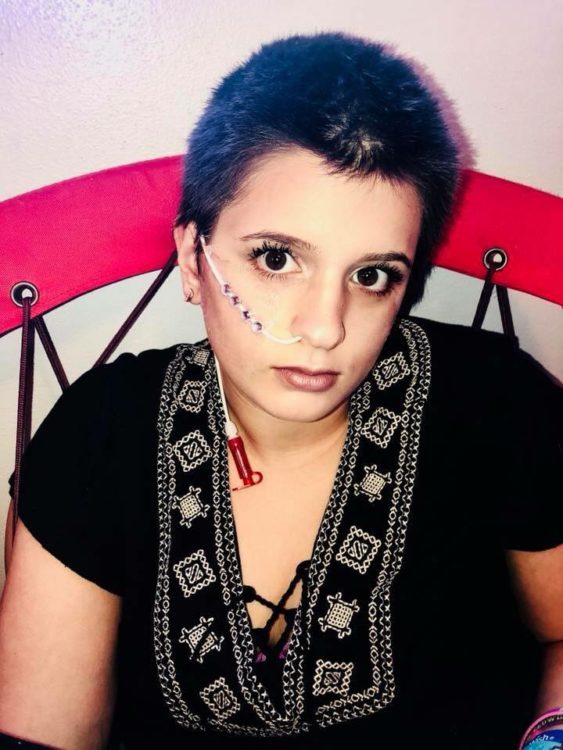 26. "Hiding a sling for a subluxation under a colorful and warm kimono!" – Sarah M.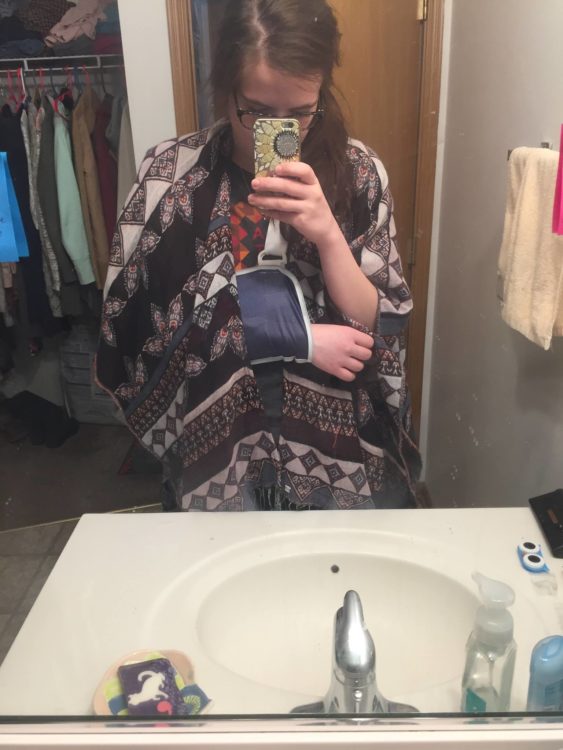 27. "I made this DIY wrist brace tutorial." – Hannah C.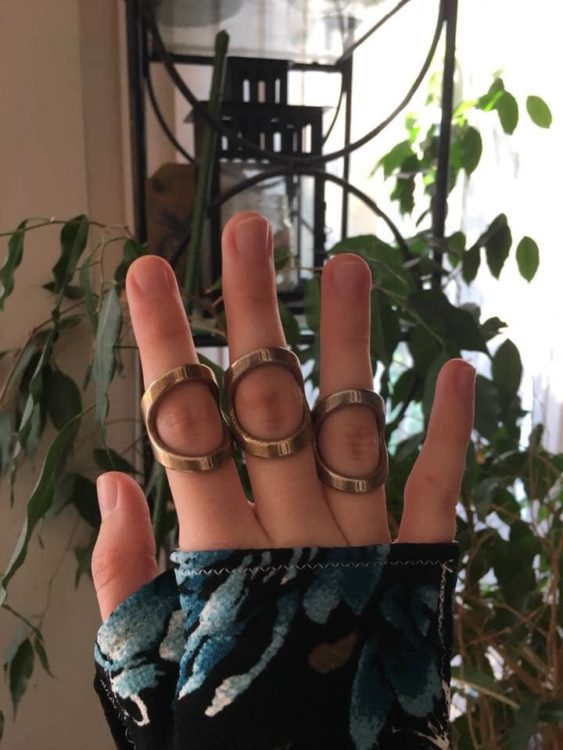 28. "I have kinesiology tape in a variety of colors. If I'm gonna be taped up, I might as well be bright!" – Nina C.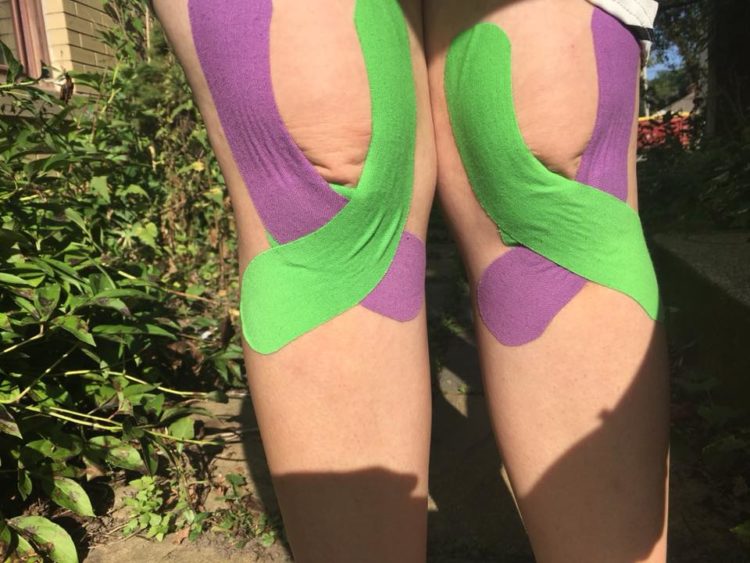 Body Art
29. "This tattoo represents what I go through with EDS, the constant struggle of trying to breathe life into this broken body." – Zanne B.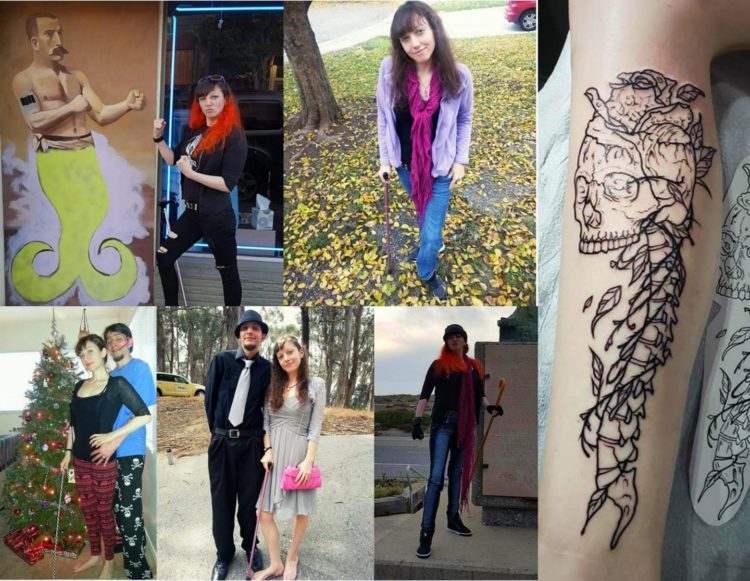 Clothing
30. "I like to wear clothes that show EDS awareness, and I have even made some EDS awareness designs myself. I buy and use a lot of items with zebra print too. I am also a special education teacher who teaches students with severe multiple disabilities such as complex health conditions. We do a lot of art therapy type projects and decorate the classroom. I try to make my classroom and adaptive supplies for students stylish as well." – Sammy V.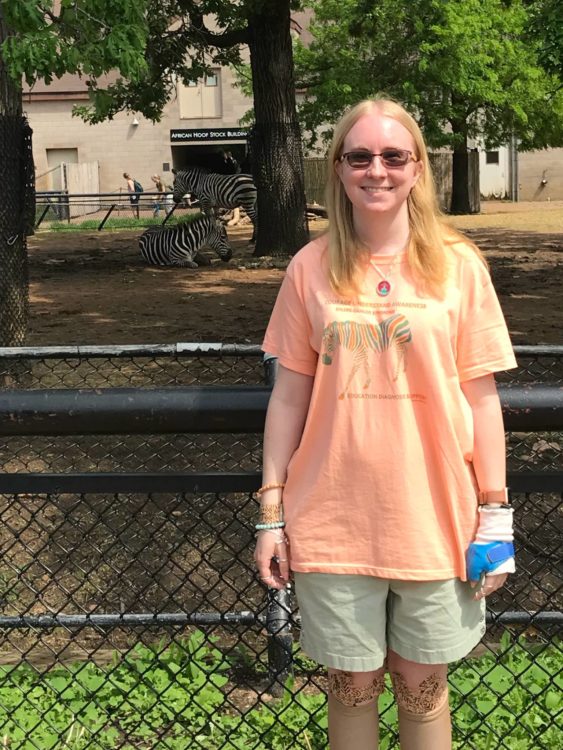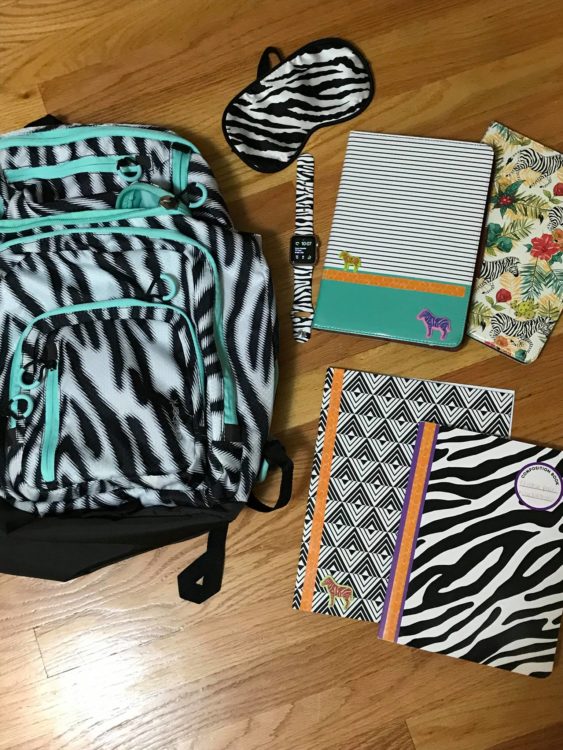 31. "I've started sewing my own clothing. I can make it soft, so it doesn't cause sores on my skin that tears easily, and loose to fit over braces. Plus, it allows me to feel stylish and happy, even when my body betrays me. It makes me feel competent and capable in one area of my life." – Jerritt D.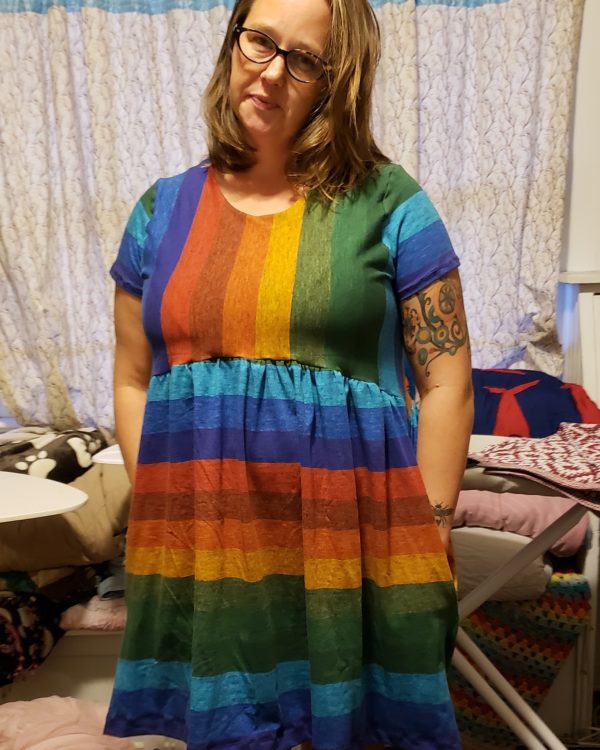 32. "I also have to sew all of my own clothes out of the reason that it is the only way to get clothes that do not rub, cause allergic reactions or put pressure on my body and tissues. I started with making pants, but now I sew my dresses, underwear, coats and all bags, etc. These are my most beloved garments ever. And one of the first pants I sewed." – Soja M.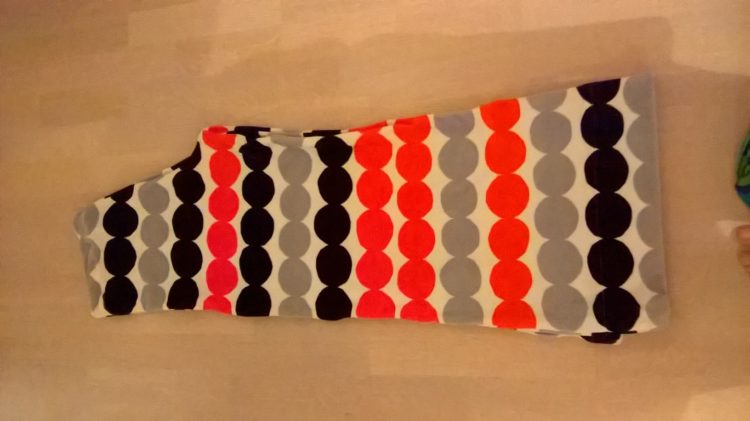 33. "Maternity jeans, especially good for those in wheelchairs, so there are no buttons to dig into your tummy, and no one even knows!" – Lizzi N. 
34. "Sunflower and lion socks to complement knee braces." – Sarah M.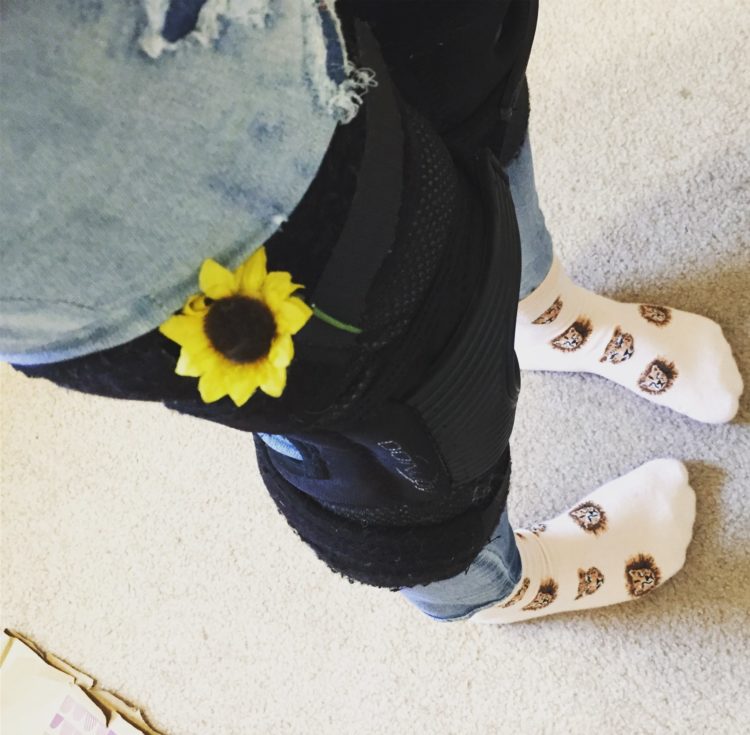 35. "Corsets are great! They are fashionable and help hold in ribs! I also love Buskin or Agnes and Dora leggings, because on days that my nerves are sensitive, they are generally light enough and soft enough not to bother my legs. They are also great for days of swelling/bloating, and look super cute!" – Catherine M.
Hair
36. "After my latest posterior neck surgery, they had shaved so much of my hair — much more than the previous two surgeries. So I had my beautician daughter give me a zebra undercut!" – Heidi J.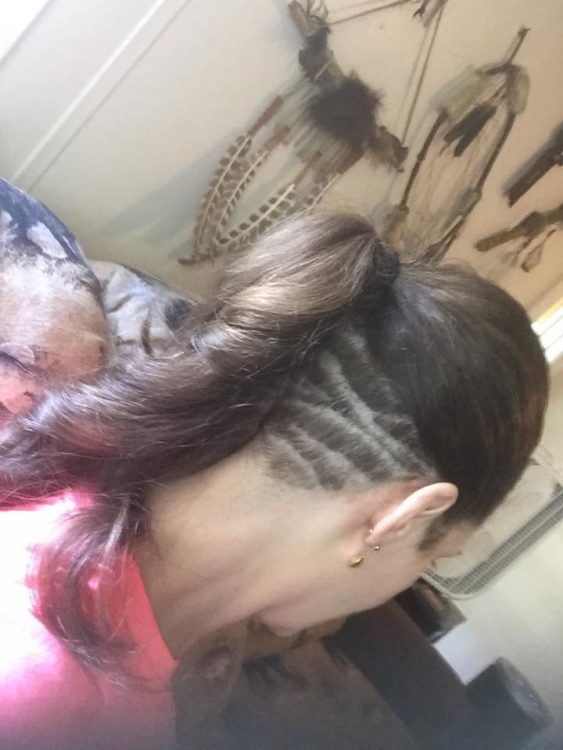 37. "I don't make my wheelchair or sticks fancy, I just make myself crazy because I want people to look at me, not the chair/walking sticks. I've always liked to have bright hair and clothes, wear silly tops, hoodies and hats with big silly ears, so it's important to me to keep my identity so when people see me they are like, 'wow love your hair or cool hat' not 'cool wheelchair'." – Ellen H.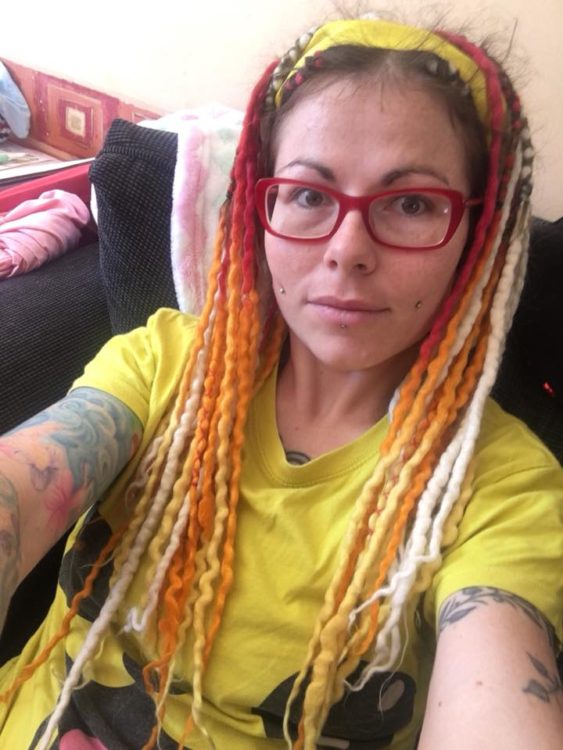 And we all know the EDS community can rock any medical device as a fashion accessory:
38. "This is from the other day when I had some testing done. Such fashion. Such snot waterfall." – Kira M.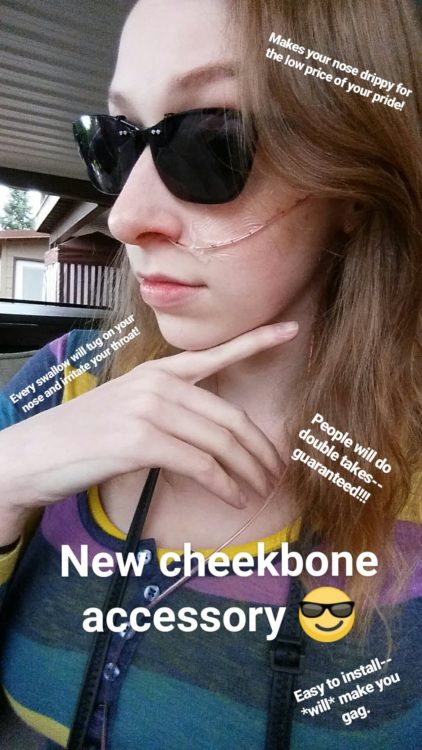 39. "There's a lot to be said for attitude. The first time I had my heart tested, I was so worried about hiding everything, but this time a few years later I've gotten more comfortable with myself and my condition and just didn't really care. At the end of the day if you carry yourself as a fashionable person, then hey, Holter monitors are a fashion accessory." – Ella B.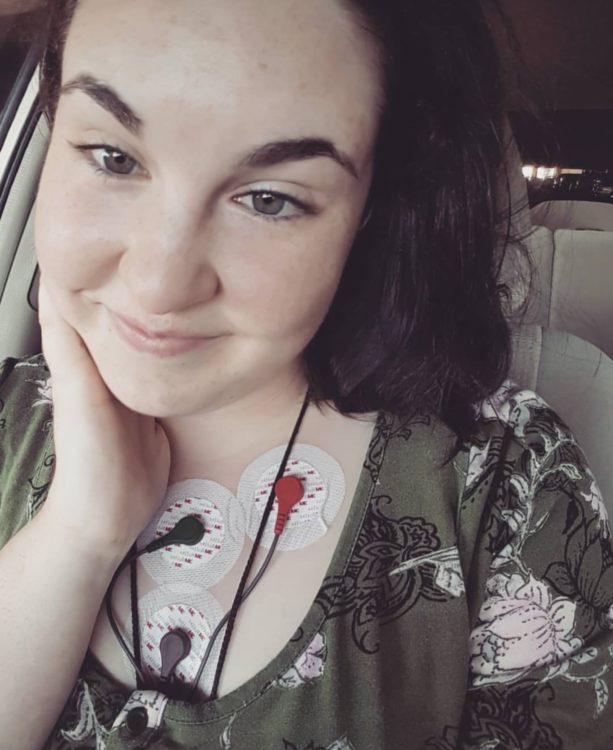 40. "Gosh since I first got sick I made a promise to myself that anything medical would reflect my personality and style. I decorate my service dog in all kinds of cute vests and patches, I wear seasonal compression leggings, I put lights on the rims of my hot pink wheelchair, I put stickers on the tape over my NJ tube, and I made my own tubie clips, and tubie pads as well. Nearly all of my medical supplies reflect my style." – Alexis M.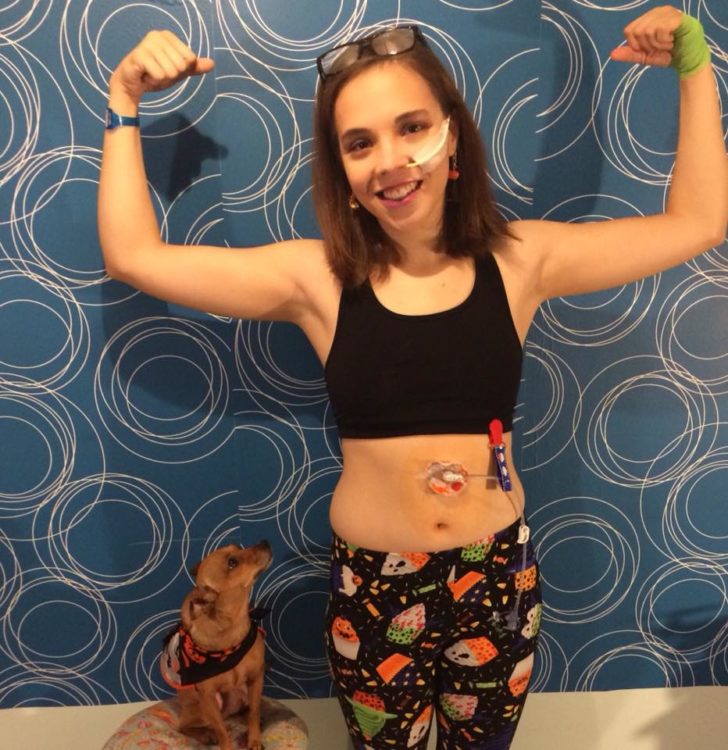 Whether you decide to hide your braces or wear them openly, one thing is for sure, you are all uniquely beautiful! Don't forget that!