How Social Media Posts Like This Help Fuel Invisible Illness Stigma
---
This morning I was catching up on my social media feed and this post was "recommended" to me. Upon first glance, I assumed it was an advertisement for knee braces or a meme from the chronic illness community. However, I was incredibly disheartened when I read the text and realized its meaning. The post implies that girls will fake an injury or illness by wearing knee braces in an effort to gain attention. At the time I saw this image, it had been pinned over 1,000 times.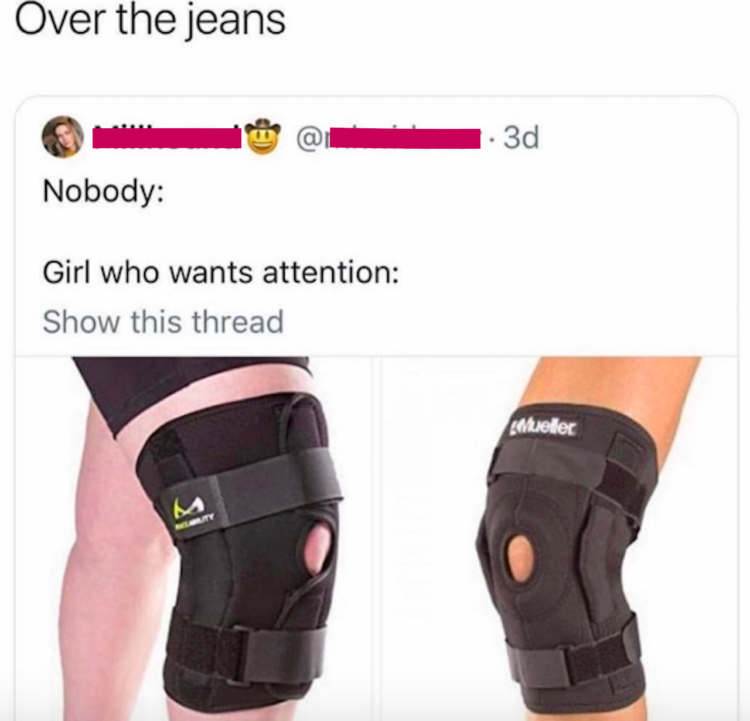 Attitudes like this are incredibly damaging to people like myself who live with invisible illnesses and rely on mobility aids to get around. This post serves to perpetuate the misguided idea that anyone who uses a mobility aid without an obvious physical impairment is faking their injury or illness. This implies that since someone looks fine, they are an attention seeker and are not really facing any sort of illness. The girl you are assuming just wants attention might be really dealing with a difficult injury or a chronic illness you cannot see. There is no way you can know for sure.
When I was 16 years old, I was diagnosed with the hypermobile type of Ehlers-Danlos syndrome (EDS). This is a genetic connective tissue disorder that has widespread effects on my body including; frequent falls, easy injuries, fragile skin, dislocations, hypermobility, chronic joint pain, chronic fatigue, local anesthetic resistance, surgical complications, poor proprioception and coordination, instability in my joints, poor healing that takes a long time, severe dysfunction of my jaw joint (TMJ), and more.
After my diagnosis, I was immediately prescribed ankle, knee and wrist braces for both sides of my body. Since my collagen does not work to hold my joints in place, I require artificial support in the form of braces to try to do a makeshift job. However, when I take off all of my braces and am not using my cane, I look perfectly normal.
Just because someone "looks fine" does not mean they are faking an illness or want attention. Not looking sick does not immediately equate to faking an illness or wearing a brace for attention. In fact, the vast majority of people living with invisible illnesses like myself want absolutely no extra attention drawn to our mobility aids. We are just trying to go about our everyday lives the best we can and mobility aids are tools to help us accomplish this.
When I am attending a public event, I do not want to be asked by random strangers whom I have never interacted with before prior to them even asking my name some form of the question "What is wrong with you?" It has actually become a running "joke" among my friends (trying to make the best out of the situation) how long I can go at a public event before someone asks me that question. I have never made it through a single event without someone pointing out my knee braces and loudly asking what is wrong with me at least once. I definitely do not want the kind of attention my knee braces draw.
I wear my knee braces not for attention, but because I need them to walk. I wear them over my pants because I also have dermatographism ("skin writing") that causes hives with any pressure, rubbing, or scratching of my skin. Therefore, I require a barrier between my skin and my actual brace.
Also, I will admit that when I was 16 and first got my braces, I was ashamed of them because of attitudes like this. I didn't want to be put in the position where I had to constantly justify why I needed the braces. So, I had horrific outbreaks of hives for a year while I hid the braces under my pants. I also ripped holes in many nice pairs of pants in the process, thanks to the hinges on my braces.
It was finally members of the rare disease community who empowered me to feel confident in wearing my braces. When I came looking for ways to hide my braces better, they told me to wear them on top of my pants and "rock them". That is what I have done ever since and I have not looked back. I will not let the assumptions of others stop me from living my life to the fullest extent I can.
If there is one message I would like to communicate, it is this: not all illnesses are visible so please be kind and do not automatically assume that because someone may appear to look healthy that they are faking an illness or injury for attention or any other reason.
Originally published: May 17, 2019