To My Friend Who Helped Me Believe I Could Travel With an Illness
---
Every year, my church holds a camp. Everyones goes to it, and I knew it would be an amazing spiritual experience. I'd also have a chance to make new friends and spend time with the ones I already have.
• What is Ehlers-Danlos Syndrome?
• What Are Common Ehlers-Danlos Syndrome Symptoms?
But the camp takes place in Melbourne, which is on the east coast of Australia, and I live in Western Australia. I'd have to fly on a plane if I wanted to go.
Travel is something I rarely think about doing since I have a connective tissue disorder called Ehlers-Danlos syndrome (EDS) as well as related conditions. For me, EDS causes a lot of pain, and I have joint dislocations on a regular basis and need to use a wheelchair. 
Also, I recently had a medical procedure done, so I needed to catheterize myself on my own. Not being near my hospital was a frightening thing. My mom is also afraid of flying on planes, so she couldn't accompany me on the trip.
The thought that I would be at home while all of my friends went to camp broke my heart. I cried to my mom and cried by myself.
I told my friend, Sam, why I wasn't going. She and I met when we were only 8, and we've known each other for 10 years now. Sam's an amazing person and is very accepting of my disability. She said I should go and she would look after me.
When we booked our plane tickets, she made sure we sat next to each other. During the flight, we watched movies and played games. When my compression stockings were rubbing into me, she asked if there was anything she could do and didn't make me feel embarrassed when I had to undo them.
While we were at camp, Sam was always checking up on me to see how I was doing. My hip dislocated at one point and wouldn't go back into place, so Sam pushed me around in my wheelchair. When she could see the paleness in my face, she knew I was getting tired and would take me back to my room.
One night, I decided not to go to supper, since my dislocated hip was still causing a lot of pain. I was in the room by myself, lying on the bed and listening to everyone chatting in the hall. Sam popped her head in the door and asked if I wanted some cheesecake and some company. It was a complete surprise. It was a delicious, decadent, citrusy cheesecake. Sam knew I loved all kinds of cheesecake and would like any kind she brought.
She sat on my bed with me and we talked. She asked if I was enjoying myself, and I said, "Yes, I am. You have made it so much easier and made it possible." Just knowing if I needed something, she would be there. And she didn't make me feel embarrassed or call me lazy if I didn't make it to some of the camp activities.
To some, sharing a couple slices of cheesecake may seem like a small thing, but it meant the world to me. She gave me a taste of independence and made me believe I could travel with a chronic illness.
Sam, thank you so much. I couldn't ask for a better friend. Knowing you are with me on my journey means more than you know.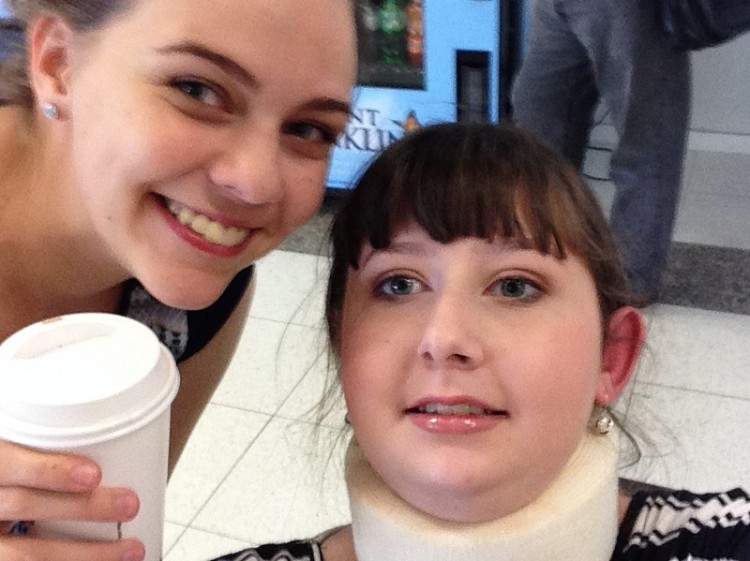 Originally published: June 25, 2015