How My Chronic Illness Diagnosis Took the Fun Out of Halloween
---
Growing up as an Asperger's girl, Halloween always meant a lot to me. It was the one time of the year weirdness was celebrated; my costumes, my makeup, my obsession with the supernatural and dark colors just fit in. Everyone else was doing what I was doing all year round and for once I could blend in. I eventually grew to celebrate my own strangeness but Halloween was definitely an important tool in getting there.
Now that I am a chronically ill adult, Halloween means something a little different to what it did when I was a child, or a teenager. I can't get out to as many parties. The ones I do get to I have to leave early and I can't wear heels of any kind. I can't dance or jump around or run through town at 1 a.m. reveling in the uniqueness of my costume and those of my friends. My special time of the year came and went without any celebration from me the year I was diagnosed with endometriosis. I didn't drink with friends, or do makeup or make a costume. I sat at home and drank tea and went to bed with a heat pack pretending it wasn't happening. My special day faded away as another normal Monday.
People dressing as patients in bandages and stitches, others dressing as scary doctors suddenly became far too real. It reminded me of my own extended hospital stays and the real horrors I saw and endured while in the hospital. I became far too familiar with the sight of them and so the joy from these costumes faded for me for quite a while. It stopped being fun; instead it became scary as these things were every day for me. Being scared and uncertain and up all night lost its novelty when it became a mundane occurrence. For me, every day was Halloween.
Then, this year, I started reading about Frankenstein's bride (I still read horror books for fun). And suddenly there was someone I related to again. Frankenstein's bride is known everywhere as just a monster made for another lonely monster, an Eve to the horror world's Adam. She gets dressed up as every year by hundreds of girls, yet no one knows her name or her struggle. Her name was Elizabeth, and she was a collection of imperfections sewn together into one being. Not perfect, but doing her best to exist. It was through her I found myself again, and found my love for all things spooky.
This year I will dress as a broken rag doll (appropriate given I am named after Rosie from "Rosie and Jim") and as Elizabeth. I will dress as something sewn and put together in a haphazard way, imperfect and not overly functional all the time, because for me that is how I feel most days. This year Halloween will be a chance for me to express my own struggles and scars from my own scary doctors, my own "mad scientists," trying desperately to put me back together in a way that resembles a healthy person.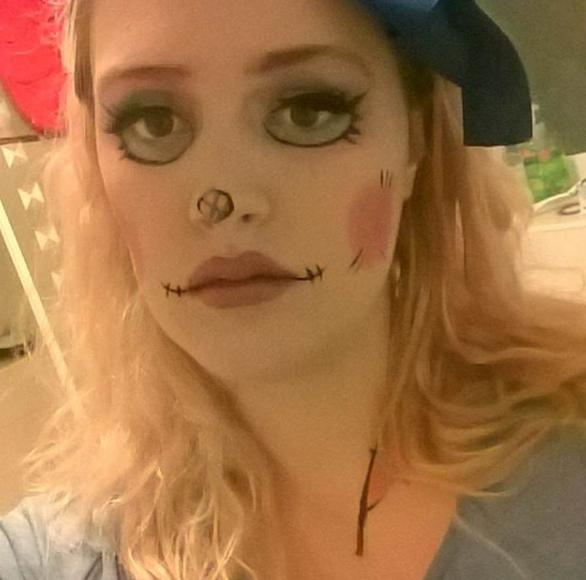 This year I will go out – I will save up all of my spoons for a month if I have to, but I will do it. I owe it to the sweet aspie girl I used to be who used to love to dress up on Halloween. I will be myself and I will fit in and be celebrated for it. I have already made it to one party; I left early and my friends were kind enough to literally carry me home, but it was so worth it to be out again and to enjoy Halloween again.
We want to hear your story. Become a Mighty contributor here.