Chrissy Teigen Shares Honest Photo Showing Her Endometriosis Surgery Scars
---
Chrissy Teigen got honest with her followers on the realities of life with endometriosis — and her scars following surgery to treat the condition.
On Sunday, Teigen shared a photo on her Instagram stories that revealed her endometriosis surgery scars, along with a message that read, "Happy Valentine's Day. Love yourself!! Bitch has been throuuugh it." She had the surgery earlier in February.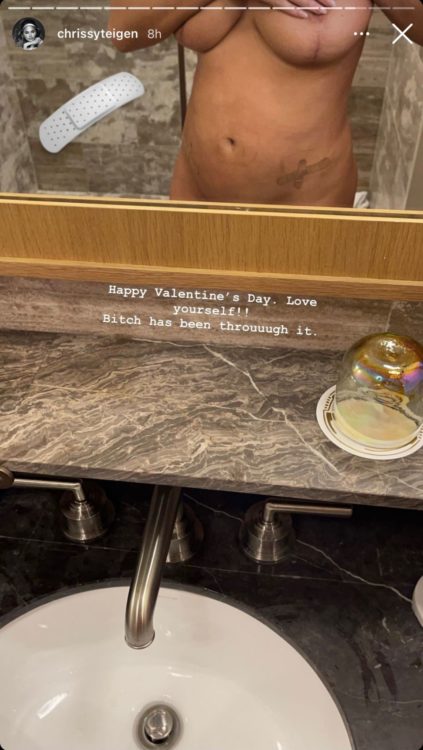 Teigen has been open about her vulnerabilities, more recently coming out about a miscarriage she had in late September 2020. The 35-year-old model has been public about her journey with the endometriosis on social media, asking her fans questions about the process.
an update: holy shit it's a no on the soup but a go on Curb pic.twitter.com/YvxBF8M69w

— chrissy teigen (@chrissyteigen) February 5, 2021
According to EndoFound, endometriosis is inflammatory in nature and occurs when tissue similar to the lining of the uterus is found in different locations. It affects one in 10 reproductive-aged individuals, and currently there is no known cause or cure.
Endometriosis can not only impact fertility, but also can cause pain and other symptoms that can be so severe, it may lead individuals to miss out on aspects of their life. Those with severe symptoms may seek out treatment options such as surgery. Currently, the condition can only be officially diagnosed through surgery.
Teigen stated, "[the surgery] was a toughie," but not as bad as the endometriosis pain itself. "It makes it hard, every little cough and stuff. But it is truly still better than the contractions and the pain of endo," she added.
Header images via Chrissy Teigen/Instagram and David Shankbone, CC BY 3.0, via Wikimedia Commons
Originally published: February 16, 2021