The Question That Makes Me Feel Lonely as Someone With a Chronic Illness
---
"Are you feeling better (yet)?"
A simple question that fosters loneliness.
Recently, a well-meaning acquaintance asked: "Are you feeling better yet? I heard you've not been feeling well."
Instantly, my brain started narrowing down the best way to answer: They obviously don't know the full story. Do they want to know the full story? Are they just being polite and making conversation? Do they actually care for the real answer? Will the real answer make them feel awkward and shut down the conversation, as is so often the case?
The honest answer is: "No. I'm not feeling better yet. Because I have a chronic disease. I will never be better. This is forever." Cue a grimace that indicates I've overshared.
The easy answer is, "I'm OK!" The easy answer is always my go-to. The asker, who doesn't understand what's going on with me, my body and my health, will be satisfied. No more questions will need to be asked. Everything will carry on as normal. We can go back to talking about the weather or their next holiday. But inside, I am curling up in loneliness. I am misunderstood.
A good friend, who knows my health struggles, frequently exclaims, "I can't believe you're not better yet!" It is meant to be a battle cry of allegiance. She is there for me. But again, my illness is misunderstood. I am misunderstood. I will not get better. There is no cure for the illness I have. This life is me. This is it.
A family member asks, "So will this make you better?" after my sacral nerve stimulator is implanted. No, it won't make me better. It'll just help me pee. I will still have endometriosis. I will still let you down. I will still be sick.
But I invariably don't say these things. Because you see, the problem with being chronically sick is that the news gets old and the story doesn't really change. And it's hard to keep repeating how shit you feel to every well-meaning person. And you worry that people won't believe you. Or, if they do believe you, that one day they won't. Or they'll just get tired of hearing the same thing and stop asking.
But what is the right thing to say?
Damned if I know. My brain is a fickle beast. But how about, "How are you feeling?" No, wait — "How are you really feeling?" Or — shout out to my blog name — "I'm sorry to hear you've had a flare up. How are you feeling now?"/"Are you getting over this recent flare?"
Or just send a meme. That'll do.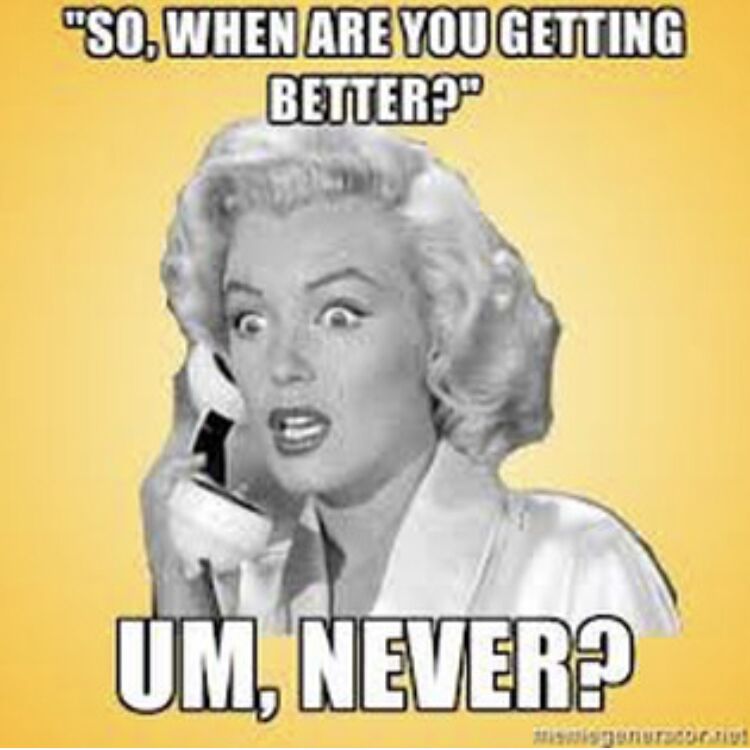 Follow this journey on Living With Flare.
Photo by joyce huis on Unsplash