When You Need to Wear Maternity Clothes but You're Not Pregnant
---
Have you ever heard of "endo belly?" It's a phenomenon that happens to women with endometriosis when they're having a flare or sometimes just for no good reason, in which their belly swells up and makes them look pregnant. Not just how people joke that they have a "food baby" after they eat. They legitimately look pregnant to the point that people will congratulate them and ask them when they are due, what they're having, or other banal seemingly non-harmful pregnancy questions. On a particularly rough New Year's Eve, I went from flat-bellied to looking like I was about seven months pregnant in 20 minutes. Luckily I had on a dress that hid the belly well!
Here are photos women shared with me of their regular bellies compared with their endo bellies: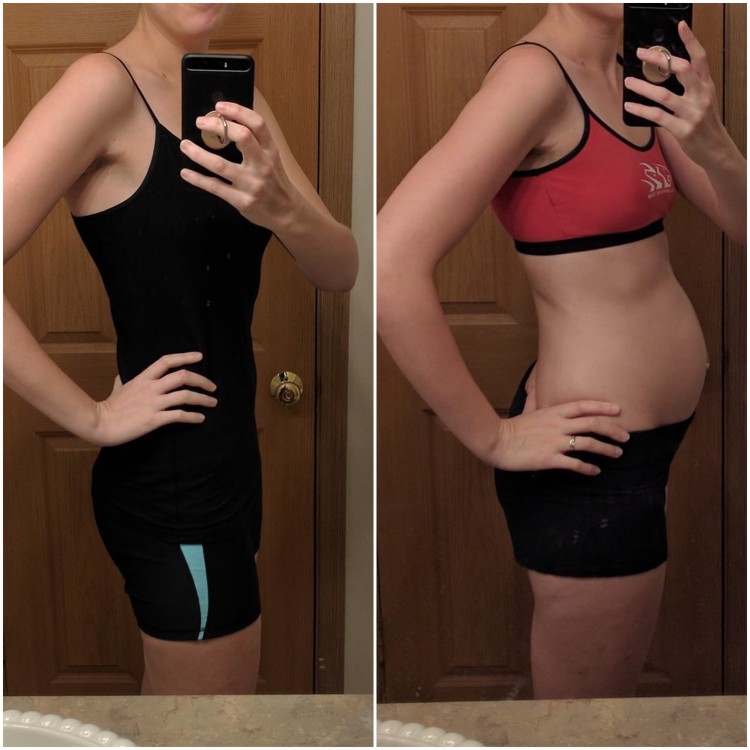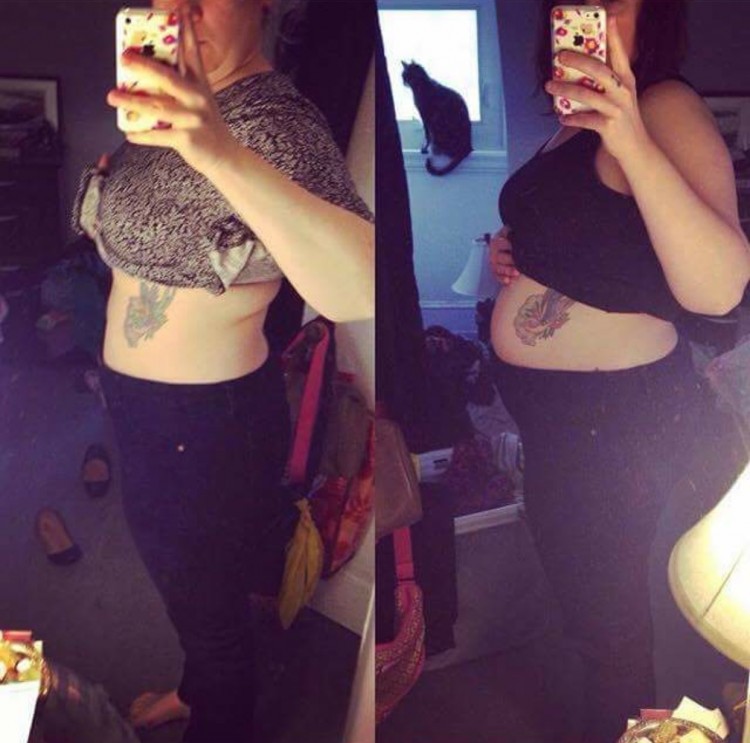 Many endo warriors don leggings, oversized shirts and muumuus to hide their unpredictable figures, but in the last few years there's been a movement to take back our fashion and wear maternity clothes, especially when it comes to pants. Put on some under-the-bump jeans and even a designer maternity top or dress and no one's the wiser! You can get fashionista favorites from every affordable store, like ASOS and J.C. Penny, or you can get designer-wear from the high end stores like Bloomingdales and Pea in the Pod, or from sale websites like Gilt (in the kids section!). I like a lot of my maternity clothes better than my regular clothes! Who wouldn't want skinny jeans with a sweatpants waistband?
Many endo sisters have another thing relating to pregnancy that plagues them — a high infertility rate. While results are showing that proper excision with a true endometriosis excision specialist can improve one's fertility, the infertility rate is still high. According to the Center for Endometriosis Care, depending on the severity of the disease (e.g., whether you're stage I-IV), infertility rates in women with endometriosis before excision with a specialist ranges from 40 to 95 percent, and after excision range from 20 to 50 percent. In contrast, the rate of women in the U.S. with impaired fertility is 12.3 percent according to the Centers for Disease Control. Unfortunately, intransigence within the OB/GYN community and resulting insurance reimbursement schemes can create barriers for women to get such specialized treatment and thus may not be able to improve their fertility if it is one of their symptoms.
You may have noticed that all of the places I mentioned for purchasing maternity wear can be shopped from the comfort of your very own home and computer. I'm fully comfortable telling the world that I wear maternity clothes because my body needs it! But I honestly don't know how I'd feel about walking into a maternity store while not pregnant and knowing I'll never be pregnant. I may be able to have a biological child through surrogacy, but I cannot safely carry a child due my illnesses and damage to my organs from endometriosis. I've made my peace with this in regards to procreation, but do I really want to tell the strangers at the Pea in the Pod about my ironic conundrum?
There are many endo sisters out there who won't even buy maternity wear online because they can't bear to wear the clothing knowing that they may never use it for its intended purpose. And that's their prerogative, one that I fully understand. The painful, cruel irony that we've been given a disease that both makes us look pregnant and, in many cases, prevents us from ever being pregnant.
But I'm going to wear what my fake baby belly needs to be comfortable while still rocking the latest styles because it's true that you feel better when you look better! And I hope that each of my endo sisters will be able to join me in this one day if they don't already!
If you are interested in learning more about endometriosis, check out the following two websites for more information: Center for Endometriosis Care and Endopaedia. 
If you are looking for an endometriosis excision specialist, here is a international map. 
We want to hear your story. Become a Mighty contributor here.