Stranger Drives 40 Minutes to Braid Woman's Hair When She Is Unable to Reach Her Head Pre-Op
---
Whether you're struggling with the day-to-day symptoms of your chronic illness or recovering from a major surgery, completing everyday tasks can be much harder when you're facing health challenges.
For 36-year-old Jaci Selby, there was one "simple" task she was unable to complete while in the hospital preparing for surgery: braiding her hair. Selby has undergone treatment for endometriosis since she was 19, and needed surgery to get some scar tissue removed. Incisions in her abdomen, however, made it impossible to raise her arms high enough to fix her hair, and she wanted to collect her hair into braids before her surgery.
"My best friend was with me when I first got there, but he had to go to work, and he doesn't know how to braid or even put hair in a ponytail," Selby told Health. "The nurses are busy with people who are sick and hurting, so it's not something I would ask them to do."
That's when Selby turned to a beauty group on Facebook, asking if anyone in the area would be willing to come to the hospital and braid her hair.
Jaclyn Medrano, a stranger at the time, responded immediately after seeing Selby's post, and drove 40 minutes to the hospital, arriving by 7 a.m., just before the surgeon made his rounds. "I just felt so much sympathy for her," Medrano told Buzzfeed News. "She just wanted simple braids before she went into surgery and I felt like it was my job to reach out to her and see where she was so I could come to the rescue."
Selby said the two connected instantly. "She is darling," Selby told Health. "We both have tattoos and love Disney. It was nice to have someone to talk to."
Selby also posted about Medrano's kindness on Reddit, with the post quickly going viral and prompting a number of comments about other acts of kindness people have witnessed in the hospital.
Total stranger came and braided my hair while I'm in the hospital after I asked for help in a beauty Facebook group. from r/HumansBeingBros
Though braiding one's hair may seem like a somewhat insignificant task, for a person with chronic illness or other health complications, the ability (or inability) to accomplish these "small" tasks can feel monumental some days.
"Chronic pain and illness can be so isolating," Selby told BuzzFeed News. "You're in the hospital at all hours. You sometimes can't do the smallest thing for yourself."
Mighty contributor Candida Reece recently shared an essay describing what 50 everyday tasks are like when you have chronic illness. She writes, "It seems to be rather hard sometimes for some people to understand, or remember, that literally every action you take as someone with a chronic condition can be harder than it would be for the average person."
What everyday tasks do you struggle with? Join the conversation below!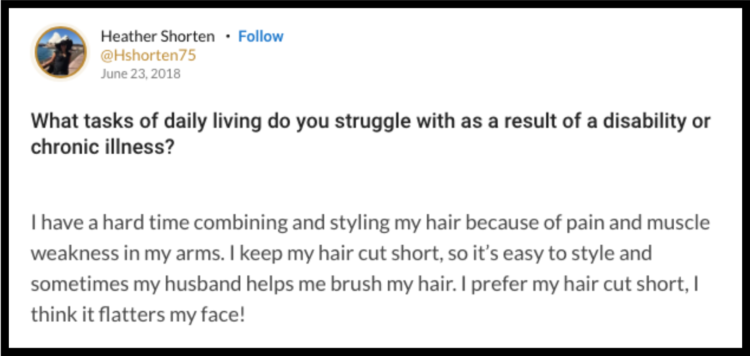 It's important to remember that even if a task may be easy to accomplish for the average, healthy person, if someone is facing health challenges, they may need extra help or support.
Selby explained to Health that she has learned how critical it is to accept help when she needs it. "It's hard to advocate for yourself, but you have to," she said. "If someone offers to help, take them up on that offer. Let your neighbor feed you. Let your friends come do your dishes. Allow yourself patience and understanding."
Originally published: February 1, 2019