When Your Dog Is Chronically Ill, Too
---
I always write about myself as a person living with multiple chronic illnesses (rheumatoid arthritis, fibromyalgia, Graves' disease, high blood pressure, and disseminated superficial actinic porokeratosis), but today I am going in another direction. My beautiful dog, Georgia Grace is a Cavalier King Charles Spaniel, who also lives with debilitating chronic illnesses. We make a chronic dynamic duo and this is our story.
I decided I wanted to get a dog for my 40th birthday. I had two "mean girl" rescue cats, so I researched for almost a year to find a dog breed that would:
1. Get along with my cats.
2. Be a dog that I could manage with my physical limitations.
I've always rescued animals in the past, but this time, I decided to go to a breeder and get a Cavalier King Charles Spaniel. I did read about the health issues, but I didn't take that information too seriously. I had eight dogs growing up. I had no worries. I wanted a companion and a reason to be more active. A Cavalier seemed like the perfect choice.
Georgia Grace came home with me in June of 2009. She was perfect. Smart, sassy, easy to train. She was active, but I could manage it. The cats tolerated her and my furry family was perfect. "Perfection" lasted for two years before things began to unravel.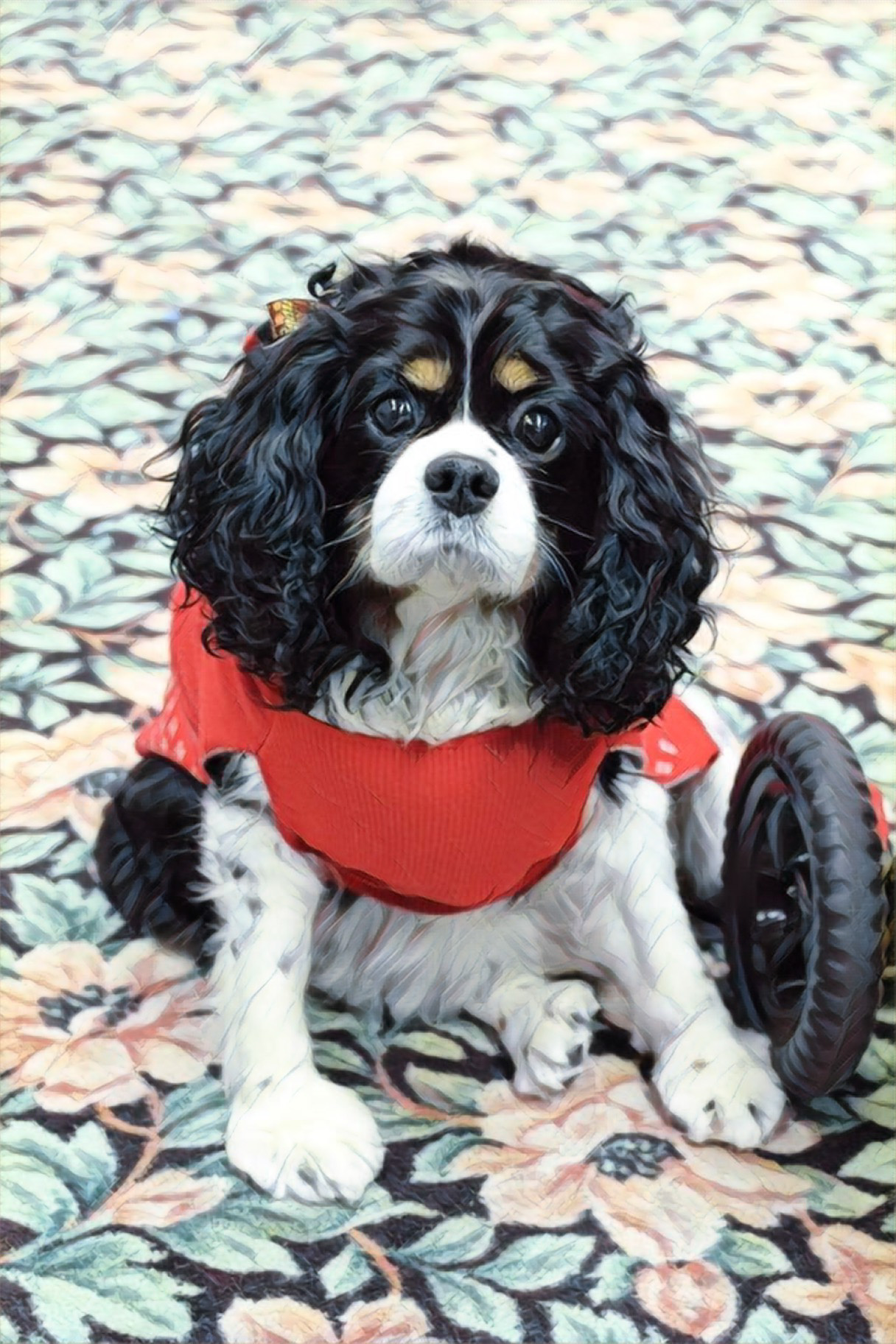 Cavalier King Charles Spaniels are very delicate from years of puppy mills breeding unhealthy dogs together. There are several hereditary breed diseases and it seems like my dog decided to be an overachiever and get most of them. Georgia struggles from a painful neurological disease called syringomyelia (also a human condition), hip dysplasia, luxating patellas (her knee caps move), arthritis, chronic dry eye syndrome (she no longer makes tears), chronic ear infections (she rubs her head so much from syringomyelia she causes eye and ear infections), chronic valvular heart disease (her mitral and tricuspid valves are both leaking), chronic skin lesions, and the most recent diagnosis is diabetes. Her diagnosis of heart disease at age 7 devastated me, then nine months later, I almost lost her to diabetic ketoacidosis. We spent Thanksgiving in a veterinary hospital together. I held her as she slept and prayed she would come home again. My little warrior fought back once again, proved she has nine lives, and now blood glucose tests and shots of insulin are our new normal.
Georgia was 2 years old when diagnosed with syringomyelia and I was told she most likely wouldn't survive past age 3. I struggled knowing that my little dog was destined for a life in pain. However, my knowledge of chronic illnesses and her unbreakable will made us a good team. In addition to medication for pain, I explored holistic treatments like herbs, acupuncture, laser treatments, and cannabinoids. I explored every option until I found a mix of treatments that worked for her.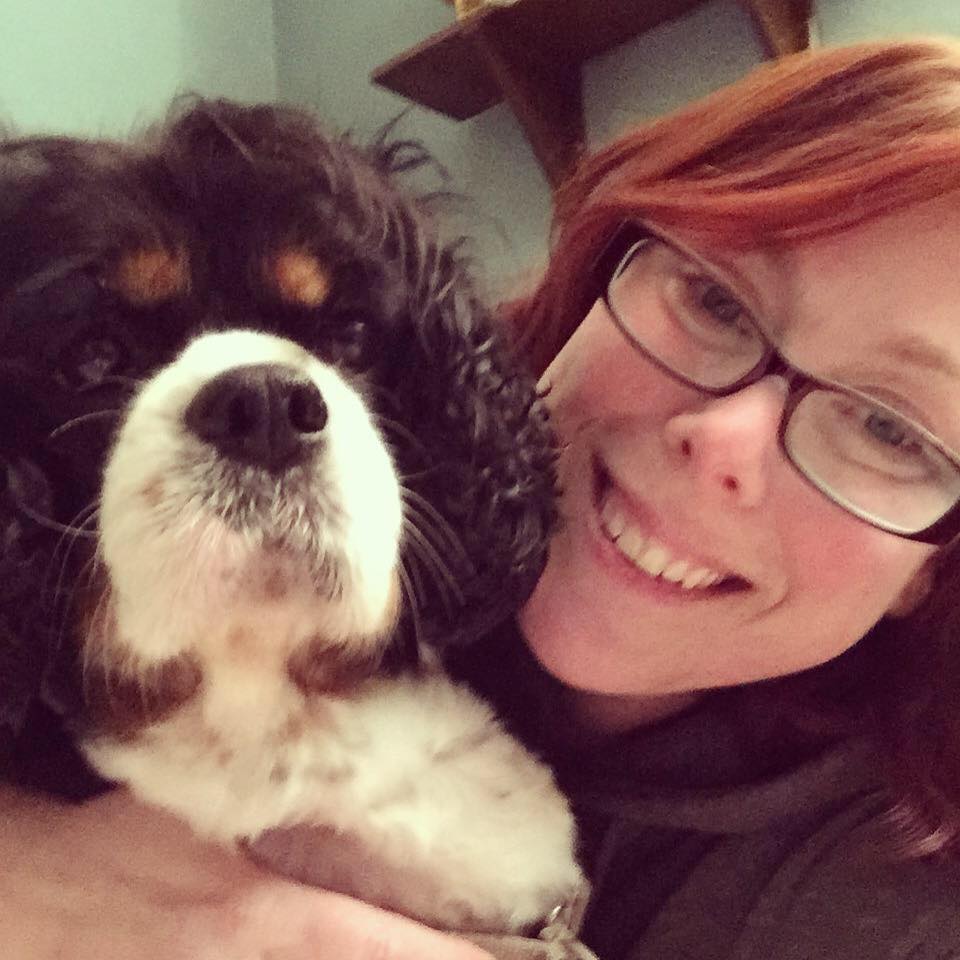 As anyone living with chronic illness knows, being sick is expensive. Being Georgia's mommy is definitely expensive and stressful at times. I work multiple jobs to afford her treatments, knowing that is not good for my own health, but will help me keep her in good health. Many people have told me that I should give her up or put her to sleep because of excessive veterinary bills. Neither is an option that I will consider. I have to admit that I do take care of her better than I do myself. Most people who meet Georgia can't believe that she had so many ailments. She is a happy and good natured dog who loves play with stuffed animals and beg our neighbors for treats. Georgia is the epitome of the "you don't look sick" phenomena. Once she gets to the point where she isn't happy and I can no longer keep her pain at bay, I will help her cross the "rainbow bridge." My vow to her is that she will never suffer.
Being Georgia's mom has taught me many things over the years. I'm constantly inspired by her love of life. She rarely complains, even when living with diseases that would affect the strongest of men or women.
I originally got a dog to help me be more mobile. I faithfully take Georgia for daily walks. Ironically, our arthritis makes us walk with similar gaits. The similarities don't end there. I take 12 pills a day, she takes 13 pills a day. I take one shot a month, she takes two shots a day. We both have skin diseases that can't seem to be cured and sadly, we both live in pain. The similarities are endless. It is clear to me that she was meant to be mine.
Pets are such a comfort when you are chronically ill. Having a pet that is also chronically ill is both a blessing and a curse. Georgia inspires me to never give up and to focus on the positives in life. Our life together is not always easy, but it is very full of love. Georgia's main purpose in this world is to give and receive love. Lucky for me, I'm the one who gets to love and be loved by her the most.
We want to hear your story. Become a Mighty contributor here.