Emma Stone Shares How She Envisioned Her Anxiety as a 'Green Monster' as a Kid
---
Actress Emma Stone is no doubt a creative person. On Monday, she shared the creative way she described her anxiety as a kid and explained how therapy has helped her cope with generalized anxiety disorder.
During a live event, Stone told Child Mind Institute's president and psychiatrist Dr. Harold S. Koplewicz how she envisioned her anxiety as a green monster that would sit on her left shoulder. When she listened to her anxiety, the monster would become bigger and bigger, but as she learned how to cope, she was able to make the monster smaller and gain control over it.
She drew the monster in a book she made during therapy called "I'm Bigger Than My Anxiety." Koplewicz mentioned how practices like this are often employed in cognitive behavioral therapy for children because it helps separate the anxiety from who the child is. Stone called her time in therapy "transformative."
"Just to imagine that thing as an external — that it's not me, but it is a part of me," Stone said, helped her.
Stone had her first panic attack the summer before second grade. She was playing at a friend's house and became convinced the house was burning down and they were going to die. Over time, her anxiety made it hard for her to be away from her mom. She'd go to the school nurse every day for a stomach ache, but the nurse knew it was her anxiety.
Though Stone was receiving therapy for anxiety, she said she wasn't told she had generalized anxiety disorder. Stone said she was actually thankful that she didn't know the name for it. What works for her might not work for others, she said, so some kids may have found it soothing to know they had a disorder, but Stone doesn't think it would have been helpful for her.
"They gave [my mom] a name for what I was experiencing, but she didn't tell me, which I'm also pretty grateful for — that I didn't know I had generalized anxiety disorder and a version of panic disorder … especially at that time there weren't a lot of people I could look at — I wanted to be an actor — and there weren't a lot of actors that spoke about having panic attacks," Stone told Koplewicz.
Stone said emotions and anxiety can be productive, and she believes people who have anxiety and depression are highly sensitive and smart.
"Because the world is hard and scary and there's a lot that goes on and when you're really sensitive and attuned to a lot of that, it can be crippling, and if you don't let it cripple you and you use it for something positive or productive, it's like a superpower," Stone said.
Stone used acting to harness her emotions and heightened sensitivity. Her anxiety and emotional sensitivity have helped her understand characters and find empathy for what they're going through. Stone said that when she found acting, around the age of 11, she felt "free." A lot of people become more anxious when in front of a crowd, but for her, it's the opposite.
For others looking to harness their anxiety, Stone advised: "find what that thing is that's within you and you're drawn to."
Staying busy helps Stone with her anxiety because she's too busy thinking about her creative projects and what she's doing next, rather than focusing on her anxious thoughts. A part of staying busy now includes speaking openly about her anxiety and "owning it." She wants to tell people how anxiety may be a part of them, but it's not who they are.
Stone said she's never taken medication for her anxiety because she didn't want to lose touch with her emotions, which she acknowledges isn't true but was something she thought in the past. Instead, Stone sees a therapist, meditates and reaches out to others instead of isolating herself.
Find out how others describe their anxiety: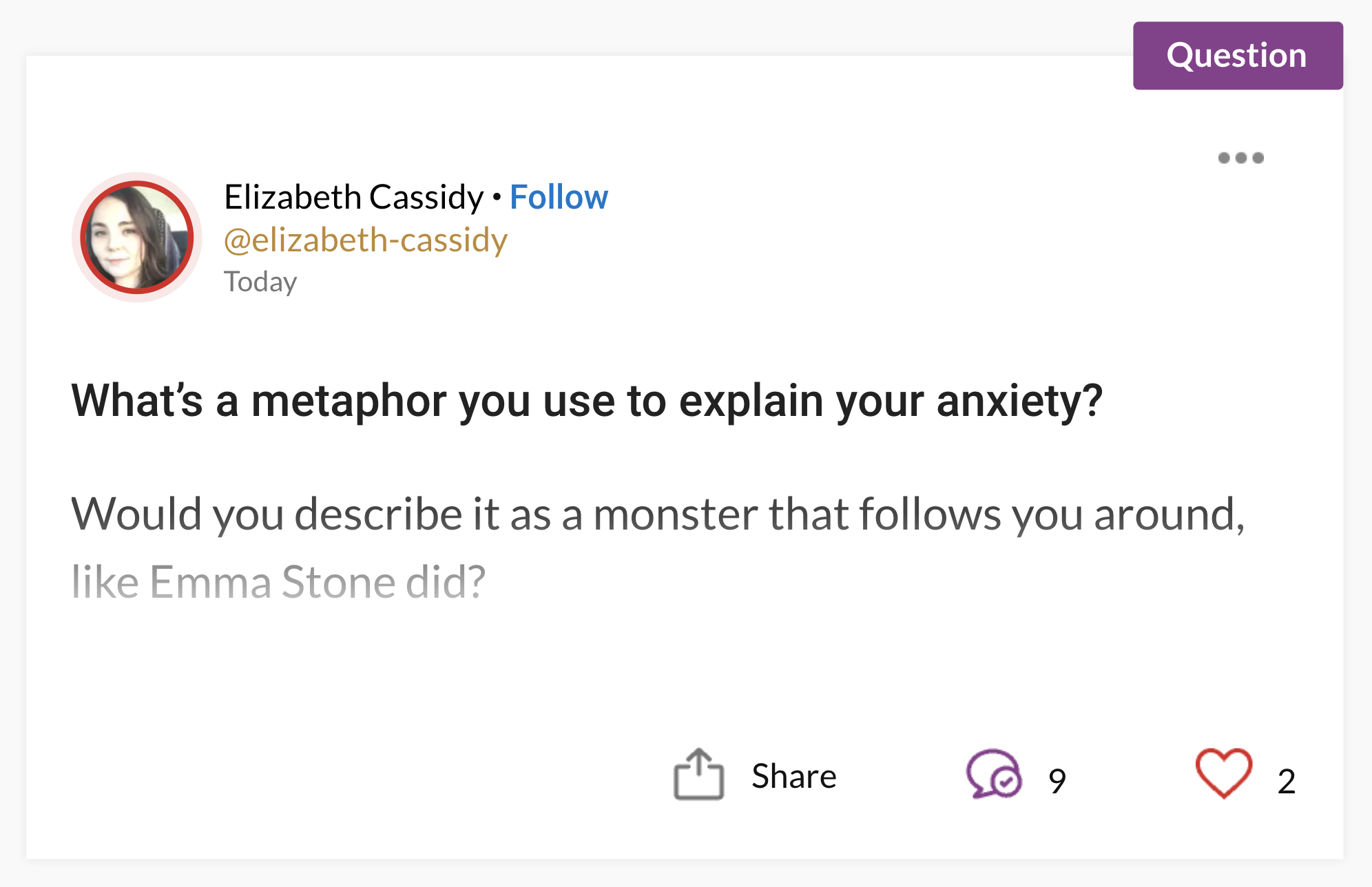 Image via Wikimedia Commons/MarinSD
Originally published: October 2, 2018