This Eerie Photograph Shows Anxiety Like We've Never Seen It Before
---
In one haunting photograph, an Australian photographer took his own internal experience with anxiety — and turned it inside out.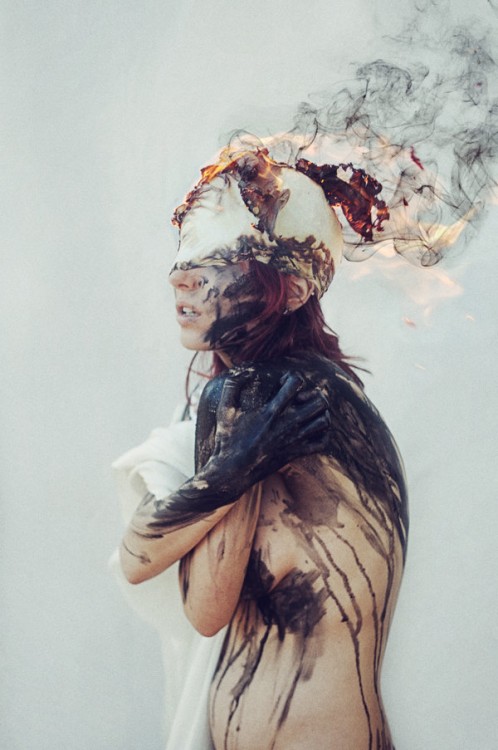 The photographer, who goes by the name of Beethy, started having extreme anxiety in 2009. In a reflection on the piece, he told his fans about about his experiences with panic attacks and suicidal thoughts.
"At any random point in the day I can get these attacks," he wrote. "During these attacks I'm overwhelmed with the feeling of imminent death. No rational thinking can erase the thought or feeling. Imagine having a gun held to your head. And you know it's going to go off. You just don't know when. That's what happens when I experience an attack. I get these daily. I hide it well from people around me. By just walking away. Or keeping to myself a lot."
For a while, the attacks were so debilitating he couldn't work.
"I slowly started to feel like a vegetable," he wrote.
The image has been made into a popular GIF on Tumblr, making it all the more haunting.
"Literally the most accurate physical depiction of anxiety ever," one Facebook commenter wrote.
"Really glad I found this and the photo," a reader on Beethy's blog post said. "Finding this and everyone elses (sic) posts has made me realize I'm not alone. There are more of us with inner demons then society admits."
Beethy says he didn't expect the piece would be so appreciated.
"The idea of the image is something that's been twisting and turning in my subconscious for a while," he wrote. "I'm glad other people with anxiety understand it."
Originally published: November 6, 2015