A Mom With Anxiety and a Master Pretender
---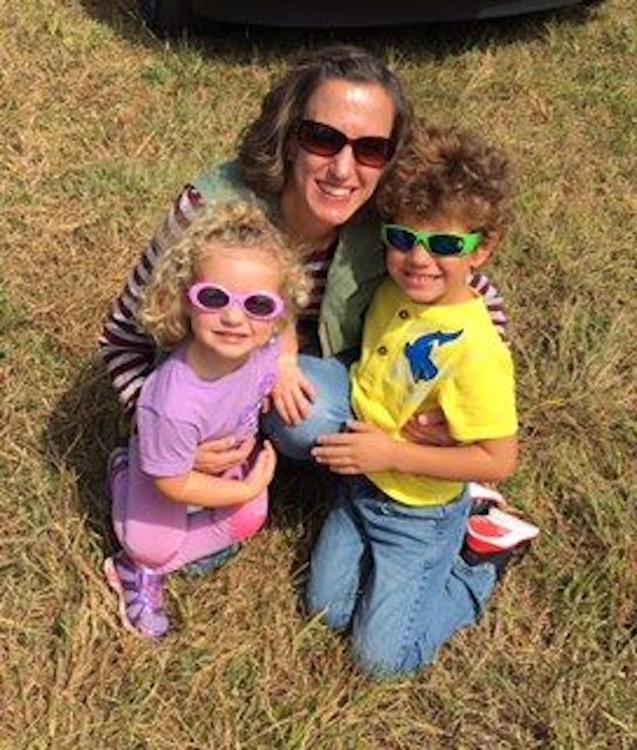 At first glance, this may look like a photo of a mom and her two little ones enjoying a beautiful fall day together. Look closer, and closer still. Through the lens of a mom with an anxiety disorder, this is a forced smile and hands that are holding on to her babies tightly. She's mentally gearing up for a festival full of people, booths, food trucks, playgrounds and pumpkins (and did I mention people?), spread out across the grounds of a local farm. That's a lot of space and a lot of people.
This mom has an overwhelming urge to keep her babies safe and to keep herself safe, whatever safe means on that particular day. Yes, her husband is with her. He took the photo at her request, after all. Yet, it seems everyone is wearing the same red shirt as he is, that everyone blends in, that everyone walks fast while she and her little ones struggle to keep up, to hold hands, to run along with the surge of people, sights and sounds. A fall festival is supposed to be fun, a time for kids to run around and enjoy the weather and the activities. It was fun for the kids and for the husband.
Yet, for this mom, it was different. It meant being on constant high alert. It meant trying to keep up with her babies, if even from a distance. From a bench on the playground, she watched them run through the hay maze, play corn hole and swing. She gave them their space but felt suffocated by her own anxiety. She felt upset with herself that she couldn't relax, that her internal sensors were going off at a rapid fire pace.
So what was she to do you ask? She tried to breathe and let go, to let her babies not see her struggle. So she pretended. She is a master pretender. She hid the inner turmoil, kept it inside her head and inside her heart. She smiled and laughed when her babies came over talking a mile a minute about climbing the rope up the playground set and sliding down the slide. She kissed their sweet noses and wrapped them in congratulatory hugs as they came bounding up to her asking if she saw them in the web maze fighting their way through to the finish line.
While she was happy, she was still trying with all her might to squash the anxiety that had been so successfully bubbling up throughout the day. While it was hard to relinquish the vice-like grip that the anxiety had on her, she saw the joy in her children's faces, their curly hair made even curlier so due to the humidity, the crinkle in their eyes as they smiled, and she gave in. In that moment. Amidst her inner chaos. She leaned in and chose love over anxiety.
That day she was stronger than the anxiety. Each day after, she has the power to choose how to respond to it. Cherish the moments when you are able to lean in. Be gentle to yourself on the days you are not. For anxiety is only a part of you, and it can pass on one moment.
Image via Thinkstock.
We want to hear your story. Become a Mighty contributor here.
Originally published: October 13, 2016