This Is Our First Holiday Since Losing My Husband to Cancer
---
The holiday season has always been a magical favorite of ours. It's a time in which we strive to live more conscientiously and intentionally in gratitude for the gifts of the people, moments and experiences we're blessed to have in our lives. Perspective I strive for — often infallibly — every day.
In anticipation of their first holiday season without their dad, and my first in 20 years without my late husband Justin, the boys and I talked about how we want to remember, honor and incorporate his memory, paying homage to the empty chair at the table and the quiet in his absence.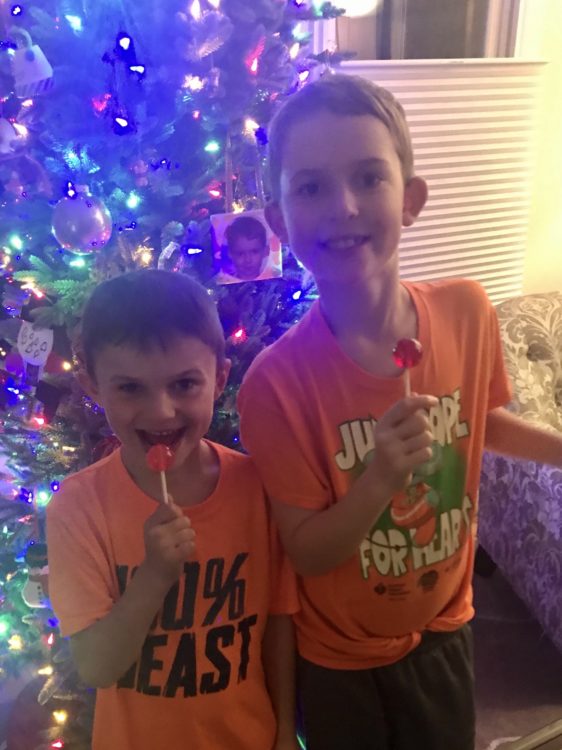 We agreed that we want to capture those most seemingly mundane and uneventful moments of our story. Those everyday goofy and silly "dad-isms" that shaped him to be the most invincible, mighty and magical person to our boys. One of the ways we chose to do this is a new tradition of filling his hanged stocking with these written stories, notes and pictures, inviting family to do the same, so the boys can always have these treasured memories.
Through this, the boys are sharing stories of favorite memories with their dad, some of which they know wouldn't necessarily have been allowed by me — so they of course cherish them all the more. After his life-changing Stage 4 melanoma diagnosis, it was especially important to Justin that the boys have the ultimate treasure: special memories with and of him. He didn't let his physical limitations — a result of consistent treatments of all kinds, surgeries and side effects — get in the way; he re-navigated and found new ways to forge these moments.
Instead of playing soccer in the backyard, Justin joined them in collecting and trading Pokemon cards. Instead of riding bikes, they held drone battles. Movies mom might not allow, pancakes that better resembled sundaes and "helping" dad drive his car in large empty parking lots are among some of the favorites.
Justin lit up like a Christmas tree when the original Nintendo gaming box arrived. He said the boys should be "classically trained." When he wasn't able to attend the boys' events and activities, I'd film videos that the boys could in turn share with Justin. When he was in the hospital, the boys and I would make crafts and pictures for their dad. Our family and lives were different, but good.
As things went up and later quickly down for Justin's health, we remained alongside one another through a roller coaster of relief and joy, and in the weightiest heaviness. One of the hardest things I've ever had to do was share the news of Justin's passing with the boys. It was in many ways a surreal and crumbling world; this story wasn't going as written. It was being penciled in as it unfolded, whether we liked it or not.
Looking back at this time period of our abruptly edited story, there was a prominent and constant presence of our friends, family and community. New bonds were forged and old were strengthened as one meal after the next was delivered, a sincerely genuine caring audience of friends and family remained constant to listen to or just be with us, and the boys were given rides to school and activities so that they might have the routine and structure so vital throughout.
In it all was one of life's most tremendous and important gifts. The boys — we all — were witness to some of the most unconditional, loving forms of giving and caring at their purest. Those we didn't personally know who shared their stories and were inspired by Justin's story; classmates and friends who shared their support with notes and drawings for the boys; and the many who contributed financial support that allowed me to be there for Justin and our boys when we needed togetherness the most.
This is what it's all about. It's faith, gratitude and love through the loss of a loved one, the spirit of Christmas in action. Alongside all the feels, the boys and I are most grateful for the time we had with Justin that gave us these memories, and for the many gifts in and from all of those around us. They've allowed us, and our story, not only to persevere, but to be anticipated, and all-the-more cherished.
Merry heavenly Christmas to Justin, and Happy Holidays to all those who have so unforgettably touched our lives. Holding all who've experienced loss of a loved one especially close this season. XO
Follow this journey on Light in Loss.
This story originally appeared on the author's blog Light in Loss.
Story image by Jenn Ericsson.
Originally published: December 18, 2019