Visiting Familiar Places After Your Wife, Husband, or Partner Dies
---
When you were a couple or part of a family, chances are that you had a favorite restaurant, wonderful memories of places that you visited, and local shops that you went to regularly. Going to these locations alone now might be comforting, but in many cases, it can cause emotional stress that you hadn't anticipated.
Be prepared for an unexpected reaction when you initially return to these places on your own. It may take time before you feel at ease in these settings.
Before Paul, my late husband, had been diagnosed with cancer, I remember our routine of going to the grocery store together after breakfast on Saturday mornings. At the time we had this weekly errand, I never thought of the experience of trudging through a grocery store as one that was particularly bonding or fun. It was just another chore to do on my day off from work. I went because he wanted me to join him, even though it always took twice as long when we did this together as when I shopped alone.
It wasn't until he died that I realized how much I missed our trips to the store. About two weeks after his death, I walked into the store with tears in my eyes, knowing that this simple routine would never be the same. I thought of all the times I grudgingly joined Paul, and I wished I had appreciated our time together. It was so lonely walking into that familiar place without him.
As I moved my cart down one of the aisles, I heard a couple fighting. I walked over to them and said, "Are you married?" When the wife answered yes, I looked this stranger in the eyes and said, "Both of you should stop fighting and hug instead. Be grateful that you have each other. I used to come shopping here every week with my husband, but I can't do that anymore because he just died." The couple looked at me, speechless. Then they hugged each other and thanked me for reminding them of the importance of being together.
Maybe after I left, they spoke about the crazy woman who had barged in on their argument and told them what to do. Either way, it made me realize how much I missed the ordinary activities with Paul and that I needed to adjust to that change.
I decided to wait a few months before returning to that store again. It wasn't because I was embarrassed that I yelled at strangers. It was because I knew that I had to wait until I was comfortable walking in there alone. When I was finally emotionally able to return to the store, I made it a special point to avoid going there on Saturday mornings.
Several months after Paul died, my daughter went off to college. It was the first time I wanted to enjoy having a special dinner at my favorite restaurant and was able to go there by myself. While this sounds like something that should be easy to do, it wasn't. I had always lived with someone — parents, roommates, a husband, and children.
I brought a newspaper with me to the restaurant, ordered dinner, and even though I felt lonely being there without Paul, I got through the meal alone. I promised myself that if I ever visited any of our old favorite places and felt uneasy, I would just bring a friend. Or I'd avoid those venues until I was ready. By the time I was prepared to go to places like that alone, I actually enjoyed the experience. I got to eat what I wanted, when I wanted, and sit quietly, reading a newspaper, which I found was very relaxing.
Many people find that traveling, even if it's just a day trip, can be healing. When you are able and feel comfortable enough to travel, consider visiting someone you know in another city. Or tour with a group (assuming group tours are available to your desired destination) and use that time to also reflect on what's meaningful to you. Think about visiting a local park, museum, or anywhere you can relax. If you live near a beach, lake, river, pond, or other area surrounded by natural beauty, take advantage of it.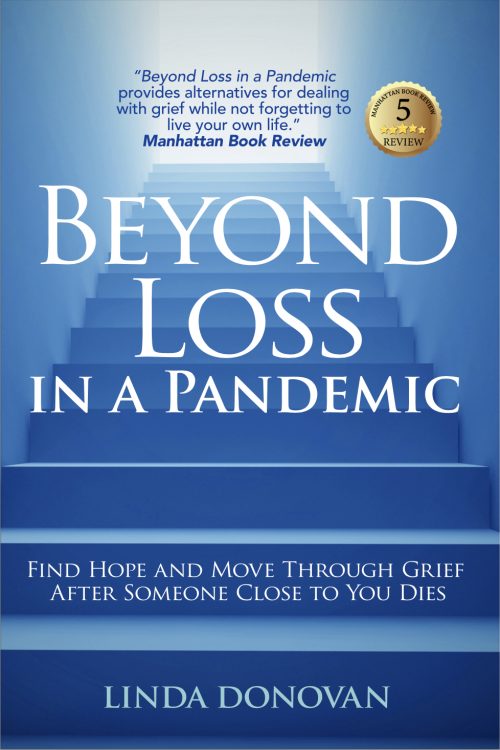 Linda Donovan is an award-winning author, grief support advocate, and communications expert. She has been leading grief support groups for her local hospice for more than a decade. Linda became very involved as a hospice volunteer after experiencing how their team provided so much assistance to her family before and after her husband Paul had died from cancer. Linda's latest book, "Beyond Loss in a Pandemic: Find Hope and Move Through Grief After Someone Close to You Dies," is her third book to help people cope with grief and rebuild their lives after loss.
Linda is the co-author of "Tech Grief: Survive and Thrive Through Career Losses," which won a Writer's Digest Award, and author of "After Loss: Hope for Widows, Widowers and Partners." Linda taught writing courses at three universities and has been a featured speaker at webinars, book clubs, hospice and community gatherings, and technology conferences.
Click here to learn more about Linda's work on her website.