The Christmas Letter My Son Will Never Get to Read
---
I did not spend my son's first Christmas last year taking pictures with him on Santa's lap. I didn't put him in a cute outfit that said "Baby's 1st Christmas," or show him off to distant relatives as they came into town for the holidays. Instead, we spent it together in a hospital room stressed, anxious and praying he would make it through the night.
We had been there for what seemed like forever, slowly trying to find our way out of the hospital door for three months. I was exhausted, angry, scared, bitter and most of all resentful I wouldn't get a "traditional" first Christmas experience with him. I was resentful my son was lying in a hospital bed — it felt like every other child was seemingly enjoying the day. Obviously it was not a lucid thought — and not at all emulating the spirit of the holidays. But I believe there are a lot of parents out there who know and have felt exactly what I am talking about.
We are the group of parents who are not stressed about wrapping presents, cooking food for a holiday party or worrying about family drama. We are the parents who somehow have to find the strength to smile for our ill children on Christmas morning (or other holiday celebrations), and pretend like it is still the greatest time of the year. I don't think any parent should have to do that. So while in my web of negativity, I decided instead of making my son's first Christmas the biggest downer — I would give him something that would last a lifetime: I wrote him a letter.
I wanted him to be able to look back and see that through all of our struggles and strife, I still managed to find my bliss on a very difficult day. I share this very personal letter with you hoping that no matter who you are, or what your family is going through, you know there are still things to be thankful for. You just have to look very closely and grab hold of them.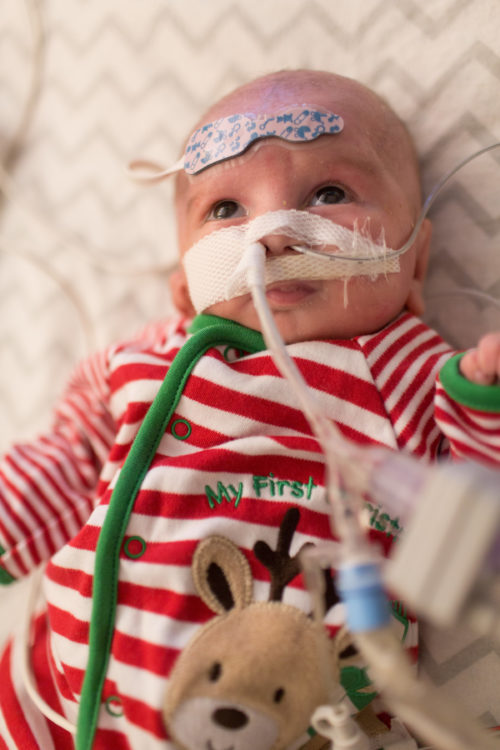 To my sweet Theo,
This weekend is your first Christmas and as I hear everyone talk about their Christmas plans, it makes me sad to know our plans are going to be a little different this year.
You won't get to spend time with your big family. Your dad and I will have to go to family parties without you. You won't get to see what Santa left you under the tree. We will sing Christmas carols under the lights of your monitors. Since we aren't doing things "normally" this year, instead of buying you presents, I wanted to write you this letter in hopes it will be something you can keep forever.
I wished and prayed for you to come to me for a very long time. It wasn't easy for us and God didn't answer our prayers right away. He had to cook you up extra special. He gave you the sweetest face, the biggest most beautiful eyes, a stubborn personality, a strong grip, a cute little bootie, one quirky ear and a heart that needed fixing. To me, you are perfect. You are my masterpiece. I hope one day you can look back on your beginning and know you started life being stronger and tougher than most. I know you won't remember these long hard days we have been having together — but they are a part of you — and have changed your dad and me forever. Every day of your life I have been proud of you. I am honored to be your mom. I don't ever want you to forget how special you are. A true warrior. I hope you continue to fight for your health, happiness and to make the world a better place. Life is not easy and your journey will not be either. Nothing good in life ever is.
As we begin this new year together I know it will come with a lot of your firsts. The thought of watching you grow and seeing your every milestone makes my heart happier than you will ever know. I promise to continue to fight for you, support you, give you lots of kisses and snuggles and to never settle for anything but the best.
Keep shining my little star. Love you as big as the world.
Although my son never made it out of the hospital — and he will never get to read this letter — I look back and I am so thankful I wrote it. It is a piece of my heart on paper and a reminder that I am strong.
Hug your children. Tell them you are proud. Know your own strength and find your bliss.
My love to all of you, near and far, and the happiest of holidays.
Photo submitted by contributor.
Originally published: December 18, 2018