The Reason I Survived the Grief From Losing My Fiancé on Our Wedding Day
---
September 12, 2009 was supposed to be a day of celebration, a day of happiness and the "1st Annual RAYNORMANIA." But instead, it turned into a day (and perhaps forever) full of tragedy, confusion, sorrow and pain for all who were there. The 150 people that were invited to our wedding were all obviously ready for a wedding…not a funeral.
It was a year of weddings for our friends. All of our 2009 calendars were filled with wedding events for each other: engagement parties, bachelor parties, bachelorette parties, rehearsal dinners, destination weddings, etc. There were so many weddings that the group of groomsmen all bought the same tuxedo to wear to each other's weddings, instead of renting a new one for each event. None of them could obviously plan that one of their best friends, Chris, would end up wearing his tuxedo in a coffin, instead of in church, on his wedding day with them all standing beside him.
It is still fascinating for me to think about the guests. There was no manual or etiquette tip book for "How to Comfort the Bride and Family After a Fiancé is Killed on the Wedding Day," for anyone to read. There was no time. It happened all so quickly for the guests to compose themselves in order to offer support and love. Everyone was put in this very fragile situation, all while not having a clue on how to navigate this unfathomable event.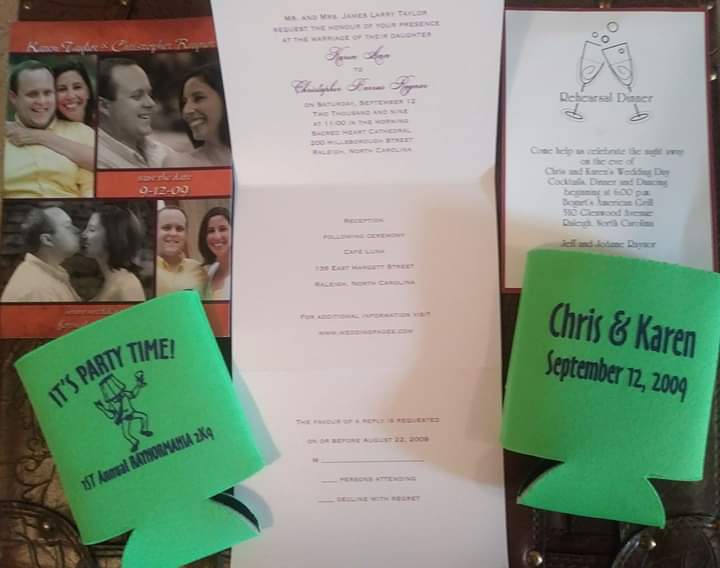 I can honestly say, since I have lived it, that not many people could survive losing a fiancé on their wedding day. Is that because I'm stronger than the average person? No. Is that because I'm more of an "inspiration" than the average person? No. Is it because of the love that we received as a family from the guests, acquaintances and complete strangers? 100%, yes.
Even though there was no manual or etiquette tip book on September 12, 2009, and all the days after it, the guests ended up writing it themselves through their actions for me to be able to live life after that terribly sad day. Each guest turned into a completely selfless human being and tapped into their own love language to express their love to me and Chris' family. Some sent daily letters, cards, texts, phone calls and emails. Some organized a chili cook off at Chris' parents' house to celebrate his 29th birthday (Chris loved chili and really loved cooking competitions). Some collected money to give as a sign of love to Chris' parents, which was spent on a beautiful granite bench next to Chris' grave. Some brought us food for days and months. One teacher I worked with brought me an egg and cheese sandwich to school every day for a year that her husband made me. Some just came to sit and cry with me at my apartment. Some sent prayer requests and went to church often to pray for the Raynor's and myself. Some sent me money and gift cards to just take care of myself because they knew I wasn't. To this day, even though I'm remarried, I still receive love from Chris' childhood and college friends. Many send me Christmas cards, many "like" and comment on my Facebook posts and many just do little things to remind me that they still love me and miss Chris immensely. Again, it's fascinating to think back on all of the love we received because I know for certain that that is the only reason why I have been able to move forward in my life.
When most people hear that a fiancé died on his wedding day, the first reaction is to think about the bride and the immediate family. But everyone who attended the wedding had to grow up faster than they should have…especially my first grade students who came to see their teacher get married. Years ago I created an analogy comparing grief to a game of pool. The force of the stick hitting the cue ball symbolizes someone dying. The cue ball heads for the perfectly triangular shaped rack of balls and bam, the balls go in completely different directions. Some balls head straight for the pocket…all they needed was that push. Some balls spin out of control. Some balls jump off the table because of the force that was so strong. Some balls just stop…as if watching the other balls react. Thankfully, and sadly, I've seen all of these after Chris died.
Each person at that wedding has been affected by Chris' death. I hope to live my life with as much purpose, passion, positivity and love that I possibly can to show my appreciation and respect for Chris, his family (which is now a part of my family) and our friends who have loved us through all of our ups and downs.
Photo submitted by contributor.
Originally published: July 7, 2019