Seven Years of Seven After Losing My Husband
---
There is a story that floats around the widowed community about every cell in our body being replaced within a seven-year time span. Meaning, by the time seven years pass, there is not one cell remaining that "knew" your departed loved one. As it turns out, that is not entirely true (because of course I googled that).
Nonetheless, the number seven does have a sort of special significance attributed in our society, the "seven-year itch." Seven days in a week. Seven continents. Seven wonders of the world. Seven colors in the rainbow. Seven deadly sins, as well as seven virtues. Good Lord, "Seven Brides for Seven Brothers" even came up on every Google search I did.
My husband and I had a short courtship. I was 27 when we got engaged. We were engaged three months after we began dating. It only took three months. Three months and seven years. There was an unmistakable chemistry from the time we first met. Each of our best friends were dating, and then eventually married. They told us both (separately) that we seemed meant for each other. But life was life, and we were living in different States, dating other people, and it did not seem feasible. We seemed destined to be those friends/acquaintances who stole glances at each other and blushed if the other one caught us. Our friends were not deterred. It only took seven years for them to feel vindicated.
I remember being at lunch with my mom and mother-in-law around the time of our first wedding anniversary, and commenting that if the first year of marriage was the hardest, then I thought we were doing just fine. Of course things weren't always rainbows and sunshine, but for the most part, we were a strong couple. Our biggest fight, prompting him to pack a bag and leave the house (for all of about 20 minutes) was regarding how much toothpaste the 7-year-old was using. I remember sitting on the couch during those 20 minutes thinking maybe I should be upset, or worried, but I was not. The reason I wasn't worried is because I knew he'd be back and we would be fine. That is the kind of couple we were. The level of trust was absolute, and our love was completely secure.
By our seventh year of marriage, we had a house, cat, dog, and a beautiful son and a daughter. Our million dollar family. There was no "seven-year itch." We rang in the new millennium full of joy and looking to the future.
Seven years later, things were still wonderful. Life gave us a third amazing child, and our family was complete. Things were hectic with two careers, three kids in three different schools, but we were in a chaotic routine anchored by love.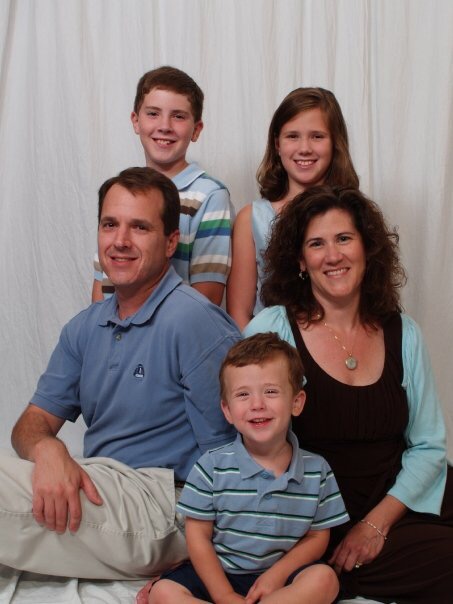 Then came one hot Labor Day weekend. We spent an evening with my family. On the drive home, as we held hands, we discussed taking the kids to a park or something, as we held hands. He told me, as he often did, that he didn't care what we did, as long as we were together. We watched, "The Curious Life of Benjamin Button" that night (a completely bizarre movie, by the way). He seemed exhausted. I put the kids to bed and kissed him good night on the couch. We said "I love you," as we did every night and each time we said goodbye. Thank God those were the last words we said to each other.
My beloved left this life on the seventh day of the month. He never woke up on that Labor Day. My 42 year old husband who never took a sick day in his entire career, died in his sleep. Our dear, sweet first-born son found him on the couch that morning.
I still suffer from flashbacks of that day. "Mom, I think something is wrong with Dad." And all that followed. Visions, sounds, smells, even tastes. I'm told it's a form of PTSD. You never know when these flashes will hit. Mine seem to prefer random points while driving. The worst are the sounds of his exhalation and the taste of his lips while I attempted CPR. I had been constantly certified in CPR since the age of 18, and in all of those sessions, no one ever mentioned that a dying (or lifeless) person makes exhalation noises after you provide the breath.
I could not have survived those first days and months without the tremendous support of our family and friends. Through the worst of times, you can discover the best of humanity.
Now it has been seven years since he last bid us good night. Seven years, 2,555 days, 61,320 hours, 3,679,200 minutes. Other than our love, there is little left at this point that remains the same after 7 years.
Our children were 13, 10, and 3 on that terrible day. Our oldest two have grown and blossomed from children into young adults in seven years. And our youngest babe grew from diapers into a lanky preadolescent boy. Our beloved beagle Maggie stayed with us for almost exactly one year after his death before she crossed the rainbow bridge to romp with her Daddy on young legs once again. Our house is once again filled with furry love from another adorable beagle, and a sweet kitty who never knew his scent.
And me? I've entered a new decade that he will never know. I've dealt with surgery, negotiated finances, argued with contractors, went to countless concerts, games, events, and moved our first baby into college as an only parent. I've fixed and replaced more household items than I ever wanted to in a lifetime. I have not always done these things with grace. There have been more instances of kicking and screaming than I care to discuss. But I've learned and accepted that all any of us can do, is our best. Some days are better than others, and I have to keep getting up and trying again tomorrow.
I've made choices along the way I am certain are different than those we would have made together. There are compromises — large and small — in all marriages. Giving myself permission to live without some of those compromises, because of the love we shared, is something I still question from time to time. Yet, it also made me stronger. I've turned the kids into Broadway geeks like their mom, knowing he only tolerated the few shows we saw together because he loved me. I've made changes in and to the house listening to the ghosts of his strong opinions in my head. I even survived teaching two teenagers to drive.
And, of course there is the ever present elephant in the room for young widows. The D word (dating). For years, I could not even fathom the idea of opening my heart again. For years, I still felt completely married to my dead husband. I will always be connected to him. I will always love him completely. I still can't fathom the idea of finding someone new. I didn't enjoy the dating scene when I was in my 20s. Now it just seems laughable and icky. I've told people if I am to find someone else, they will have to ring my doorbell with a red ribbon sign inscribed "with love from Gary." Only time will tell.
In another seven years, life will again be barely recognizable compared to today. As the children continue to grow up and move away, the fears of "what will I do when it's just me?" are already creeping in. Truth be told, they sometimes overwhelm me. Finding a balance between taking things one day at a time, and looking at the big picture, is a constant challenge. But, as it has been for seven years now, when I am at my lowest, I look at our three children and I find comfort and strength. They have faced the past seven years with indescribable strength, grace, and joy. I am astounded by their resilience, as they not only survive, but truly thrive in all they do. These past seven years have been challenging, and many times heart wrenching. But we have grown and matured together, and have continued to love each other while keeping the memory of their dad alive. Together, we will strive to continue to make him proud.
We want to hear your story. Become a Mighty contributor here.
Originally published: May 17, 2017