How Parenting a Child With a Rare Disease Changes Who I See in the Mirror
---
As a child, I had a sheltered upbringing where whining enough would get me pretty much anything I wanted. Being generous meant putting some sandwiches together to feed the homeless once a year. Being a gentleman meant holding the door for any and everyone. Getting through emergencies meant trusting in caretakers and having faith. And accidents always happened for a reason. The phrase "What doesn't kill you makes you stronger" would regularly echo in my mind. Back then, time, money and smiles were familiar. Giving came easy and support seemed to be there whenever I needed it. I was so naive.
When I became a parent, everything I knew to be true back then changed. Before parenthood, I did not know the name of a single person with a disability. I would feel compassion but no empathy. Though my mother advocated for and treated patients with developmental disabilities, I have memories of giggling with my friends as we pointed on occasion. Then, my son was born with Hirshsprung's disease.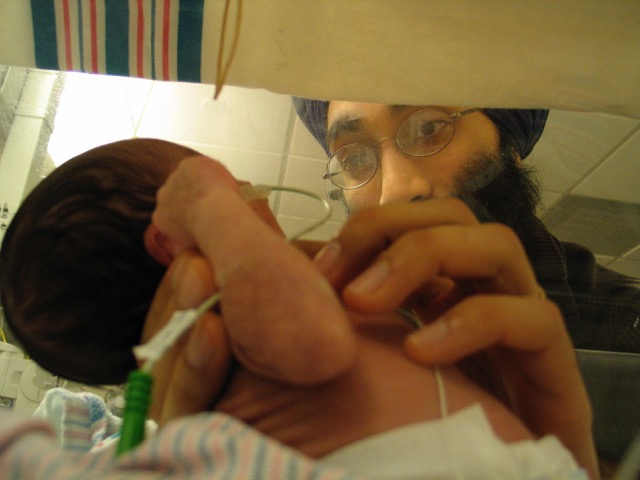 The day I became a father, the ground shook and my heart started a never ending marathon while building a cocoon to shield itself from this new world that surrounded me. All the smiles and familiar reassurances I expected from medical professionals became faces of worry and uncertainty with hints of hope from opportunistic physicians itching to experiment. The elegant and friendly wing at the world renowned children's hospital began to feel more like a basement biology lab at a city university. All the hugs, celebration and support from family were replaced by criticism about what we did wrong and fear from others that they might "catch" this disease. Others felt relief when the doctors would say, "We see this all the time, he will be OK," but I knew their relief was only ignorance. Who was I to crush their view of the world? So I let them walk back to their world, hoping maybe just one person would remember their way back to me. Again, naive.
Quickly, every pillar that supported my family and me began to crumble. Each hour, the goal was just to make sure my wife, my children and I made it to the next day.
Time continued to pass, and these days, I look in the mirror and barely recognize the person looking back at me. The world seems so unfamiliar, and I feel like I was living on the set of "The Truman Show" for the first 30 years of my life. Since my son's birth, it has taken me 10 years to have the guts to look in the mirror. As much as I wish those years had stood still, they didn't. The stress and age are all over my face, body and side table. Bottles of muscle relaxers, stress relievers and medication for multiple GI issues are a constant reminder of the cost of stress.
In many ways, I must protect my son from the safe world I grew up in. People look at him like he is caught in a "Tom and Jerry" cartoon where no matter how hard he tries, he never gets the prize. But I see my son like a character in "The Matrix," reaching through every wall his doctors, teachers and therapists put in front of him. For someone who is still struggling to survive, he is making his own path and writing his own book. He is not where he "should be" on most metrics we have for typically developing children, but according to the metrics he was given at birth, he shouldn't be here today. That is a pretty significant wall to overcome. He never gives up, no matter how hard the task is for him. And what kills me is that my baby boy, who has overcome more than anyone I know in his first seven years of life, ends each day the same way — by thanking each family member for things they have done for him, and saying his "I love you's." I wish I could say I taught him that.
These days, I try hard to see the light when I look in the mirror. I embrace that it shows me how far I have come and how much I have grown. In that mirror, I see the scars that have healed stronger, the heart that is a little bigger and the eyes that have aged and shed the tears they have held in for so long. Most importantly, I remember to be grateful and not so naive.
Want to celebrate the human spirit? Like us on Facebook.
And sign up for what we hope will be your favorite thing to read at night.
Originally published: June 25, 2015