The Day I Took My Daughter Out With Her Braces and Gait Trainer
---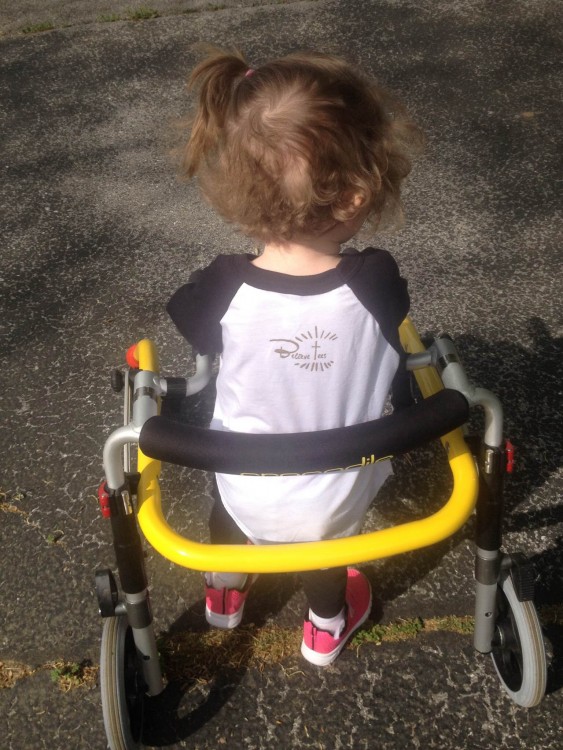 We've tended to keep our physical therapy at home. The leg braces and gait trainer that assist my daughter in standing and walking are usually replaced with cute pink princess shoes for "going out." Recently, as she's started doing more standing and walking, the equipment has left our home and started traveling with her.
This week, something amazing happened.
I made a decision to take her "as she is" to pick up my son from his school. We arrived early to allow time for her to make her way from the parking lot to the classroom. She had her braces on her legs and her bright yellow gait trainer for support. She would take a few steps and then stop to talk about the wind in her hair or the birds she could hear in the trees. Slowly, slowly, she got all the way to the main doors. There were a few others approaching the doors with us and they all smiled and patiently waited while Tillery worked her way through the opening and into the hallway.
As she proceeded down the hall, parents and children encouraged her and cheered her on as she headed for her brother's classroom. It warmed my heart to hear the support and see people genuinely happy to see her getting around. My fears had been that people would gawk at her and kids would make fun, but instead, all I saw was love.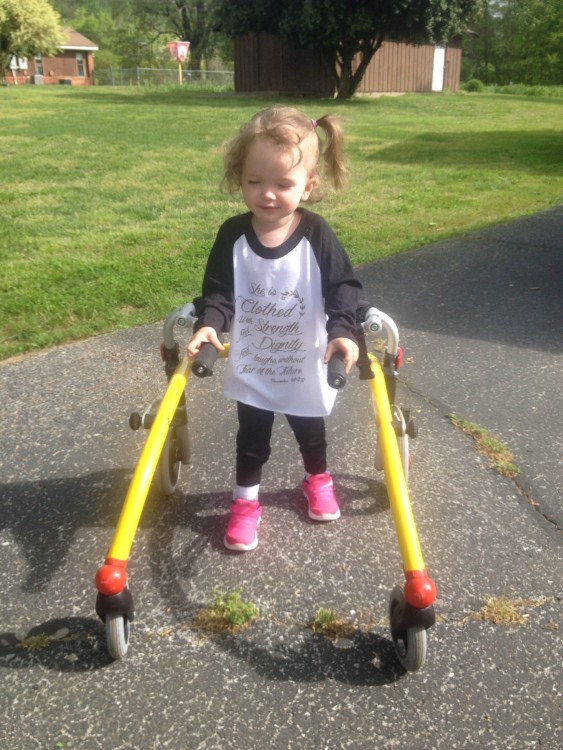 Leaving the school, another mother told me that her daughter used to have a gait trainer. She said her daughter had hydrocephalus and a VP shunt (just like Tillery!) and that it took her a long time to get the hang of walking. She encouraged me by sharing that now her daughter is now 5 years old and well adjusted. You wouldn't know the obstacles she has overcome. I really appreciated her sharing her daughter's story and was thinking of how encouraging everyone had been as we made our way out of the school.
Tillery walked all the way to the car and I got the kids buckled into their seats and the gait trainer put back in the back. As I looked back at the school, I saw the mother who told me about her daughter coming out with her child. I was amazed to see her daughter was a child I had recently spent time with on a field trip. She was right, I never would have known the struggles she faced earlier in life. I smiled as I thought of my own daughter and the obstacles she has overcome that people around her would never know.
The day I took my daughter out with her braces and gait trainer, I embraced the life we are living. I accepted that this is what it takes to build strength and make advancements.
In a world where we sometimes feel different, I made our "normal," normal.
Follow this journey on Hope Til There's a Cure
The Mighty is asking the following: Tell us about a time someone went out of his or her way to make you and/or your child feel included or not included. If you'd like to participate, please send a blog post to community@themighty.com. Please include a photo for the piece, a photo of yourself and 1-2 sentence bio. Check out our Submit a Story page for more about our submission guidelines.