The One Thing That Helped Me Survive During My Rare Pregnancy Disorder
---
When I think about hyperemesis gravidarum (HG) my body tightens and dark painful memories flood my mind. There is incredible pain and suffering with HG. And as a two-time survivor, my thoughts about HG have always been dark and scary.
HG is officially a rare disorder characterized by severe and persistent nausea and vomiting during pregnancy. But to those of us battling HG or survivors of HG, it is so much more. The best way for me to describe it is the stomach flu, food poisoning and hangover all at the same time for months at a time.
I write this to bring much needed awareness to HG but I also wanted to give those suffering from HG currently or are still struggling through postpartum depression something to hold onto. I didn't have access to a survivor of HG during or after my pregnancies. I hope what I am writing can give someone hope, however small it may be, to keep going and not give up.
I am now 4.5 years post HG. For me, it was not just a nine-month long sickness. I suffered from post traumatic stress disorder (PTSD), severe postpartum depression and I now have a chronic illness. I have every right to hate HG (and I do really hate it), but as I get farther away from my HG experience, I have started to think more about how I survived (barely, yes, but survived none the less). Of course family support, medical care and knowing I would get my baby at the end were important, but there was one thing that helped me to survive in those dark, lonely and terrible moments and find the strength to go on.
Laughter. I know what you're thinking. There is nothing remotely funny about HG and I agree. But since I knew I had survived other tough life moments because of laughter, I decided to start looking at some of my HG memories differently:
Smiling as I sat in the shower after throwing up seven times in a row (first of at least 5 million times) on the morning I was five weeks pregnant, because I was so thankful that I chose to eat coffee cake (one of the last things I ate for a long time) instead of a breakfast burrito.
Laughing after catching a glimpse of myself in the mirror, with an IV in my arm, medicine pump in a fanny pack, hair sticking out in all directions (there is little showering and hair being done in surviving HG) and desperately trying to hold my pants up because I had lost so much weight. I was quite a sight to behold!
Sitting in the bathroom at work, and laughing so hard I couldn't breathe because the medicine I was on caused horrible constipation. And out of sheer desperation I drank some milk of magnesia (not recommended) and ended up having an embarrassing accident in the hallway.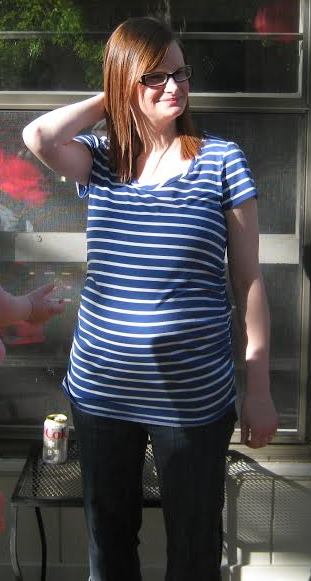 Smiling from ear to ear while I sat on the porch in the sunshine listening to music and drumming my hands on my stomach, feeling little feet kicking to the beat.
I didn't remember these moments before because I had let the darkness of HG consume me. I see now that some of my greatest moments of strength and courage were followed by the incidents above. Even in my darkest hours, I was able to survive because I could still find my humor. It was not always a belly laugh or even a full smile. Sometimes it was just the slightest hint of a smile or a tiny twitch of laughter at the corner of my mouth, but it was enough to get to me to the next moment. It was enough to make me a survivor.
Each person's experience with HG is different and I don't pretend to be an expert of how to get through the tough times. However, as a two-time survivor of HG, and as someone with a chronic illness, I do have some ideas that may help if you are suffering.
Start by taking it one moment at a time. Don't think about how you are going to get through the next day or the next week or the next month. Pick increments of time that are doable for you. In the first few weeks of HG, when I was at my worst, I would set a timer and tell myself I just need to get through the next 15 minutes. I would focus on those 15 minutes and those 15 minutes only. It allowed me to not get into the "what if's" of the days to come. It also allowed me to find some inner strength to keep going because I wasn't thinking about how I was going to survive for next months. Once I hit those 15 minutes, I felt a sense of accomplishment and I would go on to the next 15 minutes.
Allow yourself to have emotions. It is okay to be angry, sad and frustrated. You don't have to be a martyr. When I allowed myself to have these emotions, I always felt better afterwards. Sometimes a good cry does more for you than trying to smile all of the time. For a while I would feel guilty about being angry or crying because I thought I was betraying my child growing inside of me. I learned that just because I was angry I was sick, did not mean that I didn't love my child. I wasn't mad at my child, I was mad at the situation. I was sick, really sick, and it was okay to be upset about it.
Be your own advocate. If someone is not supporting you or your doctor is not giving you the care you need, walk away from them. When you have an illness that is considered rare or is not always understood, you have to fight for what you need. When I found out I had HG, it was in my second pregnancy. I didn't know I had HG when I went through my first. Afterwards, I was told that all pregnancies were different. When I got pregnant again and ended up in the hospital, I learned that was not true. HG is more likely to happen each subsequent pregnancy and can get worse. When I went to my doctor after the hospital stay, I demanded better care and I got it.
Lastly, find moments of joy. They may be small and that is okay. I remember there was a day when I was able to brush my teeth without throwing up and I was giddy with happiness about it.
Small moments of joy can get you through anything, I truly believe that.
The Mighty is asking the following: Tell us one thing your loved ones might not know about your experience with disability, disease or mental illness. What would you say to teach them? Check out our Submit a Story page for more about our submission guidelines.
Originally published: May 27, 2016