10-Year-Old With Rare Disease Shamed by Anonymous Note Left on Car
---
After returning to their car parked at a Target in Westminster, Colorado, last week, Naomi Barringer and her 10-year-old daughter Kaitlyn found a note on their windshield, KSDK News reported.
The three-paragraph typed note accused Barringer and Kaitlyn of using a handicapped parking spot without having a disability. It used words like "idiots" and "lazy."
"I was offended, I was hurt actually. I really didn't know people thought of me like that," Kaitlyn told KSDK News. "I am disabled and they may not know that and I can understand that because I do look normal but I don't think they have to do that."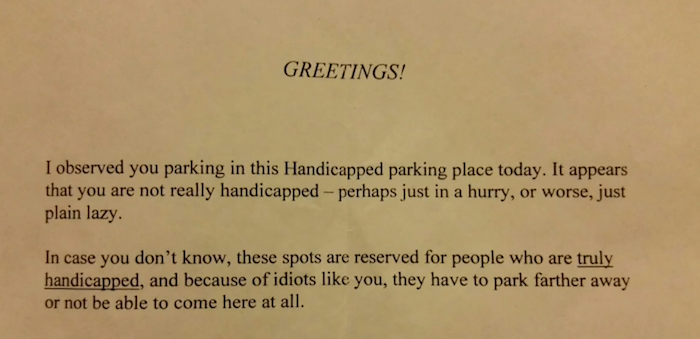 Kaitlyn has hypophosphatasia, a rare progressive disease affecting the bones, muscles, joints, teeth, lungs, brain and kidneys, according to hypophosphatasia.com. She's often in pain, and the handicapped parking permit makes it so she doesn't need to walk far distances.
"[D]isabilities come in many forms, several of which you can't see just by looking at someone," Barringer told The Huffington Post. "I allowed Kaitlyn to read the letter because she will encounter people like this throughout her life, and it is important for her to be able to advocate for herself and know how to effectively and appropriately respond to these types of situations."
Get more on the story from the video below: