To the Doctor Who Urged Me to Abort My Child With a Heart Defect
---
While in my college courses years ago, we discussed the topic of abortion quite often since I was going into a career in the medical field. I often thought about being faced with the decision to abort because my baby had a major medical condition and most likely would not live, especially if it meant the child would have numerous medical procedures. But I learned over the years that doctors aren't always right, and they don't hold a magical book that can determine the exact date of expiration on a life.
When I walked into your office, I was scared, overwhelmed and in medical mode as I watched the tech scan over my plump baby bump. I could see the blood flow was wrong in his tiny heart. But I also felt him roll around, and I saw his tiny facial profile.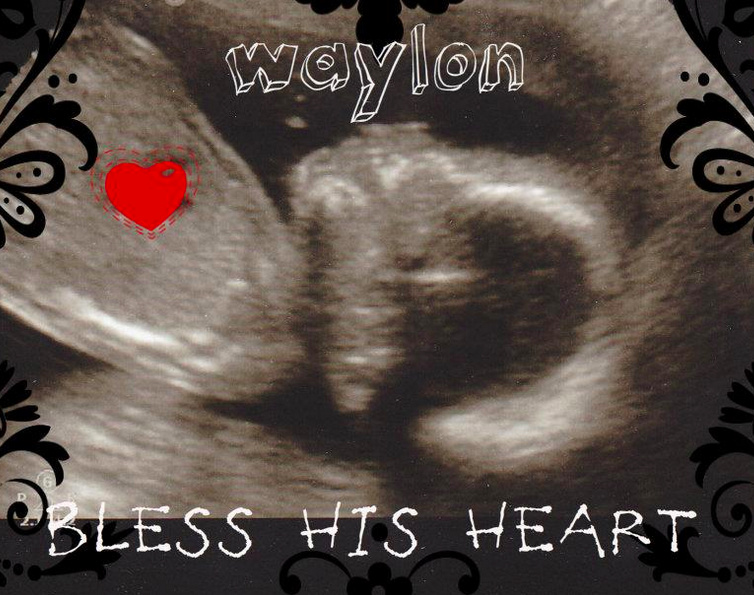 When you walked in, you talked directly to the ultrasound tech, saying things like "critical aortic stenosis." Then you smiled and said, "Excuse us for speaking our 'doctors' jargon.' I will explain fully in a minute." You looked utterly surprised when I explained I already knew what you were talking about, and then you directed the conversation to me and explained how I was a very observant person to have seen that our 20-week fetus only had three chambers in his tiny heart.
You went on to explain you had never seen a case this critical that didn't turn to a condition called hypoplastic left heart syndrome. You explained the left side of his heart was extremely small and barely functioning, and it would end up no longer functioning. You explained his aorta was and would continue to become narrow/smaller. At this time, we would have a list of options, none of which would be easy.
We could choose:
– Abortion
– Birth him and then take him home for compassionate care (no interventions, just watch him eventually pass away)
– Three open-heart surgeries before age 4
– Heart transplant
Abortion, though, was your main focus. You continued to speak of it, saying how this life would be hard on him. That it would be extremely hard on our family, as my husband and I were younger, and we already had two younger children. You said he would have little to no quality of life. You said we should decide within the next two weeks because of his gestation.
I was pissed and hurt at such a gesture. Here we were receiving life-changing news, and you were telling me I could just end it all with a decision. A child I had carried now for 20 weeks. I felt him kick and saw pictures of his little face. There were options to help him sustain life, and I believed you just wanted to get rid of him. You gave us no hope, as you said most of these kids don't make it out of the hospital, and most never make it to kindergarten.
Three years later, I've begun to understand why you stated these things. Why you continued to bring it up, and why you seemed to be angered at the thought of us not choosing it.
I understand that at your place of work, you are faced daily with the faces of grieving parents. Parents who've just heard devastating news from you. Parents wanting to hold onto their bundle of joy for as long as they can, consumed with their emotions and "selfishness" of wanting to keep their child alive. Because who wants to face the scary part that most people never experience? I'm sure you thought about the tax dollars "going to waste" for a child who wont make it anyways. You were not properly educated on the new technology and interventions that have been keeping children like our son alive now for the past 20-plus years.
You were thinking of another young couple taking on too much, and another child being placed in the system because they can't properly maintain care for such a fragile child.
I understand.
Your words stick with me daily.
When he came out of his first open-heart surgery hooked to life support, hanging on the edge of life and death, I saw heartache.
When I saw his enlarged heart beating through his chest cavity because he was too swollen and unstable for his chest to be closed for two weeks, I saw hardship.
When I saw him cry tears but heard no sound because of his breathing tube, I second-guessed my decision, just like you did.
When we made the decision to have him moved to a more equipped facility out of state and I was separated from my husband and children for four months, I stood by his side every day.
When I saw him smile for the first time, I saw quality of life in the form of happiness.
I watch him use his walker through our house, as he smiles and yells, "I luu you mommy." I hear quality of life and see it with my eyes.
Though he had and has many daily struggles, he perseveres. He smiles daily; he laughs big belly laughs. He gives the biggest hugs and makes our family complete.
You said most of these kids don't make it to kindergarten, and we have seen that evident many times, sadly. But their lives were worth every second. Their smiles will forever be remembered. The memories they made with their parents will as well.
Next week our sweet boy will be starting preschool near our home. I will be handing him off again, but in the best shape he has ever been in. We know the reality of losing him at a moment's notice. We have come close many times, but I know we made the best decision for him when we chose to fight. Any second we have or have had with him has been worth it — maybe not always the easiest, but always worth it.
Even with his critical congenital heart defect, mixed with the hypoxic ischemic brain injury that occurred during his first surgery (that caused him to have cerebral palsy), he still continues to amaze doctors with his continual progress.
This type of life isn't everyone's best choice, and we understand that. We also understand it's your duty as a health professional to give us all options (even the uneasy ones), but our choice was best for us. I hope one day you will have the pleasure of meeting our sweet boy, and that you can be better acquainted with survival rates of children like him in the near future.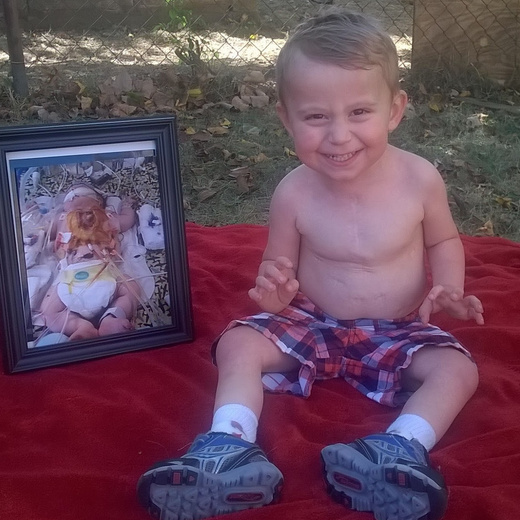 Follow this journey on 4 1/2 Hearts.
The Mighty is asking the following: Write a letter to anyone you wish had a better understanding of your experience with disability and/or disease. If you'd like to participate, please send a blog post to community@themighty.com. Please include a photo for the piece, a photo of yourself and 1-2 sentence bio. Check out our Share Your Story page for more about our submission guidelines.
Originally published: September 24, 2015