How I'll Respond the Next Time Someone Asks What My Daughter Has
---
When people ask me what my daughter has, I always instinctively say "hypotonia." There's never a pause in my voice, there's never a moment of contemplation — just a simple and direct answer.
Every once in a while, they look back at me quizzically. I immediately know by the looks on their faces how to respond. "It means low tone," I tell them.
Most of the time, they nod their heads and walk away or go about chasing after their own children. Every once in a while, a more in-depth conversation ensues. I don't mind explaining to others why my daughter struggles, why she stands out on the playground, why she can't keep up with her peers. Deep down, I always secretly hope that I'm raising awareness. That my words will mean she will have less of these types of conversations in her future.
But most of the time, the dialogue ends with that one word — hypotonia. A word that is very much a part of her but does very little to explain the beautiful complexity of who she is. So, I've made a promise to myself and to her.
The next time someone asks me what she has, this will be my response:
"She has a fighter's spirit and a warrior's heart.
She has a mom who loves her fiercely — with every fiber of her being.
She has a mind that is perpetually made up and a knack for finding mischief.
She has a smile that lights up the room and an absolutely contagious belly laugh.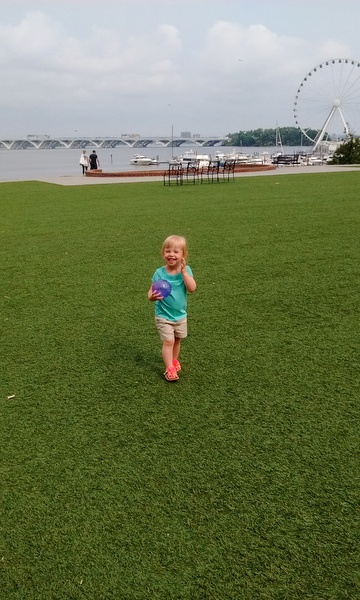 She has a love for animals, babies, ice cream and bugs — the creepier, the better.
She has a teeny, tiny body full of determination and a little bit of silliness.
She has family and friends who have cried for her, prayed over her and who believe in her every step of the way.
She has proved doctors wrong and taught us the beauty of an "inchstone."
She has reminded me that happiness can be found in the simplest of moments — a walk in the park with her hand in mine or in the early morning hours as she hums "Your Are My Sunshine" nestled next to my heart.
She has shown our family the power of unconditional love.
And she has hypotonia."
And before they turn from me to chase after their own children, I will be sure to remind them of what matters most.
"By the way," I will say, "did I mention she has the heart of a warrior?"
Originally published: September 8, 2015