The Unexpected Consequence of Our Daughter's Survival
---
Hypoxic-Ischemic Encephalopathy: a long title, isn't it? Try and pronounce it… struggling? I did, too. I struggled just hearing the neonatal consultant say it the day I walked into the NICU after my daughter's horrendous delivery.
I didn't get to hold my daughter when she was delivered, nor did my husband, and we didn't get to hear her cry. All I heard were rushed midwifes, nurses, doctors and consultants, and then, "We are taking your daughter to the neonatal unit."
Now, I have had experience with the neonatal unit before. My Mom was a neonatal nurse for many years. I often visited her at work and would see all of these babies in their little incubators and see families in and out visiting their babies. I saw tears, smiles, happiness and sadness. But not once did I ever imagine that something like this would happen to me.
Walking into NICU this time was completely different, a crowd of doctors and nurses around a baby who looked too big to be in that incubator, around my baby. My baby who wasn't moving, wasn't breathing for herself, wasn't making a noise. The image I had of our first cuddles was taken away, the image of us ringing family with the wonderful news was taken away… That's right, HIE, you took all of these away from us. I will never forget looking at the consultant. With an extremely worried look on his face, he told me, "She is very poorly. We will take things an hour at a time and not look into the days ahead." My mum said, "Take as many pictures as you can." I knew what they meant – everyone thought that you were going to take our daughter from us completely.
But you didn't manage what you set out to do; you did not get to take my daughter. I sat by her side every hour, willing her to not go with you. Constantly asking the nurses to repeat your name to me – Hypoxic Ischemic Encephalopathy – so I could pronounce you when our daughter survived.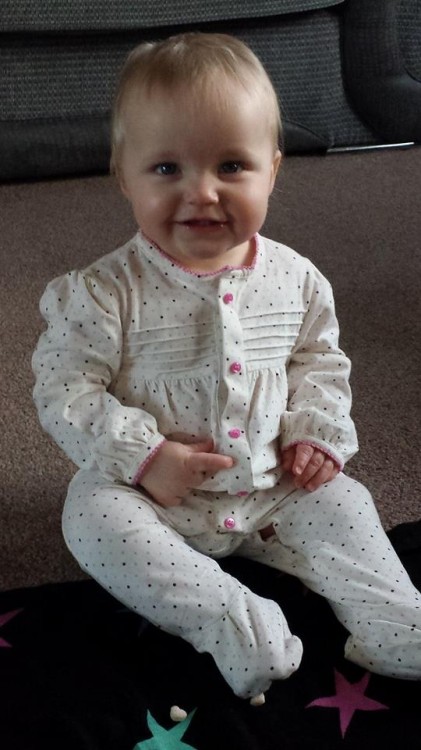 You didn't take my daughter's ability to roll, sit or crawl. Her ability to feed and enjoy playing. I hope in the next month or two, we discover that you didn't take her ability to walk or talk.
What did you take, HIE? You took me, as if we made a silent pact that if you left my daughter alone, you could have me. You encourage my anxiety and play with my mind. You stuck a piece of me in that spot next to the incubator my daughter was fighting for her life in, and it is there that I stay. You pop a mental photo up to me when I am thinking about something completely unrelated and hold it there for hours, watching me cry.
But I now have this to say to you… Keep your grasp tight, HIE, because I am ready to fight back like my daughter did, and you won't be keeping me for much longer!
Want to help celebrate the human spirit? Like us on Facebook.
And sign up for what we hope will be your favorite thing to read at night.
Originally published: March 27, 2015