How a 'Rare' Mom Chooses to Fight Back With Quilt-Making
---
How can quilting make someone a hero? That was the question I was challenged to ask when I was introduced through a support group to Sue Carpenter, known by many in our circle as "the quilt lady." This group wanted others to know about Sue and the way she sews back together the brokenness of this world with her handmade quilts, patched together by stubborn hope and love.
I don't know Sue, but I know a glimpse of one of the monsters she and her family fight on a daily basis. My daughter and hers have the same rare disease called juvenile myositis (JM) — a rare, sometimes life-threatening, autoimmune disease that affects three in one million children each year, causing the body's immune system to attack its own cells and tissues.
I scheduled a time to interview Sue, to hear more about her daughter and her personal mission to quilt, but after one search of "Sue Carpenter" on Facebook, I was sucked into her story, as told by a newsfeed chronicling the last eight years of Sue's struggle with her daughter's illness, along with her selfless sacrifice of time, money, patience, and sore fingers in order to make over 300 quilts that she sends in packages across the globe to surprise children struggling with JM.
We can feel overwhelmed at the enormity of brokenness and hurt in the world, even in the face of our own life challenges, but Sue teaches us that we can sew our world back together one stitch, one quilt at a time—bringing vivid color to a world whitewashed by doctor's office and sterile hospital stays. She teaches us that sometimes a smile is enough to keep fighting the good fight.
It was a smile that started it all eight years ago when she sent her first quilt to Mason Smedley. Sue describes Mason as "a very special JM boy," whose "strength, positive attitude, and wisdom was far beyond his years." Mason lost his battle with juvenile dermatomyositis at 10 years old, but is remembered for his love of life, and an irresistible smile. After Sue saw a picture of Mason with his quilt, it spurred her personal mission to reach more children with JM—by sending a handmade love note in the form of a quilt. She's collected many more smiles in return.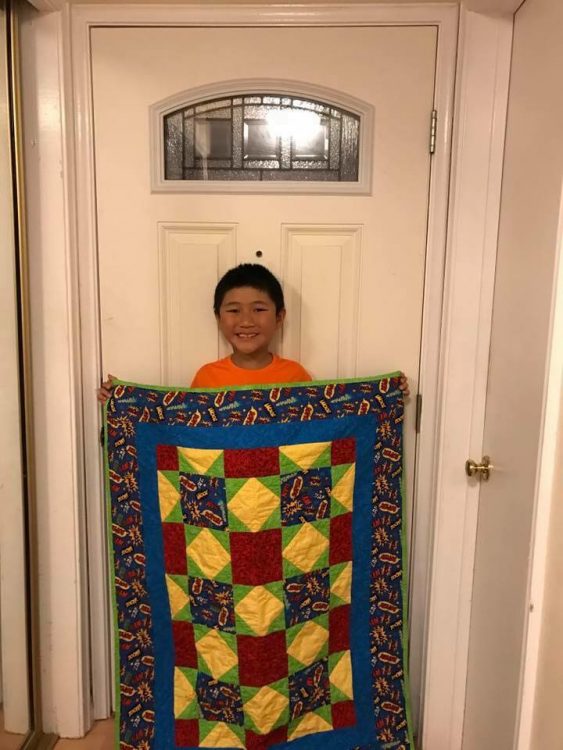 Sue's family hasn't had an easy journey. She lost her husband to cancer eight years ago. Her daughter, Kristen has had JM for 14 years and hasn't reached remission. In addition to JM, Kristen has many other health complications. By day, Sue teaches full-time, by night she sews her heart out, inspired to keep going by her "can't stop, won't stop" motto.
When I see Sue, I see a "can't stop, won't stop" hope, a "can't stop, won't stop" fight for light in a world that can easily become hopeless when someone is dealing with health challenges. Sue is an unstoppable force for good, an inspiration, and a reason to smile in the face of life's hardest challenges. Her quilts dot hospitals across the country, across the globe, leaving a patchwork map of love and encouragement for JM kids as they bravely fight back.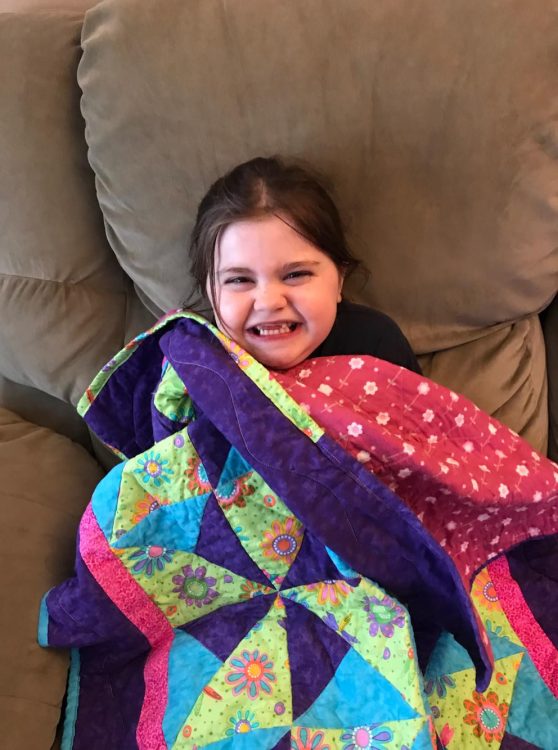 Originally published: April 30, 2018