Hundreds of Vehicles Show Up for Funeral Procession of Boy Who Loved Trucks
---
Elijah Jose Steffan loved trucks.
The 3-year-old boy from Mesa, Arizona, was supposed to attend Phoenix's Monster Jam truck rally in a few months through the help of the Make-A-Wish foundation, but he passed away before he was able to attend, ABC News reported.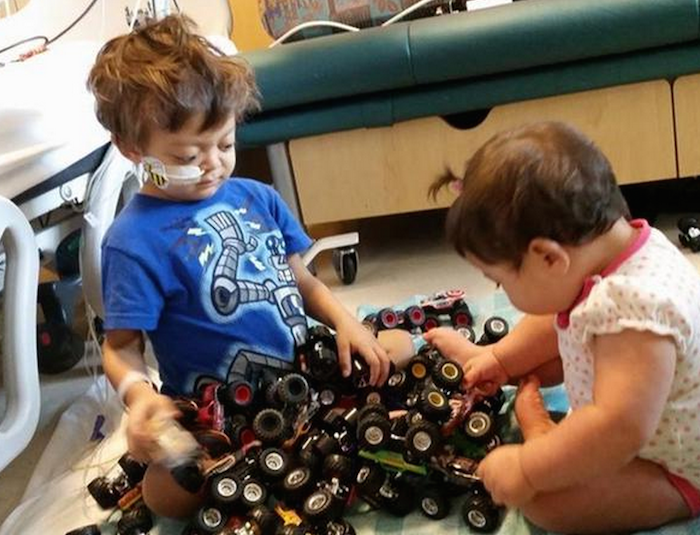 Elijah died in his parents' arms on August 21 after being diagnosed with Langerhans Cell Histiocytosis (LCH) in September 2013. LCH is a a rare cancer of that starts in LCH cells (a type of infection-fighting cell in the body), according to Cancer.gov.
On Friday, August 28, the community came out to show their support to Elijah's family in a unique way — a procession of all different kinds of trucks showed up to the funeral. Semis, pickups, off-road vehicles, fire engines, vintage vehicles, big rigs and even a monster truck came out to honor the young boy and his family.
TEARS! Jeeps, semis, pickups & tractors gather 4 funeral procession honoring 3-yo Valley boy who loved trucks @abc15 pic.twitter.com/HxqEXMAtgx

— Danielle Lerner (@DanielleLerner) August 28, 2015
Trucks in every size, color and shape are lining the streets in Mesa, Arizona to honor a 3-year-old who recently died pic.twitter.com/ekpfPixCgi

— ABC15 Arizona (@abc15) August 28, 2015
The procession lasted about an hour and ended at the Mountain View Funeral Home and Cemetery, ABC News reported. As the family entered the funeral home, the big rigs and other trucks lined the street and their drivers stood outside to honor the memory of Elijah.
Watch the moving tribute in the video below: 
h/t Reddit Uplifting
Originally published: August 31, 2015