The Trip I've Waited Almost 2 Years for as a Rare Disease Mom
---
I am headed to Denver, Colo. this Thursday for a quick getaway. I am actually giddy with excitement about my upcoming trip. You might expect I am traveling for the ultimate skiing adventure, or a hiking trip in the scenic Rocky Mountains, or maybe I am headed to visit with family or lifelong friends. I'm not. It took me years to take a trip like this. It's not so easy to leave the routine of home.
I am indeed traveling to visit with friends — some of these friends I have met by connecting with them briefly online or at prior gatherings. Some of these friends I haven't even met, but I know they will be there. I am looking forward to this trip as much as I look forward to our annual family summer beach vacation, where cousins come together from across the country to share in a fun-filled sunny week at the beach. This particular trip I've waited on for almost two years.
When these friends come together, I am at my most comfortable. It's where I feel at home and can be myself. It's where I can share about my son without worrying about what others will say and wondering whether they get "it." Even though my son won't be there, I see him in other kids that have made the trip. I see smiles and mannerisms just like his. I rarely get this opportunity. Not many children are born like my son. Seeing these children in person and hearing their parents talk about them makes me appreciate the gift my son is to me even more. It's a much needed reminder: Our children are beautiful.
We are all gathering for four days at the Family & Professional Conference on Lennox-Gastaut Syndrome (LGS). We have been brought together by the LGS Foundation. We all have a son, a daughter, a brother, a sister or other relation who suffers daily from this rare seizure syndrome — one of the most severe forms of epilepsy there is. We are moms and dads who just want the best for our children. We want them to live a day without seizures and medication side effects. We rejoice in the little things, like eating with a fork, or an unexpected smile or words spoken we didn't think would come. We compare battle stories, sleep-deprived nights and stressful hospital stays. And we come to find out our challenges are very similar. We really understand each other without much effort at all. We all get "it."
We hang on every word the experts are telling us, diligently taking notes so we can bring this newly learned information back to our own doctors in hopes it will help our loved ones. We have been given the opportunity to listen intently to the experts who are conducting the research, the ones working so hard to relieve our children of this horrible syndrome. We can see firsthand the experts are out there and they are working hard to help us. That gives us hope. 
When the conference is over, I will eagerly return home to my family, in particular, to my son. I will feel rejuvenated, refreshed and ready to tackle this different life I've been given. I'll be ready again to do the best I can for my son. Most of all, I'll feel blessed to have had this experience and opportunity to meet others like our family.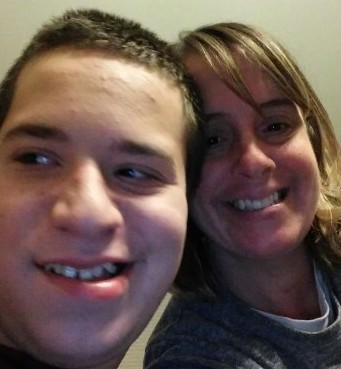 The Mighty is asking the following: What's one unexpected source of comfort when it comes to your (or a loved one's) disability and/or disease? If you'd like to participate, please send a blog post to community@themighty.com. Please include a photo for the piece, a photo of yourself and 1-2 sentence bio. Check out our Submit a Story page for more about our submission guidelines.
Originally published: April 28, 2016