When Our Doctor Said, 'We're Pretty Sure Your Baby Is Missing His Right Hand'
---
"We're pretty sure your baby is missing his right hand."
If I could go back to the day my son got this diagnosis, what would I tell myself?
…Breathe.
You're allowed to cry. You're going to cry a lot… for a while. You're going to wake up in the middle of the night to cry only to find that your husband is also awake. He'll be crying too.
You're about to go through many tests. Find the best geneticist. Find the best fetal cardiologist. Write down every question you have. If you think the question may sound crazy, ask it anyway. Get answers and write those down too. After all the tests are complete, they're going to tell you everything looks good. It seems to be just his hand, but you're going to be afraid they might be wrong. You won't feel quite sure until he's born.
You're going to have a lot of sonograms. If they're so sure it's just his hand, why all the sonograms? You'll feel uncertain and scared, so get support. You're now part of the "limb difference" community. Check out the Lucky Fin Project, Born Just Right and Living One-Handed among other great resources.
You're going to spend your 40th birthday in the hospital because there will be other pregnancy complications. It will be six weeks until your due date but guess what? Surprise! You're going to have your baby boy.
They were right. It is just his hand. He's beautiful. The best birthday present you will ever have. And to think you spent all that time worrying. He's perfect. Perfectly imperfect. Aren't we all?
When you bring your son home from the hospital your daughter will be almost 3. She's not even going to notice his missing hand at first, even though you tried to explain it to her in advance. When she does notice, it's going to be a non-issue. She's going to be crazy in love with him, and he'll be crazy in love with her.
When your little boy becomes a toddler, he'll already amaze you with all he can do. Watch out, he's going to be a climber. You're going to have to take the handles off the lower kitchen cabinets because he's going to climb on the counter when you turn your back for five seconds. When you take him to the park he's going to climb on everything and love it. He's going to play with all the kids and pretty much all the kids are going to ask about his hand. Most will accept it when you tell them he was born like that. Some will be afraid and run away. He'll be too little to notice but it's going to sting you… and you'll tear up when he runs away, blissfully unaware, to climb and play some more.
When your boy is 3 and a half, you're going to be tucking him in one night and he's going to start softly crying, his little lips will be turned downward, heavy with sadness. He's going to tell you he doesn't want his special hand anymore. He wants his fingers to grow, and he's pretty sure "they really, really will grow, Mom." His fingers aren't going to grow, but you're not going to have the heart to tell him in that moment. You're going to tell him you love him the way he is. Aside from that, what can you do but hold him close and let him express everything he's feeling? When he finally falls asleep your tears will fall. You'll realize this is one of many things to come that you can't fix for your child.
When he's 4, your beautiful little boy will tie his shoes by himself — with one hand no less. You'll realize that this simple act will inspire you and others. The pride, the joy, the loving and knowing he's yours will be remarkable. Even at a young age, if he can find a way to do something, he will, and he'll practice until his goal is realized. It's almost as if something deep within is driving him further.
Your son is going to love basketball. Even at just 5 years old, he's going to become good at it. Shockingly good. He's going to want to play every day — any free moment he can. He's going to become best buds and kindred spirits with a college student named Kevin Laue. Kevin is the first person partially missing his left arm ever to be recruited with a full scholarship to a NCAA Division 1 basketball team. Not unlike Kevin, your little boy will have seemingly unstoppable determination.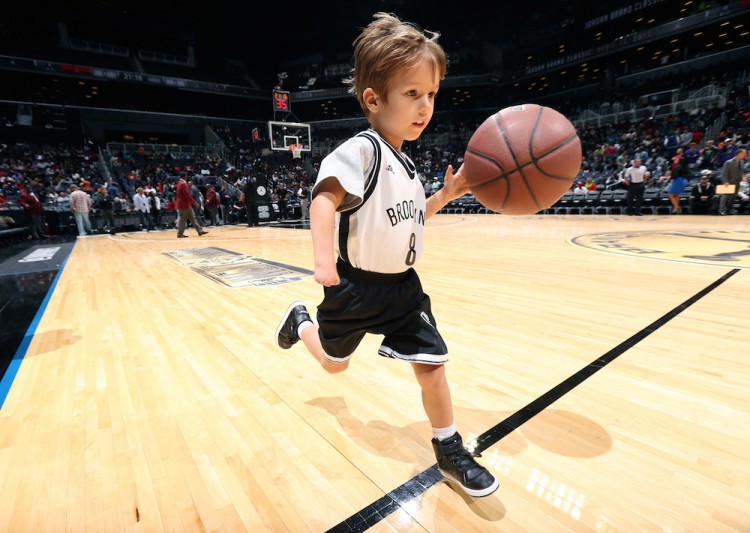 So breathe. It's going to be OK. It's going to be better than OK.
This is the beautifully messy, imperfectly perfect life you've been given, and you won't want to trade it for anything.
The Mighty is asking its readers this question: If you could go back to the day you (or a loved one) got a diagnosis, what would you tell yourself? If you'd like to participate, please send a blog post to community@themighty.com. Please  include a photo for the piece, a photo of yourself and 1-2 sentence bio.
Originally published: January 15, 2015