How My Illness Inspired My Surprise Engagement and Wedding — on the Same Day
---
I knew we were going away for my birthday…that's how much Danny had told me. He had made jokes about the cold so I was pretty positive we were going upstate or to Vermont or some ski town. We've done that in the past and really enjoy it so I figured that would be it.
Boy was I wrong.
The day before my birthday (Sunday, December 3), I woke up to Danny asking to play 20 questions. Number 18…"we're not going to Disney World, are we?!" Ding ding ding! Oh, my goodness! I haven't been there since I was about 5 years old so this was the best surprise ever! We stayed at The Animal Kingdom Lodge (which was amazing), so while waiting for our room to be ready we hung out with some giraffes… totally normal.
Fast forward to that Friday (December 8). Danny was being super intense about making sure we got to bed early the night before and to the airport on time… aka three hours early. We were supposed to have dinner plans with my family that night but when we landed at 3:30 I had a text from my mom saying she had a stomach bug and we'd have to reschedule. For a second I hesitated and asked Danny if they were surprising me for dinner and he said no and asked if I wanted Chick-Fil-A. I never say no to that, so we got some on the way home and ate in the parking lot. I couldn't wait to get home, into comfy clothes and snuggle with my dog.
We pulled into the driveway and I saw a string of lights in the backyard. I automatically asked Danny what was happening and thought his mom and stepdad (who were staying with us watching our dog) decorated for us because I love Christmas. Danny simply replied, "It's not over yet" and opened the door for me and took my hand. We walked down the driveway and when I turned the corner to the backyard I saw a few family members and a huge tent. Insert screaming Nicole. I then thought he threw me a surprise birthday party! What?! I just turned 32! Why is this guy throwing me a surprise party after a surprise trip to Disney?!
Then it all happened. I saw that our families were lined up next to the tent entrance. I saw my mom put her hands up to her face and start to cry. I saw my dad in a suit. I heard "Fix You" by Coldplay (a song Danny and I love) playing, and Danny whispered from behind me, "You know how much I love you, right?"
Then it hit me.
Holy crap.
I'm about to get engaged.
Then the waterworks started. I started walking down a path surrounded by family and hugging everyone. After seeing all of our immediate family, Danny led me into the tent where all of our closest family and friends were.
He took me into the middle of the tent and after saying some amazing things, got down on one knee and proposed! I was overwhelmed with happiness and couldn't let go of him.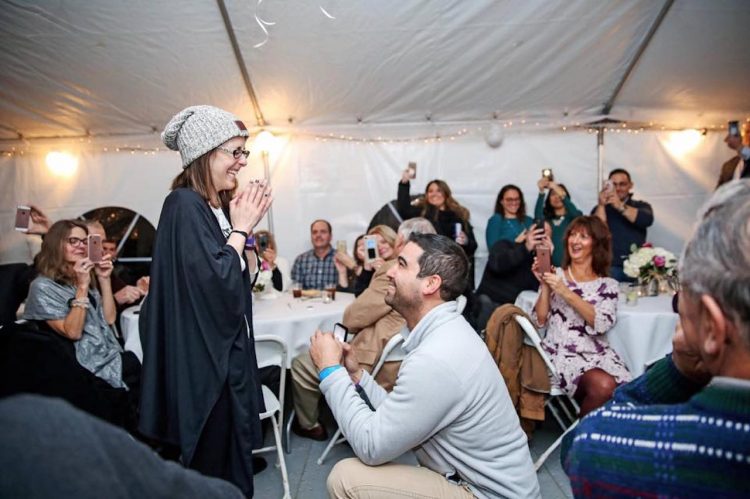 After that surprise, I greeted everyone and was so shocked to see so many people there, even from other states as far as Florida, California and way upstate New York. Everyone came from near and far for my engagement and I felt so so loved. I had to hold my ring hand with my other hand to show people because I was shaking so much!
After saying hi to everyone, Danny asked me to go inside with him for a minute. I figured he wanted a second alone to process what just happened. Little did I know, my night was about to get even crazier.
We sat down on our bed and talked for a bit, and then Danny said if we wanted to, we could get married that night and go to bed with me as his wife. My jaw dropped. He kept saying that we didn't have to and this could be an engagement party because most people didn't know about the possibility of a wedding, and he wanted me to be 100 percent sure. He told me to turn around and I saw a dress and tux hanging up. I just kept saying yes! How could I ever say no to that?!
I'm not good at planning, nor do I enjoy it. Big events sometimes cause me stress because I'm not sure if lupus or any of my other illnesses will get in the way and prevent me from going. I've identified some triggers that aggravate my lupus and send me into flares (traveling, certain foods, lack of sleep, etc). For me though, stress is the biggest one. The thought of planning a wedding didn't really appeal to me and due to the fact that I've missed a ton of events (birthdays, holidays, vacations, etc.), Danny and I also worried about me missing my own wedding. My health varies from day to day and even though I know some triggers, lupus also has a mind of its own sometimes and likes to show up especially at inconvenient times. What if we planned a wedding and I was too sick to even be a part of it?
The fact that this incredible man planned everything for me so I didn't have to go through wedding planning stress is indescribable. I kept saying yes and while Danny kept saying, "Are you sure, because if not we can plan our wedding together," he finally said OK, let's do this.
A family friend who is a deacon was supposed to marry us but unfortunately he was in the hospital, so Danny's dad had gotten ordained as a minister and was ready to go! He came in and had a few words with us quickly and then went out to announce to the guests that this would shortly become a wedding! With the exception of a few family members who made this possible by helping plan and set everything up while we were in Disney, it was a huge surprise for the guests, too!
This has been the question that most people have been asking… how did you get a dress that actually fit you?
My mom had been shopping and eventually went with Danny. They agreed on one they both loved and thought I'd love as well and got it in two sizes. My mom had them hemmed to her height because we are about the same height and that was that! I tried on the smaller size and the rest is history. It fit perfectly. 
I had my mom, Danny's mom, our step-moms, photographers (who are great friends) my cousin, and a few lifelong girlfriends all in my room helping me get ready. My mom had jewelry and shoes, and my cousin and friends helped with my hair and makeup. Before I knew it (and in a very short amount of time), I was a bride!
The next thing I knew, my dad was inside ready to walk me down the aisle and my cousin came in to tell me everyone was ready…so there we went.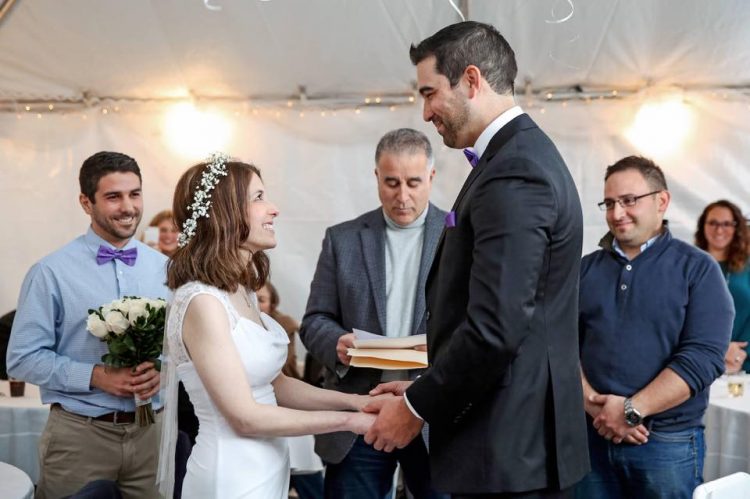 One of my favorite parts during the ceremony was that rather than asking if anyone objects, Danny's dad asked everyone who approves to applaud. Everyone went wild! I have never felt so loved as I did right then. 
The next thing I knew, we were pronounced husband and wife and we started to celebrate with our loved ones! Can you say shortest engagement ever? 
Danny danced with his mom and my mom, and I danced with my mom, my dad, and my husband! Afterwards, our men of honor gave speeches that they had about five seconds to prepare… but they were so absolutely perfect (and hysterical).
I found myself at one point sitting in my living room with my godson, his sister and my little brother… in my wedding gown. All I could think was, "This is freakin' amazing. I'm in my wedding dress hanging out with everyone who I love in my home. This could not be any more perfect."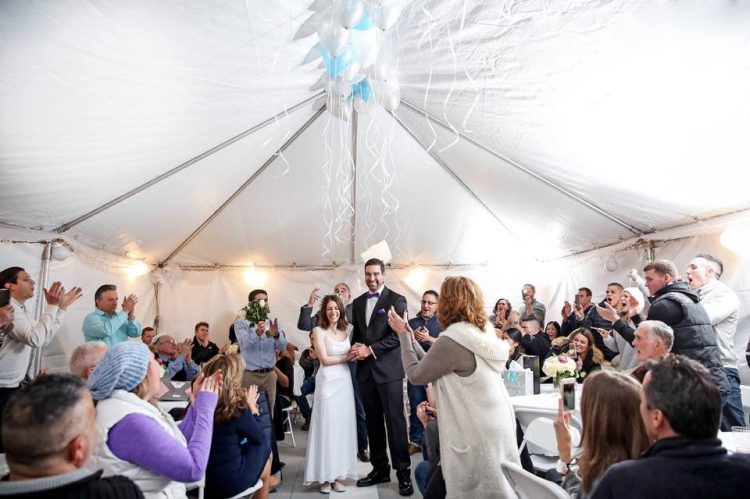 Around midnight I started to crash. The adrenaline of the night started to wind down and Danny carried me into the house. A group of friends were still over so they played games out in the tent until about 2 a.m. until Danny realized what time it was and that we should probably call it a night.
And just like he said, we went to bed as husband and wife that night.
And everything was absolutely perfect.
When news stations started calling us about our wedding, Danny and I sat down and discussed what we wanted to come of this. Without hesitation, Danny said "raising lupus awareness." We both fundraise for the Lupus Foundation of America and I am an ambassador for them. It is very near and dear to our hearts and we just want more people to understand and hopefully fundraiser for and research this cruel disease.
Him taking all the weight off of my shoulders and doing this for us means everything to me. I wouldn't change it for the world. I hope other people who have any type of chronic illness know they're not alone, and they don't have to be. I know dating is tough when you're sick… and it's scary thinking about finding someone who wants to be with you and your illnesses. But there are people out there… great people… and just because you're sick doesn't mean you can't have your fairy tale as well.
A version of this blog was originally published on Nicole Carfagna's blog.
Photos by Stephanie Scapellati
Originally published: January 10, 2018