Why It Means So Much for the Students in My Class to Be Accepting of My Face Mask
---
Before I was diagnosed with systemic lupus (in which the immune system turns against parts of the body it is designed to protect. This leads to inflammation and damage to various body tissues. Lupus can affect many parts of the body, including the joints, skin, kidneys, heart, lungs, blood vessels and brain), I was a super shy kid. I probably only had one or two friends in grade school. I would never talk in class. And would rather be reading a book than socializing.
So, when I turned 10 and found out I had this disease that was attacking my kidneys and I would be doing chemotherapy, I was like, "Great, it's going to be even harder to make friends now." Which, I don't blame my friends, because how do I explain to 9-10-year-olds that my body is attacking itself and I'm on chemo, but I don't have cancer? How do I explain that I look fine on the outside, but on the inside my immune system is trying to kill itself? It's hard. But, this article isn't about friendship – it's about acceptance.
In October, I was sick all month and I got this infection that wouldn't go away. So, I was hospitalized for five days. I already knew my body was immune-suppressed because I am on two types of chemotherapy pills. The doctors explained to me that I need to be careful.
Last year, I bought these cute Vogmasks – which are these face masks that are easier to breathe in and have a filter in them. I wasn't uneasy wearing them to school last year because I wore them on the first day of class and my classmates were understanding.
This semester, which starts in August and ends in December, I didn't wear my Vogmask till the last week of October. I had let my teacher know ahead of time that I would start wearing them because I didn't want to get infections again.
On the first day I wore my Vogmask this semester, my mind was blown. My plan was to avoid any eye contact, go to class and not talk. But, my teacher openly asked me if they are comfortable and asked me how they work. At this point the whole class was getting into their seats. So, I openly explained why I wear the mask and how they help me not get infections. My classmates were all listening to me and even asked questions after class. I really love it when people ask me questions about my health instead of giving me a weird look and whispering behind my back.
Since that day, I been wearing my face mask to each class period. I don't feel shy, scared or nervous. I feel accepted. Feeling accepted, especially with a chronic invisible illness, is very hard to come by. People either judge us or accuse us of stealing benefits or faking it. They think we want attention. But, I'm the last person in the world who would put a spotlight on myself. So, when unknown strangers or peers accepted my health and my mask, it made me feel a little bit stronger and braver. Like I can do anything.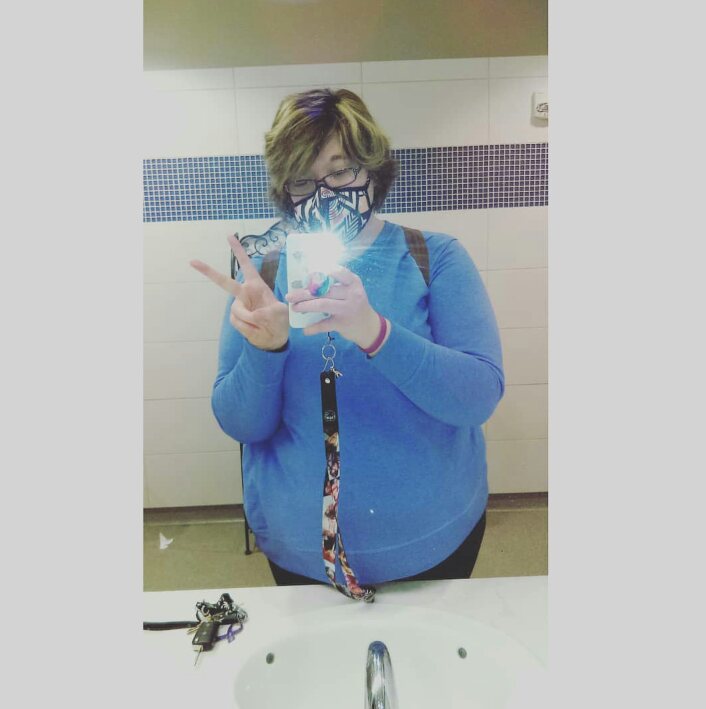 I am reminded of that warm happy feeling of acceptance every time I put on my mask and go out into public. I'm still shy around people, but I've got this! I'm no longer afraid of eye contact or talking in my mask.
To other spoonies who are starting to wear your face masks, don't let yourself or others stop you. The reason we wear the face mask is to protect ourselves from getting the common virus that would make us flare up or end up being hospitalized. If people ask about the face mask, explain to them carefully and calmly. I have noticed that when I explain my health to people, the best way is to do it in a calm matter. We don't want the non-spoonies to think we are mad at them. And if they are accusing us of faking it, still explain your health in a nice way. As Selena Gomez says, "Kill them with kindness."
We want to hear your story. Become a Mighty contributor here.