The Aftermath of the Holidays With Chronic Illness
---
Many of us, sick or well, have much stress during the holidays. Parties, presents, expectations and making sure everyone is happy. While doing all that, it is very easy to look past the most important thing: yourself.
This year was my second year with lupus and my little family. So I really thought I knew how to handle it all. I thought I would be a pro by now. I was definitely wrong.
From working to wrapping presents, every movement caused pain. The cold weather seems to bring out the worst with my body aches. So I tried to spread out my tasks and do a lot more shopping online. I took advantage of any gift wrapping that was available even if it cost anything just to help.
The items that I actually wrapped, I either put in bags or wrapped with tissue paper. Then it wouldn't take too much to cut or hold. Bags are a blessing when you have limited movement in your hands and cuts your time in half.
I also passed on sending handwritten cards this year. I know some people really enjoy them and I would spend so much energy doing them every year. I now know that even a simple text wishing well makes people feel loved and it saves my hands and wrists from days of pain.
Christmas Eve, my husband lit a fire, I allowed my self a small glass of wine and I curled up and watched some holiday shows. I noticed him sneak up and snap a pic of me. At first I just ignored him but asked him to send it to me. I didn't care for it. I looked sick and frail. He stated I was beautiful and looked cozy and in the spirit of the holidays. It lifted my spirits for the night and made me feel excited for the next morning.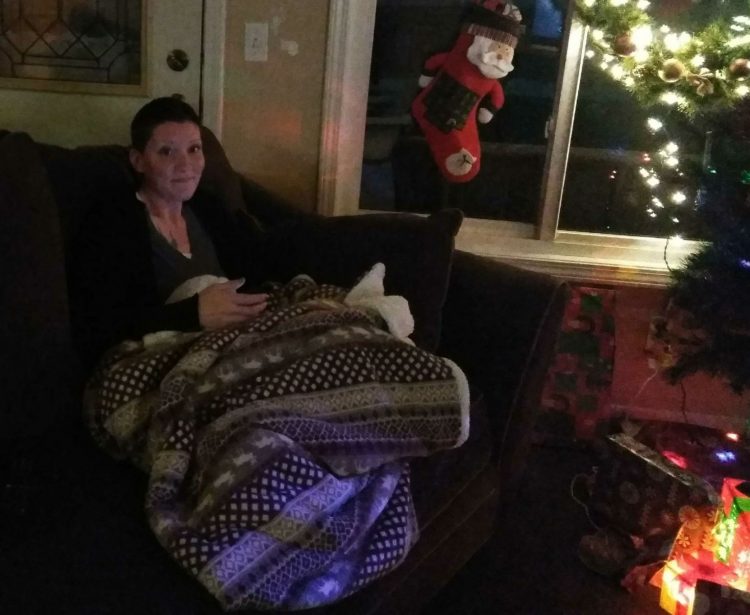 So to the aftermath. The holidays can be very depressing for anyone. Especially to us with a chronic illness. I personally have a hard time dealing with my emotions on Christmas morning.
I tend to have an idea of how what I expect is going to play out. I will wake up with my little one, he will be so excited and so happy and I will feel his excitement and share it with him. The reality: I wake up with him and he is so excited, and I'm so stiff and in so much pain that I have to scarf something down so I can take pain meds. He wants me to sit on the floor and help him unwrap the gifts, and I hold back tears from how bad my back is hurting, but to make this day perfect, I sit on the floor.
Once everyone is done, they go on their merry way to play with their new toys as I try to clean for our visitors later. My husband goes back to bed and I go to social media to post how "wonderful" our day is going. It is then I begin to feel overwhelmed.
The tears start flowing and I can't seem to shut it down. I take a sedative and try to relax. I'm not crying because I'm unhappy or because my expectations weren't met. I'm crying because since it is finally all over, my body is making me do it. It's finally allowing me to vent and let it out. Through the entire season I was so overwhelmed that I didn't focus on my emotions and let them out accordingly. So I cried.
The day went well, everyone was happy, the house didn't burn down and no presents were lost. I got to finally relax and spend time recouping.
I'm sure over the years I may be able to go without the crying, but for now, to make it a perfect holiday for my family and myself, it is worth the tears. I believe it shows my strength and determination in my endless struggle with this illness.
We want to hear your story. Become a Mighty contributor here.
Originally published: December 28, 2017