Living the 'Con-Life' When You're Chronically Ill
---
We're getting ready to head out to Boston Comic Con and I can't wait. My family and I love attending Cons and I've noticed that Cons can be a haven for the disabled and chronically ill. Think about it – for those of us who take dozens of medicines a day just to stay alive, the idea of magic potions that can cure all is an incredible concept. For those who struggle to walk, flying is a dream. For those with anxiety and depression, the idea of having super strength or being invisible is a panacea for the pain and fear they experience daily.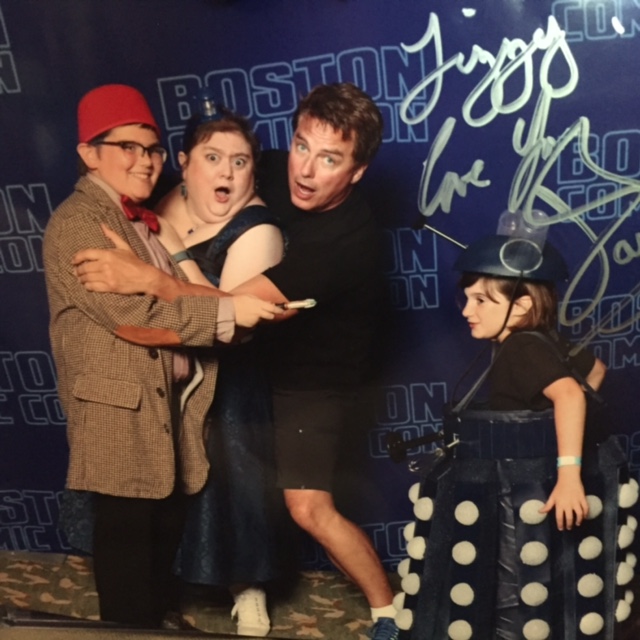 For someone like me, battling lupus, fibromyalgia, Hashimoto's thyroiditis, asthma and a host of other "party favors" that accompany autoimmune disease, my own body is literally attacking me. Yup, I'm a body at war with itself. To keep things "in check," I take powerful medications, even chemotherapy, to suppress an immune system run amok. And, have I mentioned – there is no cure. For someone with autoimmune disease, where a simple cold quickly turns to bronchitis and pneumonia, the idea of being bulletproof, indestructible, invincible is the answer to my prayers.
Is it any wonder many of us flock to a world of fantastical creatures, fairytale realms, superheroes and aliens? When you spend so much time living in your own personal hell there is something so freeing about the world of futuristic and fantasy. Dress up as your favorite character and live out your dreams, if only for the day. I've seen some brilliant cosplay where people have incorporated wheelchairs and walkers. One of the best I saw was a young woman who built a TARDIS (the time traveling spaceship from Doctor Who for those of you who don't speak geek fluently) around her electric scooter.
That brings me to accessibility and Cons. Attending a Con can be physically demanding, so it's best to be prepared. Since most are held in large venues, it's best to do your homework before attending. Print out the schedule and map and do your research for the shortest routes  and where important things like bathrooms and elevators are located. I've found that Cons also have ADA accommodation procedures – everything from special seating to wristbands allowing early access to lines to cards you can have signed to avoid wait times in lines. Check the website ahead of time and don't be afraid of using the accommodations if you need them.
If you're like many of us with "invisible illnesses," we worry about being judged and how people will view us when we use the very accommodations we need. Please learn from my mistakes and don't! We recently attended Awesome Con in DC and it was as awesome as the name implies, but I greatly underestimated how huge the venue was and just how much walking would be involved. Throw in a hot, muggy June weekend, tons of "hurry up and wait" which is common for pictures and autographs and by Sunday I was hurting big time and beyond exhausted.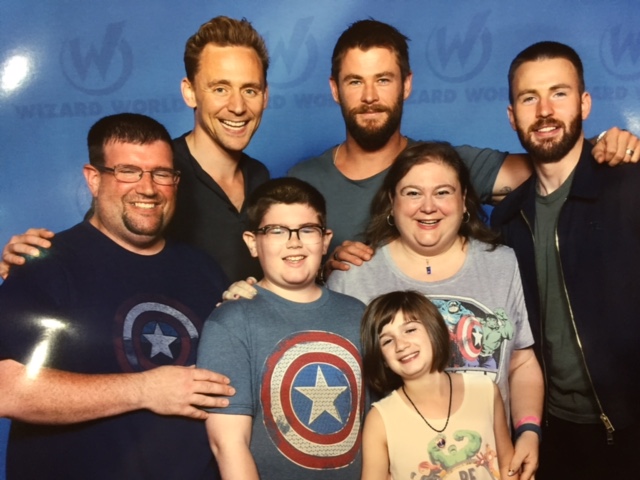 Being a little (OK, a lot) stubborn, I hadn't packed a cane, let alone my rolling walker and certainly hadn't gotten an ADA bracelet, as I was feeling too "good" (which can instantly turn to "lousy" with just the slightest bit of overdoing it which I know but still ignore sometimes – did I mention that "stubborn" streak?). I won't bore you with the details, let's just say that within a few days of returning home I was in the ER, on antibiotics and in a bad flare. Moral of the story: next time, take the cane, leave the cannoli (or something like that).
So, to help others prepare for the Con-life (very different from the con-life), here's my handy, dandy packing guide:
1. Water and refillable water bottle. Lines for food and drink can be extremely long and everything expensive. Hydration is key and many times panel rooms have ice water containers you can refill at.
2. Speaking of food…bring healthy snacks to keep you going. Have I mentioned the food lines and prices? Granola bars, raisins, squeezable applesauce, Cliff bars, all easily packable, non-perishable and can keep you going. Often the food choices are typical fast food "junk" so if you have dietary issues this is especially crucial. You can go out to find food but wait times are long and that adds extra walking to your day so…
3. Super comfy walking shoes. No matter how much you think you will be walking/standing in lines, multiply it by five! Chairs in common areas are few and far between and Heroes and Villains Fan Fest is the only Con I've come across that has chairs specifically labelled for disabled access only. (If you know of others, please comment below!)
4. Layers of comfy clothes. Temperatures can vary greatly from room to room and if you have trouble regulating your temperature, like I do, I find being able to add or shed a layer helps a ton.
5. Wet wipes and hand sanitizer. Lots and lots of germs. 'Nuff said.
6. All emergency meds, clearly labeled, along with a list of all meds, emergency contacts, doctors, medical conditions – anything you need to keep you safe.
7. Something to organize your schedule, photo ops, autographs, pictures, etc… For those of us who battle brain fog, trying to keep track of everything with all of the chaos and excitement going on can be really tough. I've found taking a picture on my phone of when different things are taking place (panels, photos, autographs) can help me keep track and have everything together. Luckily, some Cons now have apps you can download to help manage the different panels and schedules so that's helpful, too.
8. Your sense of humor and as much patience as you can muster. You'll need both in abundance to get through.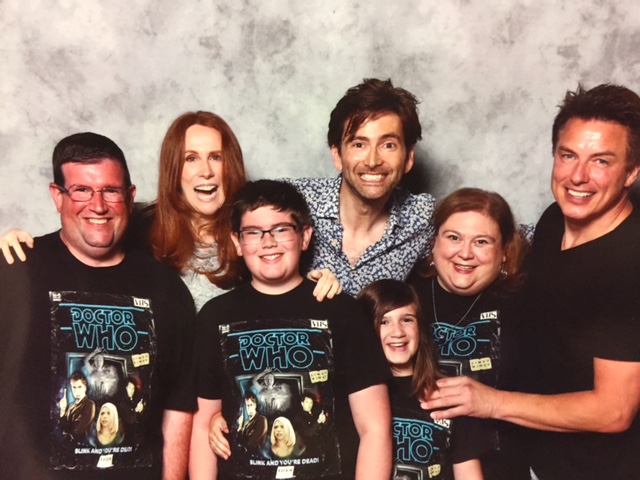 Several celebrities have begun speaking out about their struggles with mental health in recent years, helping to reduce the stigma and even raise funds and awareness. Wil Wheaton, best remembered for his cinematic turn in "Stand By Me" and time on the Starship Enterprise on "Star Trek: the Next Generation" now has a successful second act hosting gaming shows on Geek & Sundry, but his many people flock to his panels to thank him for his candid, raw blog posts, tweets and talks about his battles with depression and anxiety. Jared Padalecki, a.k.a. Sam Winchester on "Supernatural," created his own non-profit organization, Always Keep Fighting (#AKF), to raise funds, awareness and support for those fighting depression and anxiety. He frequently talks openly about his struggles and thanks his fans for their support. His friends and colleagues in the "Supernatural family" (other actors on the show) have even joined in, creating an organization to train crisis counsellors to man a help center for those dealing with mental illness.
Comic cons are often the haven for the outcasts, the outsiders, the geeks and the odd ones (my people!!). Is it any wonder those of us with chronic illness feel so at home there as well? Yes, they can be mentally and physically draining, but so worth it. Most of all – remember to have fun! You meet some of the kindest, warmest, friendliest people at Cons. I have found the people I've met to be extremely accepting of all walks of life, colors, sexualities, religions, genders, size and yes, disabilities as well.
With proper planning ahead, a visit to a Comic-Con can be a life-changing experience for someone who is chronically ill. I know they have been for me.
We want to hear your story. Become a Mighty contributor here.
Originally published: August 10, 2017