3 Websites That Made Shopping With a Chronic Illness Much Easier
---
I never knew that something as simple as food shopping could be difficult.
When my health really declined a couple of years ago, so did my shopping habits. I started doing almost all of my shopping online and my husband had to go to the supermarket for us. I was able to sometimes grab something quick, but a full food shop? No way. It would wipe me out physically or there were times where I'd have to leave either the supermarket or mall and sit in the car to wait for whoever I was with.
I vividly remember one time going to the mall with my mom and after about 10 minutes, I had to sit down. I let my mom finish what she had to do, but I was so exhausted that I slept on the way home and continued to when I got home as well.
This can't be my life.
I get it… I'm sick. Even though I'm not happy about it and I fight every day, I've accepted it. There had to be an easier way though. It makes me feel pretty worthless when I'm not even capable of getting food for my family. That's when I decided it was time to make a change.
(These are my personal opinions. I am not promoting or being compensated for advertising these companies.)
So How Can Shopping Be Made Easier When You're Chronically Ill?
1. Food Shopping
I needed to find a way to shop. I had used Amazon a few times but they didn't have everything I needed to cook. Then my brothers brought up Peapod to me. Peapod is an online delivery service paired up with Stop & Shop Supermarket. You can order online or on an app, and choose a delivery time for them to deliver to your home.
To be completely honest, I used to be kind of judgmental of people who used Peapod. I honestly don't know why and I'm upset with myself that I used to think that way. I guess I assumed (wrongly) that for moms with little kids or older people it was fine, but when I saw "normal" and healthy people getting deliveries, it irked me for some reason. When it was first brought up to me I said no way without skipping a beat. After listening to a few people talk to me about it however, I realized this could be perfect for me.
Going to the supermarket for a full food shop is extremely difficult for me. I get exhausted and usually have to leave before getting everything I need.
Peapod delivery people bring everything inside for you! So no more making five trips to the car to get the bags and getting even more exhausted.
I've been trying to meal prep more as I've been having trouble maintaining my weight, and my nutritionist actually recommended Peapod. She said I should use it every week to help with meal prepping.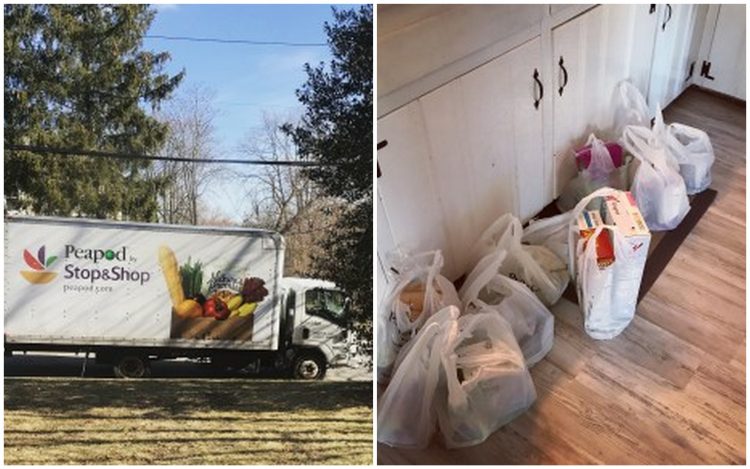 Peapod has incentives as well when you sign up. When I joined, I received $20 off of my first order and free delivery for 60 days. Delivery isn't that expensive anyway, but still, it was a huge plus. It's also super easy to use. There's an app that actually saves your orders so you can fill your shopping cart with everything you ordered the last time and go from there.
2. Clothes Shopping
I was introduced to Stitch Fix last year and figured I'd try it out. I had lost weight and my clothes weren't fitting me anymore, and because I was starting work part-time I needed some new items! I didn't have the energy to go shopping, however. A family member had brought up Stitch Fix to me and I figured why not (especially because I had a cash back reward through my bank for it).
It. Is. Amazing.
First of all, you do an online quiz so that they can see what your style is. Then, you can link your own Pinterest board to it so your personal stylist can see what you like. In one of my Fix Boxes, I actually received the exact jacket I had pinned on my Pinterest board! They work with you and take feedback well. Here's how it works.
You pay $20 each month and receive a box. You receive five articles of clothing (or shoes, bags, etc.).
If you decide to keep something, the $20 you paid gets put towards the item(s), and you return what you don't want.
If you keep everything, you get 25 percent off of the entire purchase, plus the $20 off that you already paid.
It's really amazing, and the prices are reasonable. When you are filling out your style guide at the beginning, you can choose if you'd like to pay for more high-end clothes or basic…so like I said, they really work with you.
I highly suggest trying Stitch Fix. You can complete your style guide, receive a box (for free), and either purchase something or return it all… for free. Also, it saves you from having to go to the store which saves energy and everybody wins.
3. Fancy Event Shopping
How many times have you worn a gown more than once? One time? Maybe twice? I'm 32 years old and have had a ton of weddings to attend recently. Also, I have fundraising events and galas for the Lupus Foundation of America and another non-profit organization that I work with. Rather than buy a dress for every single event (and also use unnecessary energy shopping and stressing out over what to wear), I use Rent The Runway.
Holy crapola I love it. The first time I tried it was when I was in a wedding party and all of the bridesmaids used it. We ended up wearing gorgeous gowns for a fraction of their retail cost! The most recent time I used it was at the annual Evening of Hope Lupus Foundation of America Gala. I was able to wear beautiful gowns that I wouldn't normally spend the money on!


What makes it even more reliable is:
People post reviews with themselves in the outfits, their weight, height and bra size. They also comment on how the outfit or dress fit them (if it is large, small or true to size). I trust this so much after using it a number of times that if I have an event to go to I know what I order will work out.
You get a second size for free! Yes that's right! You can get two sizes of the same item of clothing for free just to be completely sure that it fits. How. Awesome.
If for some reason it didn't work out (which has never happened to me), the customer service at Rent The Runway is amazing. If you receive something that doesn't fit, they will overnight something else to you in time for your event. They suggest you order something a day or two before your event in case this happens, but again, it's never even come close to happening to me.
You wear the outfit, you put it in the bag it was shipped in with the label that was sent with it, and drop it off at a UPS drop off. Easyyyyyy.
They have different memberships you can buy if you love it and want to use it frequently. They also have sales where designer clothes/bags/jewelry are up to 75 percent off!
Try it out for a wedding or party so you don't have to waste the money on something you won't wear many times again (and you'll look hot in a designer outfit!). Let me know what you think if you try any of these! I'd love to hear how it works out for you.
Happy shopping!
Originally published: March 14, 2018