How I Was Able to Travel While Living With Chronic Illness
---
I spent the ages of 16-24 living and working abroad as much as possible, as well as driving around the UK and living in my van, too. As a kid we were always on adventures, hitching around other countries or heading to camps and communities. For the last five years, due to my health, I've only lived in Bristol. I have hardly left the city. I've grieved, and still do grieve, this every single day.
Last year I only went away once. This year I have been away a bit more, because my health is not quite as bad (as in, I'm not bed-bound and in the hospital like I was over the whole of last year), but I still find it incredibly difficult how limiting my health and my finances are. If I could afford to pay to travel and sleep in the way I need to (in a comfy bed – not just any bed!), I could definitely get away a lot more than I do. Oh, the frustrating and limiting cycle of finances and health struggles…
I need travel and adventure so damn much. I need it for my happiness, my well-being and my soul. I feel stuck and miserable without this.
Last weekend I went away to a festival I go to every year. It's my favorite weekend of the year, but I was really worried about it because of my health. Camping is basically impossible, unless I have a huge mattress. I then remembered about Quirky Campers, a beautiful business based in Bristol, UK, that rents out beautiful handcrafted vans around the UK. I was speaking at the event, so the festival covered the cost of hiring a van for me.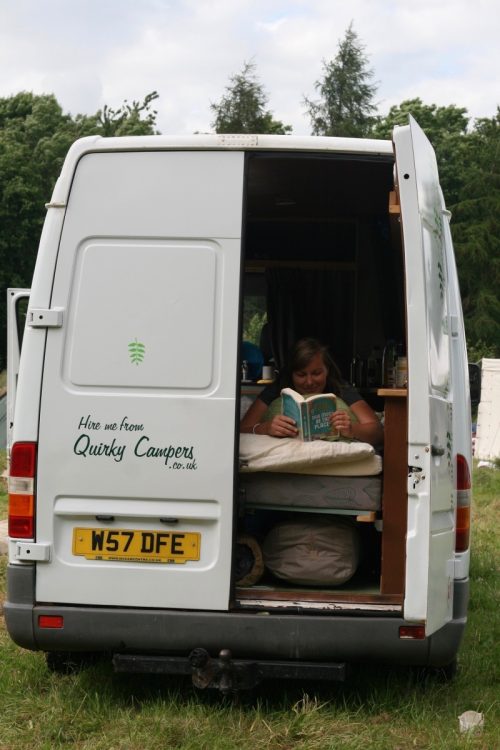 To say hiring one of their vans made my weekend is an understatement. Having the van was incredible. I wished I could have hired it for a few weeks rather than a few days!
My sweet friend, also living with chronic illness, offered to drive me. I lay in the super comfy bed while we drove, watching the view pass by, feeling looked after and so happy to be adventuring without trashing my body or neglecting my needs. Usually if I do do something, it's always while taking loads of painkillers and being in extreme discomfort the entire time, so it was amazing to not have to do that this time.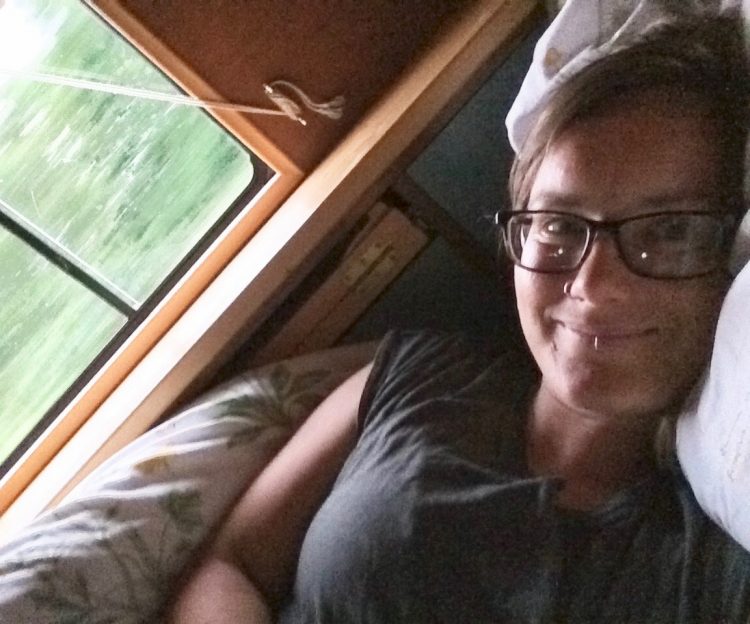 We stopped frequently along the way, so she could have a rest in the back with me. We found beautiful spots to stop and forage hedgerow herbs, and hung them in the van so they could dry. We also slept a night in a beautiful spot en route to break up the journey.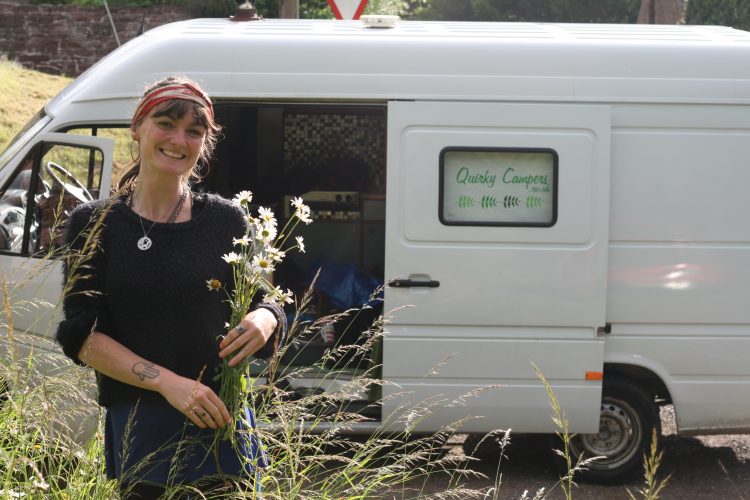 At the festival, the van became a hub where friends gathered and chatted, and ate and rested, together. Resting is usually really lonely at events, but having the van meant I could rest while friends lay beside me or pottered about around me. I loved it, and everyone else was grateful for it, too. Especially when it rained! Having a social but restful space also resulted in me resting as much as I needed to, rather than pushing through and staying upright long after I needed to be horizontal, out of fear of missing out or feeling sad. This also meant I didn't spend a week recovering from the event, as I would have if I had not had the van.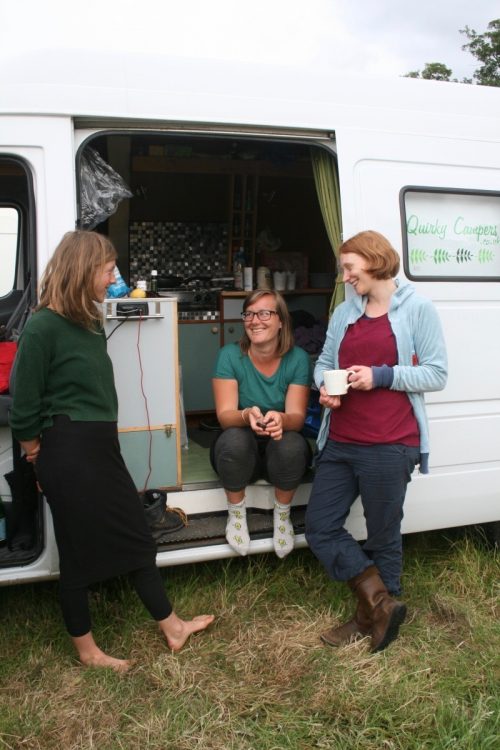 Some vans are smaller, but we took Ashleigh, which had lots of space for this all to be possible. Plus the bed is memory foam! And, rather than have my belongings sprawled everywhere, as I would usually do in a tent/van, there was loads of storage under the bed. I could tuck everything away and have a clear space to be in, which makes a massive difference to comfort levels.
Quirky Campers now offers a 10 percent discount for people with chronic illness/disabilities who are wanting to hire one of their vans – I know it still might cost more than someone with chronic illness/disability on benefits can afford, but if you are able to save up and/or get friends/family to chip in for a birthday/Christmas present, it is so, so, worth it.
I know I'm going to start saving for my next trip in one of their vans! Better still, I'm going to continue daydreaming about how I can own my own van and rent it through Quirky Campers, which would enable me to afford to have one. Now to just start scheming ways in which I can raise the funds to buy one…
We want to hear your story. Become a Mighty contributor here.