26 Messages to People With Mood Disorders, From Their Significant Others
---
While love can be complicated on its own, a mood disorder like bipolar or depression (like any illness or disorder) can add another, sometimes difficult layer — challenging couples who love each other despite. And because family and community support is so important, we teamed up with the Depression and Bipolar Support Alliance to find out what significant others of people with mood disorders wanted their loved ones to know.
If you have a mood disorder, or a significant other with a mood disorder, this might help you spread the love:
1. "I forgive you and I forgive myself. I love you. You are absolutely amazing because even when you wanted to give up, you kept trying." — Andrea Armstrong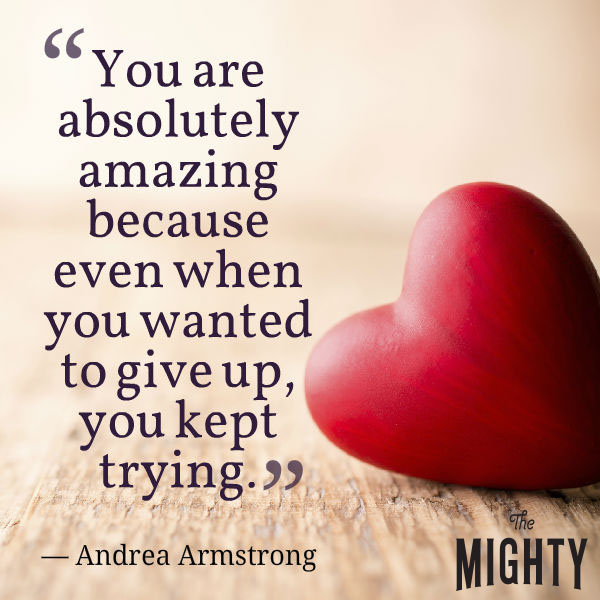 2. "I am by your side. No matter what." — Michelle Barrett Michelbacher
3. "Sometimes it's frustrating and difficult, but I love you anyway. I do my best not to judge." — Jayne Nancarrow
4. "We're in this together." — Alan Ball
5. "I'll always be by your side. Life will have its ups and downs, but I'm on this roller coaster ride and I'm not getting off." — Sarah Tufrey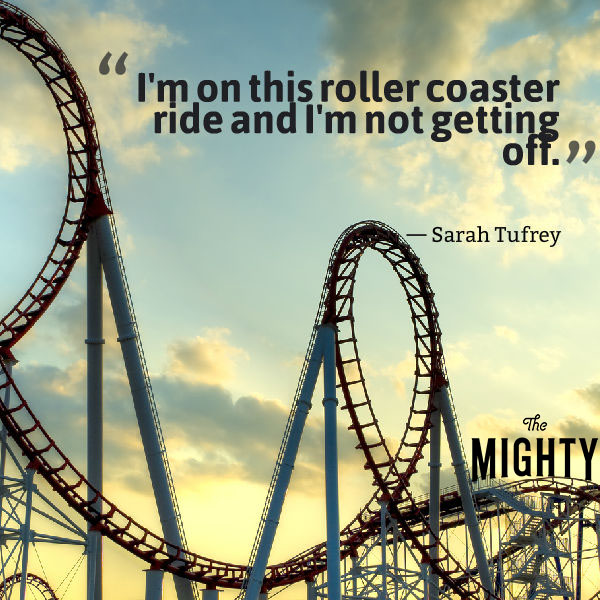 6. "I'm here to support you." — Grace Mitchell
7. "Be patient, I'm here for you." — submitted by Stephanie Berger Trzyna
8. "I love you for you, you can't be anyone else." — Jessica Barrett
9. "I love you and nothing will ever stop me from loving you. I will be here through everything, good and bad, holding your hand." — submitted by Charlotte Read
10. "I know it's hard for you. I'm thankful you try. Thank you for not quitting us." — submitted by Katie Robinson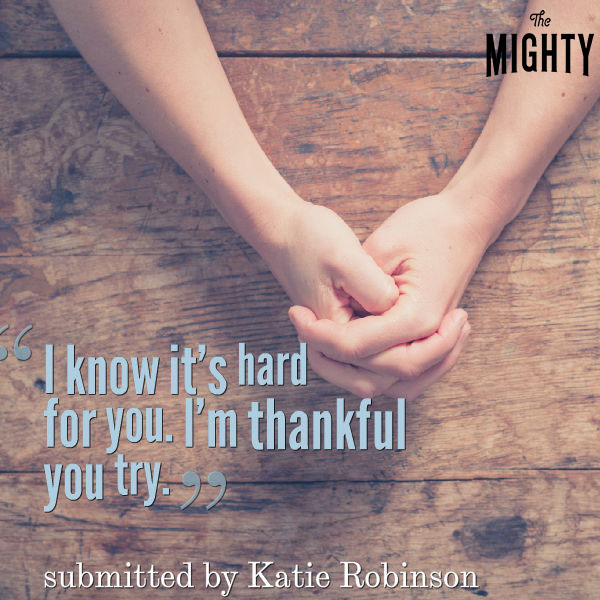 11. "It will get better. Today sucks and tomorrow might too, but try to see the good in everything. Try to remember you're loved and you matter." — Melissa Dickinson
12. "I love you no matter what. We are in this together and will conquer this together. In sickness and in health I will always be your side." — Tina Louise Withrow

13. "I hate your illness, but I'll always love you. It took me years to separate the two, but we got there together." — Michael Kenny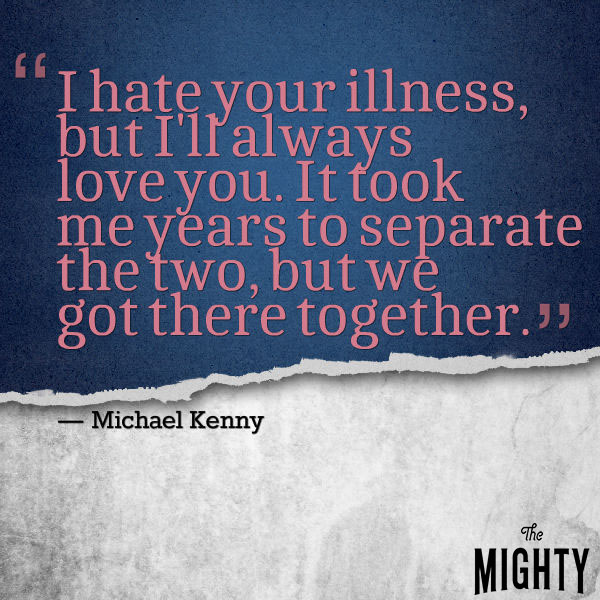 14. "I'm not your enemy." — Heather Princess Heritage
15. "You loved me when I was in that dark place and I love you when you're there too. Please get help — I don't want to lose you to the shadows." — Amanda Talma
16. "Be strong. Not for me, but for you." — Jon Biddenback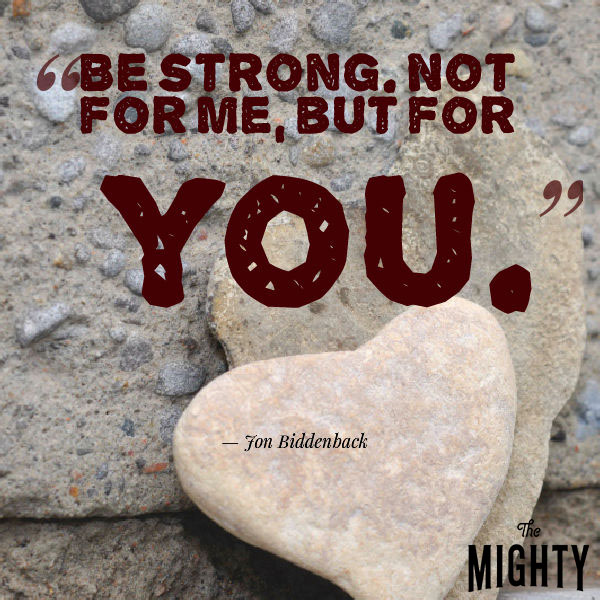 17. "There is nothing you could do or say that will stop me from loving and supporting you. I may not have all the answers you need, but I will be with you through the storms." — Sarah Covell
18. "I'm not going anywhere. No matter what life throws at us." — Melanie Stewart
19. "I'll always be here for you. I'm here when you need me. Just promise you'll talk to me before it's too late." — Megan Altorfer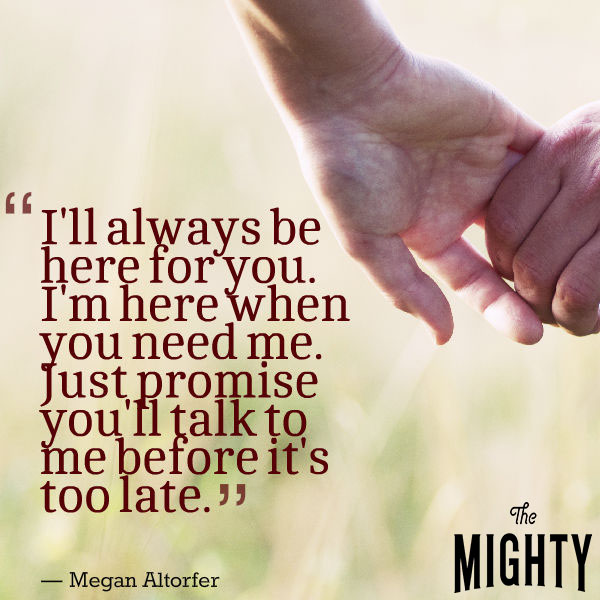 20. "When you feel like giving up is when you need to let me help support you." — Jennifer Reynolds
21. "I'll be there for you until the end." — Simon Larano
22. "You are always safe with me, even when things are not going well. I will be your support and your cheerleader for life." — Alinarae Vavoom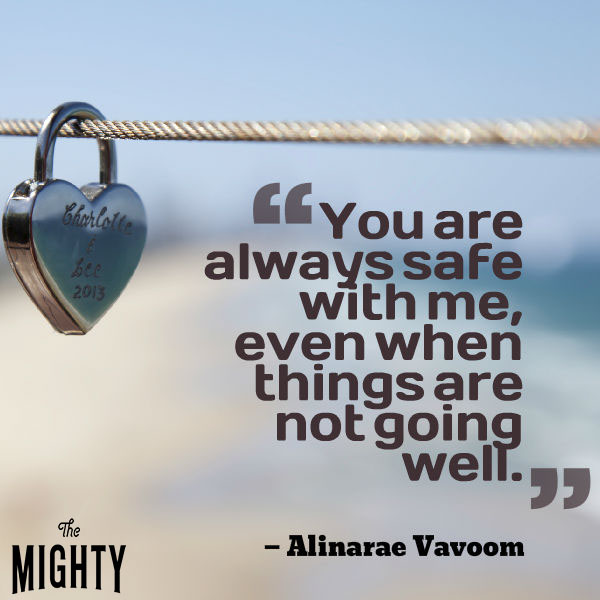 23. "No matter how many times you fall down, I will always be there to pick you back up. You don't have to hide your emotions from me or act tough when on the inside you're falling apart. If you needs me, I'll be there." — Rebecca Kinnaman
24. "You are my hero." — Cath Peach
25. "I've got your back." — Jason Whisenhunt 
26. "The best part of you is the real you, the rest is a disease. You are not your disease." — Chiara Andersen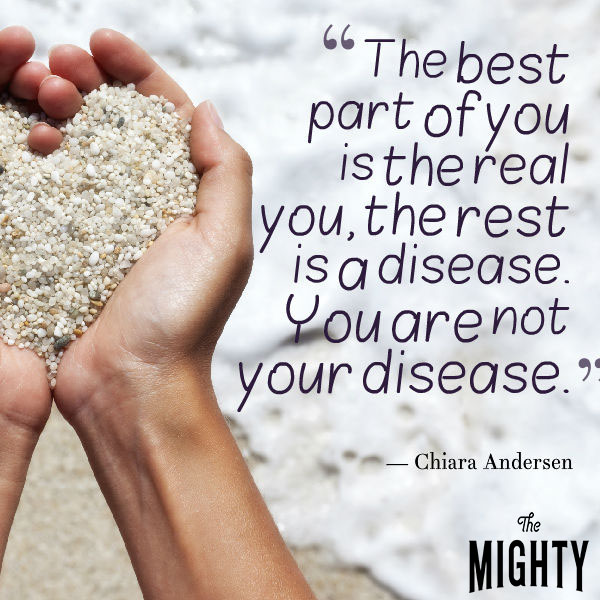 *Answers have been edited and shortened for brevity.
To learn more about how to support someone you love with a mood disorder, join DBSA's I'm Here campaign.
Originally published: November 10, 2015