33 Things We Won't Say We're Thankful for Out Loud
---
It happens at Thanksgiving dinner tables across the country — someone proposes everyone should say what they're thankful for out loud. Maybe you got a promotion. Maybe you're thankful your family is together or that someone's health has improved.
But what about those things we don't say out loud? Things we're thankful for but may not feel quite right for "appropriate" dinner table conversation.
To celebrate those accomplishments — the ones we don't often vocalize — we asked our Mighty community what they're really thankful for this year.
This is our dinner table, Mighty family. Here's what you had to say:
1. "I'm thankful I have a doctor who cares about my health and who listens when I talk."
2. "I'm thankful for therapy. I'm lucky enough to be with an experienced psychologist who's patient, kind and like-minded."
3. "I'm thankful for those who take the time to ask about our family even when listening to what's going on can be rather depressing. We're truly thankful for those who let us vent without judgment."
4. "I'm thankful for the two years of depression I went through. I don't ever want to go through that again, but if I had a chance to do it over, I'd do it exactly the same way. My bout with depression has made me more empathetic and taught me to love myself."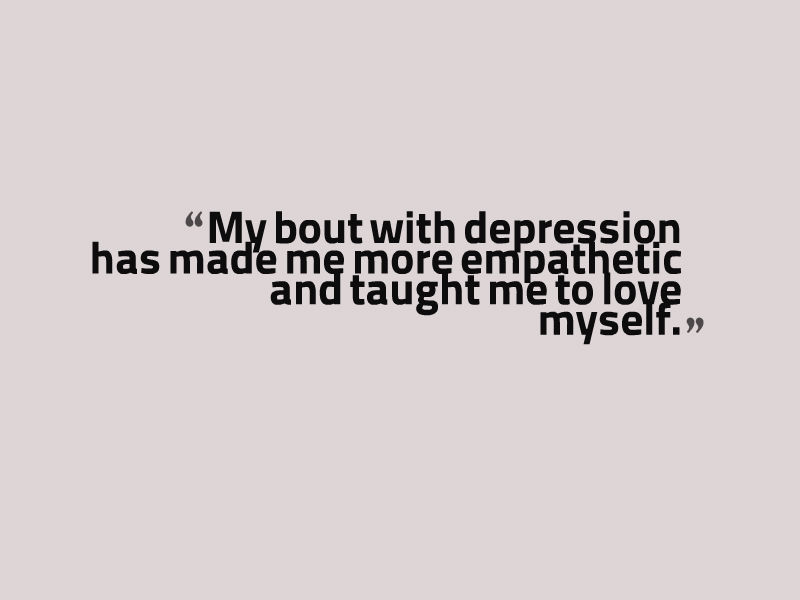 5. "I'm thankful my daughter is still with me."
6. "I'm thankful for that itty, bitty little extra 21st chromosome, also known as Down syndrome, for bringing more love and light into my world."
7. "For those who 'get it,' we give thanks. For [those who] don't, we give declining R.S.V.P.s."
8. "I'm thankful my antidepressant is working!"
9. "My son's behaviors are usually aggressive and his anxiety is through the roof. This is the first time in four years there's been no psych evaluations, no police involvement, no suspensions, no expulsion and no medicine changes. He's doing awesome and he's happy."
10. "We've only had one long-term hospital stay this year."
11. "We're thankful for psychiatrists who aren't afraid to treat children who are seriously ill. A doctor who is confident enough to treat a child is one who's saving lives."
12. "I'm thankful this is the second Thanksgiving in a row I'm free of intrusive thoughts and obsessive worry."
13. "I'm thankful for people who donate blood. My 8-year-old needed a transfusion a few months ago."
14. "I'm thankful that after a very hard year of struggling with depression, I'm in a much better place. I'm happy to be enjoying another Thanksgiving."
15. "I'm thankful my son's seizure medication is keeping him seizure-free!"
16. "Netflix and Zofran!"
17. "I'm thankful to know I finally have a few good friends I can truly count on. They're always there for me and accept me, bipolar and all!
18. "I'm thankful that after six years, we finally have a diagnosis for my daughter."
19. "I'm thankful for the medicine I take daily. They help me in the daily journey I take… motherhood."
20. "I'm thankful for how much my son's autism has changed me as a person as well as a parent. It has taught me compassion and resilience, and that a diagnosis doesn't define a person. My son is still my son."
21. "I'm thankful I've made it out of the darkness… again. I wasn't sure it would happen this time."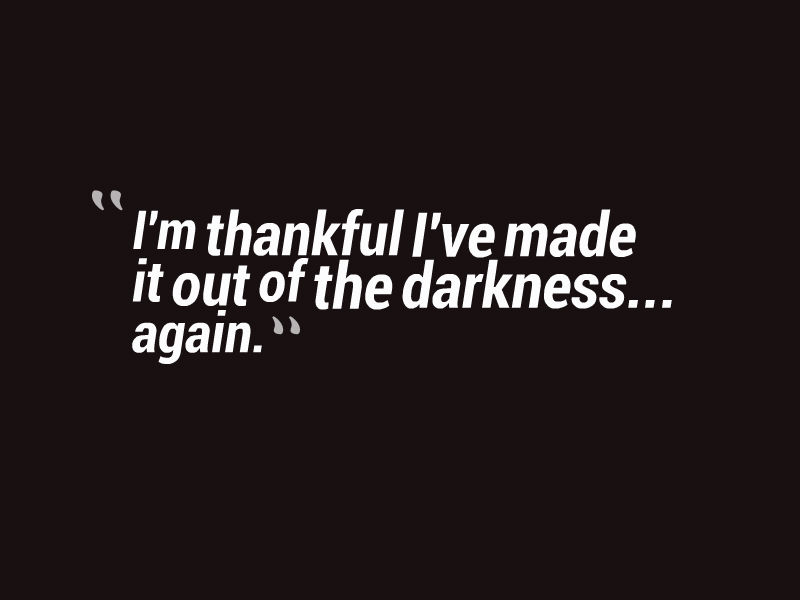 22. "I'm thankful both my boys are finally getting the help they need for their anxiety and learning disabilities."
23. "My family thinks it's strange when I talk about these 'friends' I've never even met, but I'm so thankful for my social media special needs/autism moms and dads I've met and befriended over the last few years. I would not be where I am without them. They are my family and I love them all!"
24. "I'm thankful we've had to struggle financially these past years. It really helps me appreciate the good days."
25. "I'm thankful for all the amazing parents of special needs children who have become my family."
26. "I'm grateful for my husband. I hear voices and see things that aren't there, and he's so patient with me. No one tries like he does and I'm so thankful."
27. "I'm thankful for being 20 months clean of self-harm."
28. "I'm thankful for my family sticking by my side through this rough time and for doctors who aren't giving up on me."
29. "I'm thankful I made it through another year even though this one was harder than the last. I made it through thoughts of dying. I made it through thoughts and episodes of self-harm. I made it through new memories of trauma. I made it through overwhelming depression and anxiety. I made it through nights of insomnia. I made it through a new post-traumatic stress disorder diagnosis and I made it through each day — and I'm thankful for all those who stood by me and helped me through all this upheaval; my family, my friends and especially my therapist!
30. "I'm thankful for the fact that even though my daughter and I both struggle with bipolar depression and anxiety, we've have managed to stay strong and fight our disorder together while living our lives to the fullest."
31. "I'm thankful to my synagogue for setting up a free counseling initiative. Thanks to them, I'm finally getting the help/support I need to deal with my depression."
32. "This year I'm incredibly thankful for psychiatric medications. Quite honestly, they've saved my life once again."
33. "I'm thankful for life. I'm thankful for good days and thankful for bad. I'm thankful for people I don't even know who are going through the same thing I am. I'm thankful for others stories and struggles! I'm thankful for all y'all! I'm thankful I am not alone!"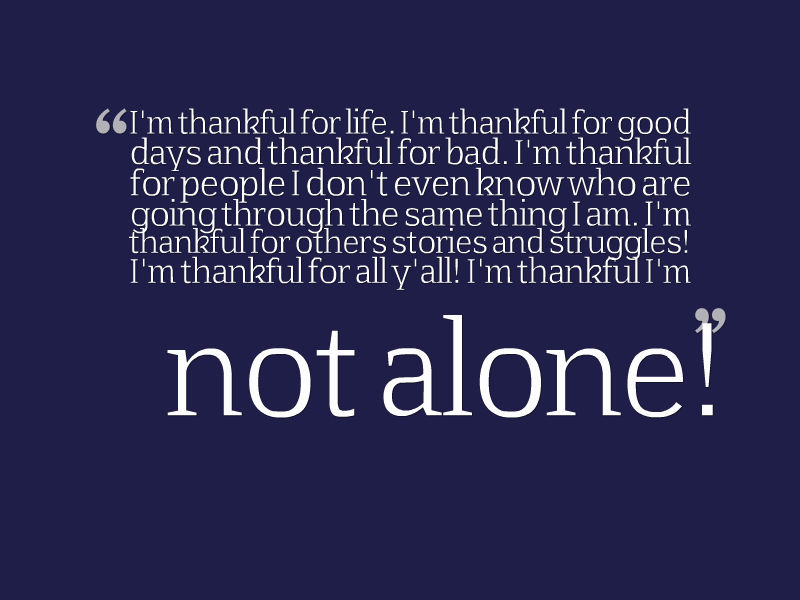 *Some responses have been edited and shortened for brevity.
Is there something you're thankful for this year that you may not say out loud? Let us know in the comments below or email us at community@themighty.com. 
Originally published: November 24, 2015