45 Messages People With Mental Illness Would Send Their Pre-Diagnosed Selves
---
When symptoms arrive without explanation, it can be a scary, confusing time for someone with a mental illness.
Eventually, for those who do receive a diagnosis, answers slowly unravel. Experiences are given names and words like "treatment," "medication" and "therapy" might become part of a new normal. And while a diagnosis doesn't change who you are, it can change your journey and perspective.
We asked our community of people with mental illnesses to tell us one message they have for their pre-diagnosed selves. Even if you're long past getting a diagnosis, their answers may serve as a much needed reminder of how far you've come.
Here's what they wish they could tell themselves:
1. "You're not making this up — it's not all in your head. Find one person you can cling to for support and find some help. My life would have taken a completely different course if I could have heard this message when I was young." — Sarah Faith Gaspar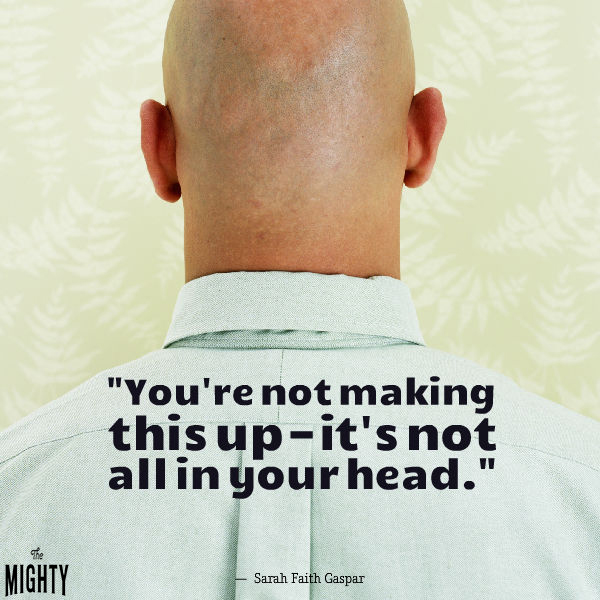 2. "You don't have to hide away and keep what you're feeling a secret. It will be so much easier if you reach out instead of pushing the people who love you away." — Arielle Smith
3. "You are not crazy, you are not alone; this is a physical illness. You are sick, but there is help, there is hope." — Cynthia Castleberry
4. "Not only will you survive, but you will realize you are strong, compassionate and determined to find your joy!" — Sherrie Tyler
5. "It's better to know than not to know. And it takes a strong person to walk through the doors and ask for help." — Vicki Pharris
6. "I would tell my younger self that what I will be dealing with is a disease or disorder like anything physical, and that it is eminently treatable. I would offer my younger self compassion and understanding, and explain to him he is not beyond help." — Kevin Joseph
7. "Don't ever listen to anyone who tells you it's your imagination." — Aurora Jade
8. "Telling other people about what's going on isn't as scary as you might think. In fact, it's downright liberating." — Laura Day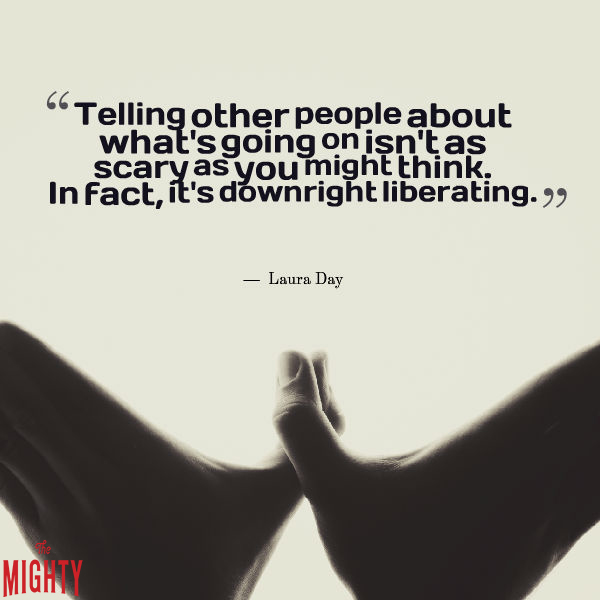 9. "You will still be the same person — before and after the diagnosis. The only difference is that now you're able to better understand your feelings and actions, as well as get the appropriate help to reach your full potential. A diagnosis — knowing why — can be a life-changing difference." — A.V.
10. "Do not be afraid to ask for help! Something I wish I had been able to do is ask for help in my teens when symptoms first started manifesting. It took until I reached 45 to accept my mental illnesses as something I shouldn't be ashamed of. Asking for help is a sign of strength." — Dawn Skidmore
11. "You will not be your diagnoses. You're still the same person you were beforehand. You just have to do things a little differently now. I wish I would have learned that lesson sooner." — Sarah Krueger
12. "The road is hell. You will find little comfort. People will not understand. You will feel like ending everything… but wait, and think. Ending it is permanent, but this… this is temporary. You will find victory, strength, comfort and know who is there for you always. You will find understanding. You are not alone. Stay strong. This is not the end." — Kiona Johnson
13. "It's not as bad as you think. You will be OK. Cultivate friendships. Be honest with people about your symptoms. Avoid harmful people. Accept opportunities. Breathe." — Becky O'Grady
14. "Work on self-care every day." — Margaret Donovan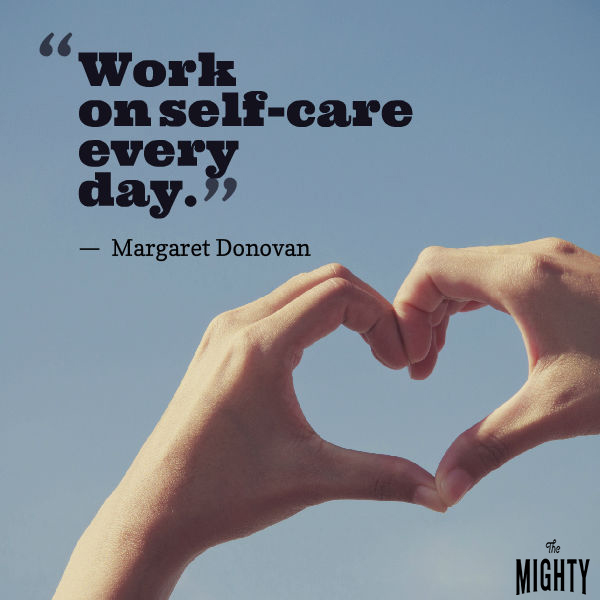 15. "Things are going to get tough. It may seem like you will never get better, but you're going to meet people who will help you find the light at the end of the tunnel. You're going to be OK." — Alli Noelle Wright
16. "You're not making this up. You're not faking it. You're not doing it for attention. The drugs and drinks won't make it go away. You need the help you asked for before. Please don't be ashamed." — Rachel Kathleen Mary Walker
17. "It's better to walk into the ER and say, 'I'm having thoughts of hurting myself,' than the alternative." — Terrie Karp
18. "Don't allow your illness to make your life choices." — Ginger Giannoni
19. "You don't have to hide what you are feeling from people. I know all the stuff you're feeling is scary. But it's OK to reach out and tell someone you are hurting." — MK Knight
20. "Undoubtedly, there will be days you fall down the rabbit hole. Trust me, you won't fall forever, because the people who love you, truly love you, will always be there to catch you." — Holly Bonner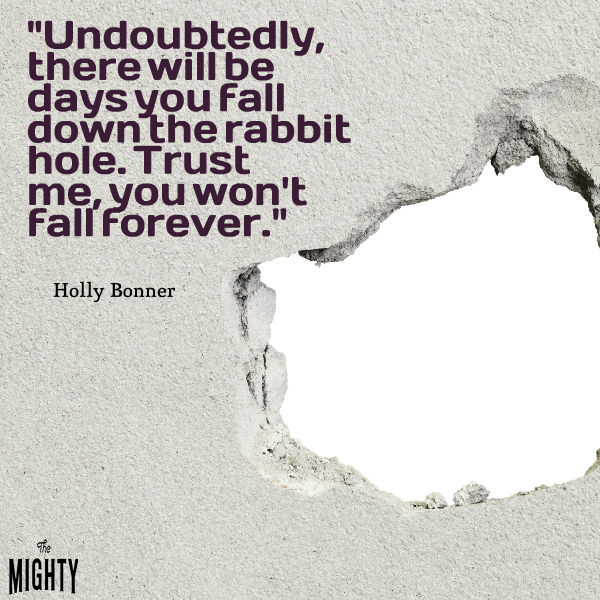 21. "Self-doubt is your enemy. Love yourself; you are worth it!" — Kira Schoultz
22. "Don't wait so long to get help." — Caid Kin
23. "Please ask more questions about what your diagnosis really means." — Jennifer Lovacheff
24. "It's not your fault." — Lesley Rose
25. "Forgive yourself. Distracting, self-destructive behavior is just that — distracting and self-destructive." — Olivia Limón
26. "It's OK to be you. Your mental health does not define you. Find the right medications and stay on them." — Tamesha Scott
27. "You belong in this world just as much as everyone else does." — Jennifer Sebits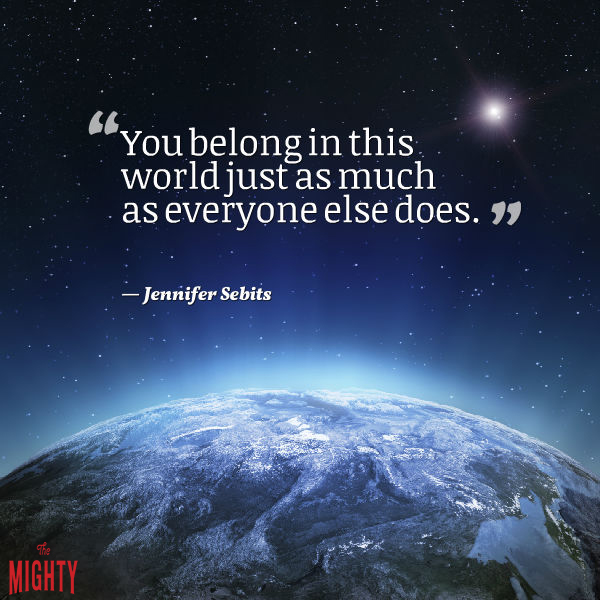 28. "There's a difference between feeling sad and being stuck in depression. Let your mom in. Talk to your counselor. Don't let others just do what they want. Stand up for yourself like the adults keep saying. It might be 'in your head,' but that is in your brain." — Stephanie Campbell
29. "Just because your anxiety means constant fear does not mean you're weak, no matter what people say. You are strong for being able to get through all that fear and still live a full life." — Brittany Breen
30. "Someday you're going to look back on the woman you were and wonder where she went. But don't worry, you'll be stronger than you ever imagined. P.S. It's not a heart attack; it's a panic attack. Save yourself many trips to the ER." — Alicia Chesnutt
31. "You're not doing this to yourself — no matter what others say. You are not incompetent or incapable — you are just sick right now, and eventually doctors will help you get better. But don't stop telling the important people in your life what's going on. They will help, they just won't know what's going on in your head if you don't tell them out loud." — Hillarie Eeg
32. "In a little while, your entire world is going to rocked and forever altered. Dreams will fall away, friendships will fail. Your body will let you down in ways you've never imagined. Take heart, there will be grace for every moment and you will rise from the ashes. You might forever be changed, but you will always be you." — Claire Nieuwoudt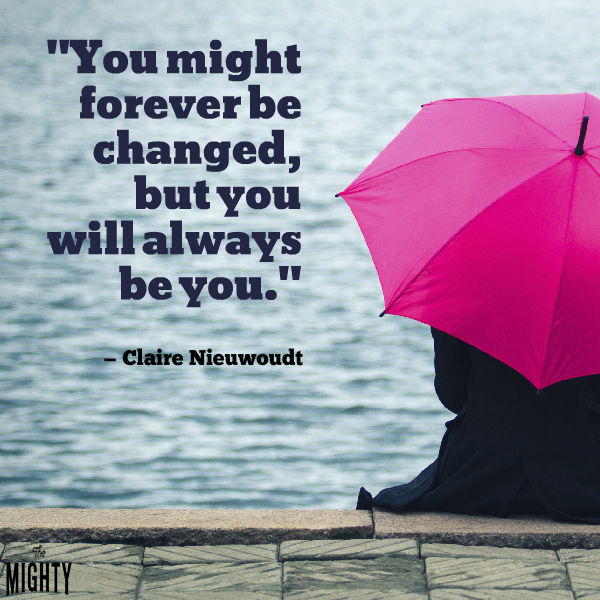 33. "It is OK to acknowledge your thoughts are not fully within your control. And, soon, you'll have an incredible significant other who will make certain you know you're not alone in your battle." — Kristy Steele Rose
34. "You will still be the same person you have always been, just more peaceful. Getting better doesn't mean losing your identity." — Martha Katz
35. "Ride out the wave of hell because I promise you it can't last forever. And what's waiting on the other side is better than anything you have experienced thus far in life. You will grow into an empathetic and caring person along the road to recovery that will guide the rest of your life. You might think you are losing your dream, career or even your life, when in reality it is simply morphing into something better and more meaningful. Growing pains hurt. But you'll come out happier, I promise!" — Adele Espy
36. "You deserve to be loved. And one day you'll understand why." — Patty Tatum
37. "The process of asking for help and seeking treatment won't be easy, but it will absolutely be worth it. Sharing your story will help others." — Nicole Campbell
38. "At last you have answers for what you've gone through. The journey will not be easy, but at least it will be named." — Jenna Renee Gillit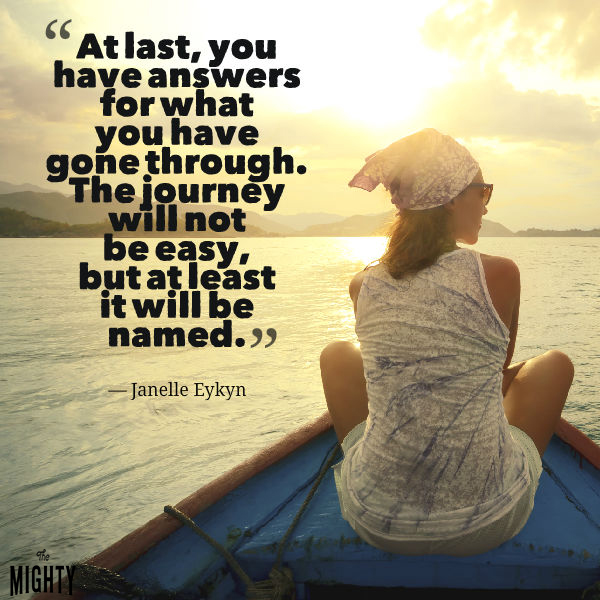 39. "It's OK to have a mental illness. Do not be ashamed, embarrassed or feel less of a person." — Sarah Garrant
40. "You are not the only one like this. There are others. And they think the world of you." — Deborah Kolbe
41. "Ignore the ignorant people." — Chris Wilson
42. "Quit the booze. Find a psychiatrist you trust. Find a therapist you trust. Go to the appointments! Take the meds. Talk about your feelings. Show your people how much you love them and accept their love and support. Do everything possible to let go of shame and guilt." — Nicole Shaw
43. "You are stronger than you will ever believe yourself to be. You will go through some of the toughest struggles and not only survive, but thrive." — Julianne Leow
44. "This is not your normal self. There is a name for it and it is treatable." — Sarah Clark
45. "Help isn't easy, fast or convenient — but it is worth it. You will get through it. You are worth it. You have a purpose." — Janelle Eykyn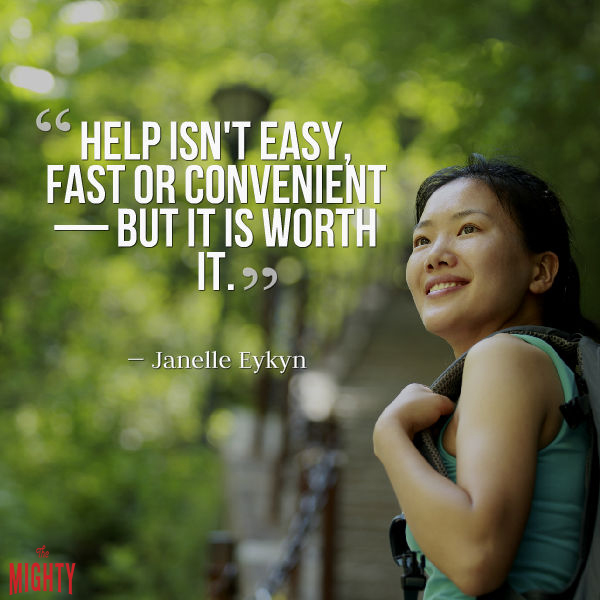 *Answers have been edited and shortened.
Editor's note: These answers are based on personal experience and shouldn't be taken as professional advice. Talk to your doctor before starting on any medication.
If you or someone you know needs help, please visit the National Suicide Prevention Lifeline. You can also reach the Crisis Text Line by texting "START" to 741-741. Head here for a list of crisis centers around the world.
The Crisis Text Line is looking for volunteers! If you're interesting in becoming a Crisis Counselor, you can learn more information here.
Originally published: February 17, 2016