The Danger in Denying the Reality of Mental Illness
---
Five years ago, Greg Abbott, the governor of Texas, vetoed a bipartisan mental health bill because he didn't believe mental illness existed. He was influenced by Scientologists, a group founded by writer/guru L. Ron Hubbard, that opposes psychiatry, among other things. Abbott is still the governor of Texas.
Aside from Scientologists, what leads people to deny the reality of mental illness, when the signs are all around them? After all, one out of every four people will experience a mental disorder at some time in their lives.
I can think of several reasons. Not good reasons, but reasons.
The first is the "boy who cried wolf" syndrome. People who struggle with mental illnesses just keep on struggling with them, darn it. It's not like they have one episode and then it's gone, like a broken arm. After the second non-fatal suicide attempt or the fourth episode of cutting, the observer may conclude that the person with mental illness really has none and the symptoms are just "cries for attention." In other words, the only thing "wrong" with the person is they want to be seen as mentally ill, but really aren't. They are dismissed as "crazy," but not mentally ill.
Then there is caring burnout. A person may be sympathetic to a friend or family member with depression or post-traumatic stress disorder (PTSD) or whatever, may help them through a number of episodes. But at some point, they get tired. They simply can't continue expending the considerable effort it can take to deal with a mentally ill person. "If she cancels or doesn't show up to one more coffee date, that's it!" they think. I have lost friends for this reason.
Another more complicated reason is the denial of a person's reality. I may be suffering internally, but it may not show on the surface. Many of us with mental disorders try to hide the symptoms and sometimes, especially among the high-functioning, it even sort of works for a while. The reality is that the illness continues "behind the scenes," as it were, and is not apparent to others. This is a double whammy. The disorder exists, but is denied by observers — and maybe even the person who has it.
The truth is that my mental illness is real. It is mine to live with and mine to deal with and mine to experience. What you think about it or whether you believe in it does not affect the reality of it at all.
Well, that's not quite true. Denial of mental illness does cause pain to the person who has one. Not being believed, being discounted, being blamed for various behaviors can be at the least wearying and at the most, soul-crushing. It feels like gaslighting to have someone say, "You're not really ill. You're just making it up/a drama queen/overreacting/going through what everyone goes through. Snap out of it!"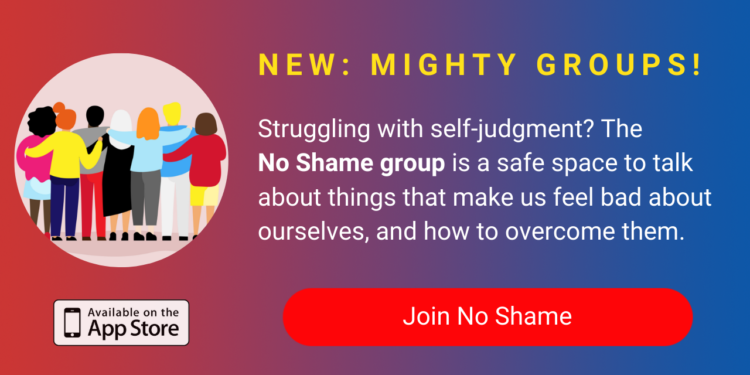 Just imagine what those people in Texas felt when they couldn't get the help they needed because the governor "didn't believe" in mental illness. The bill would have given "more resources to medical professionals that help residents dealing with mental health problems. The bill in question was widely popular, supported by many large medical associations in the state and both political parties," reported the Greenville (TX) Gazette.
Sometimes the only way a person can truly understand the reality of mental illness is when it strikes close to home. One of my own relatives didn't really believe until she saw up close what I was going through. She now at least believes, though she doesn't really understand.
Real understanding may be too big a leap for some people to take who have not experienced mental illness for themselves. Belief in its existence ought to be much easier. Apparently, it isn't.
Getty image by StephM2506
Originally published: August 14, 2020