Disney Alum Alyson Stoner Says She Was Diagnosed With Alexithymia, an Emotion Processing Dysfunction
---
Actress Alyson Stoner, perhaps best known for her roles in "Cheaper by the Dozen" and for being a co-host on Disney Channel's "Mike's Super Short Show," opened up to People magazine about struggling with her mental health growing up.
Stoner shared she struggled with anxiety due to the pressure of childhood stardom, as well as eating disorders, including anorexia nervosa, exercise bulimia and binge-eating disorder. She said though it didn't seem like she was "acting out" like other child stars have been known to, she actually was.
"Some people are complimentary of me when it comes to maybe not acting out in ways that they see other child stars behaving," she said. "I was acting out, but I chose vices that were societally acceptable and praiseworthy."
Though much of the interview focused on Stoner's struggle with disordered eating and her time in treatment, the article mentioned she had also been diagnosed with generalized anxiety disorder, obsessive-compulsive tendencies and alexithymia.
Alexithymia isn't an official diagnosis recognized in The Diagnostic and Statistical Manual of Mental Disorders (DSM), but is a term used to describe when you have difficulty identifying your emotions. According to The Journal of Neuropsychiatry, psychiatrist Peter Sifneos coined the term to describe patients who struggled to engage in some types of psychotherapy.
According to Dr. Deborah Serani, Psy.D., who specializes in treating depression, folks with alexithymia simply can't put words to their feelings — even if they want to. She said some of the typical signs of alexithyma include difficulty identifying and expressing your feelings, limited understanding of what causes feelings and trouble recognizing facial cues in others. It's associated with a variety of mental health conditions, including post-traumatic stress disorder (PTSD) and schizophrenia.
Struggling to identify emotions is not confined to just people who live with alexithymia. Feeling, identifying and expressing emotions is something most people struggle with at some point in their lives.
The Mighty's editorial director of contributors, Sarah Schuster, knows what it's like to struggle with emotions. In her piece, "The 'Emotion Chart' My Therapist Gave Me That I Didn't Know I Needed," she explained why emotions are hard sometimes, and shared the tool her therapist gave her to help identify them. She wrote:
My therapist isn't big on worksheets or homework, so I was surprised when after one session, she excused herself to get something for me. What she handed me was a piece of paper I didn't know I needed: a Wheel of Emotions. It's a simple chart, with different levels of color-coded emotions, meant to help those who possess it identify how they're feeling. I stared at it, and was hooked.
Now, Stoner said she has been focusing on her mental health and well-being. She told People  she even shaved her hair off as "an act of mental health and confidence, not self-destruction." She continued:
I can't tell you how many beliefs and opinions and insecurities fell to the floor with every tuft of hair, and I'm leaving them there. I'm shedding one era and rising as a new being in real time.
Do you also struggle to feel or identify emotions? You're not alone. Click on the image below to join the conversation and connect with others who have been there.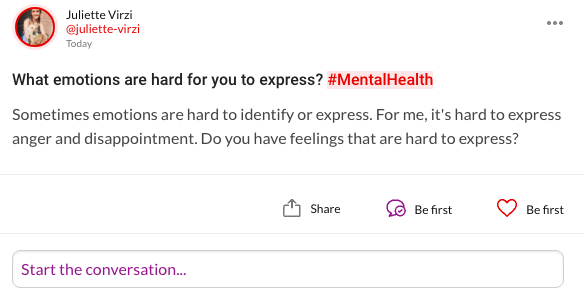 Image via Wikimedia Commons/Cosmopolitan UK