Lady Gaga's Born This Way Foundation Launches #BeKind21 Campaign to Encourage Kindness
---
Lady Gaga's Born This Way Foundation will be hosting its annual #BeKind21 pledge to encourage people to practice acts of kindness for three weeks, from Sept 1. to Sept. 21. The #BeKind21 pledge lasts for 21 days because it takes 21 days for people to form new habits, like practicing kindness. The Mighty is excited to again be a partner of Born This Way Foundation's #BeKind21 pledge.
Kick off the school year by pledging to #BeKind21 to build a habit of kindness by doing something kind for yourself + others every day for 21 days this September ????https://t.co/kH0oVbsxV6

— Born This Way Foundation (@BTWFoundation) August 22, 2020
The Frontlines: Showing kindness can have a positive effect on our mental health and those around us. Here are some things you should know about the connection between kindness and mental health:
Random acts of kindness have been linked to the release dopamine, a chemical messenger in the brain that can give us a feeling of happiness, according to Cedars-Sinai.
A 2012 study found that children who practice kindness are happier and also experience greater acceptance from their peers.
People who practice acts of kindness feel more connected to others, according to a paper published in 2011.
Get more on mental health: Sign up for our mental health newsletter.
A Mighty Voice: Kat Harrison, The Mighty's community content manager, shared that kindness is more important this year than ever. "It's no secret 2020 has been hard to navigate. But at The Mighty, we believe support — for each other, ourselves and the world around us — can make our collective struggles a bit easier to handle. Join our community for #BeKind21 and make kindness a habit in 21 Mighty ways."
Other things to know: Performing acts of kindness — no matter how big or small — can have a large impact on someone's day or even life. Read some first-person stories below from people benefited from acts of kindness:
How to take the pledge: If you want to participate in the #BeKind21 pledge and need some inspiration to think of a kind act for each day, we created a list to help you with the challenge. Some acts of kindness are for others, whether they're strangers or people you love. Others are acts of kindness toward yourself, because you matter too. You can save The Mighty's #BeKind21 calendar below or download a copy here.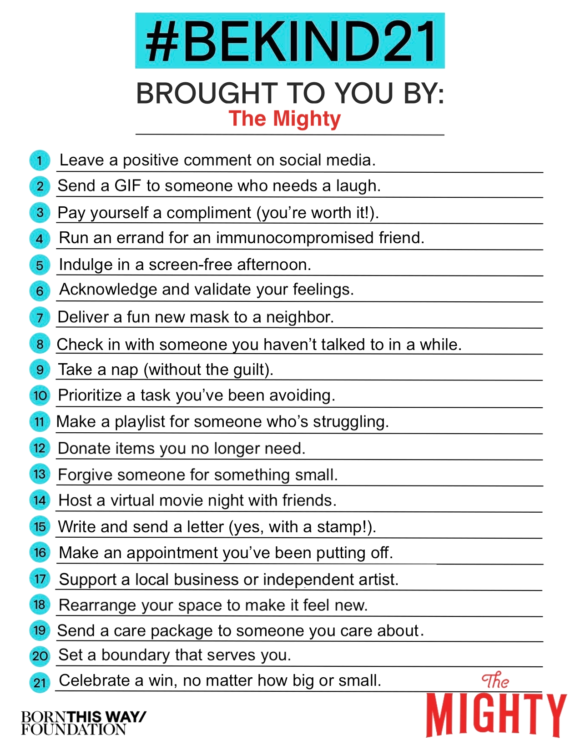 For more, sign Born This Way Foundation's #BeKind21 pledge here and post on social media using the hashtag #BeKind21.
Image via Born This Way Foundation.
Originally published: August 27, 2020