Autistic YouTube Personality Carly Fleischmann Says She Was Sexually Assaulted
---
Update: On Sunday, Carly Fleischmann issued a new statement on Facebook. She removed her original Facebook post, saying "people were threatening" her family and put her address online. She added she has "started working on making [her] life a safer place" and that she is safe.
On Friday, Feb. 1, media producer and YouTube personality Carly Fleischmann, a woman on the autism spectrum who is nonverbal, alleged in a Facebook post that she had been sexually assaulted "on a couple occasions" by her father's boyfriend.
Fleischmann, who hosts her own popular YouTube series, "Speechless with Carly Fleischmann," also uploaded a photo of a man lying behind her on a couch. The Mighty has not yet confirmed if the man in the photo is her father's boyfriend. Since telling her father of the incidents, Fleischmann said he "kept on sweeping my statements under the rug." In addition, Fleischmann revealed her staff started talking behind her back, saying she "was lying or not telling the truth."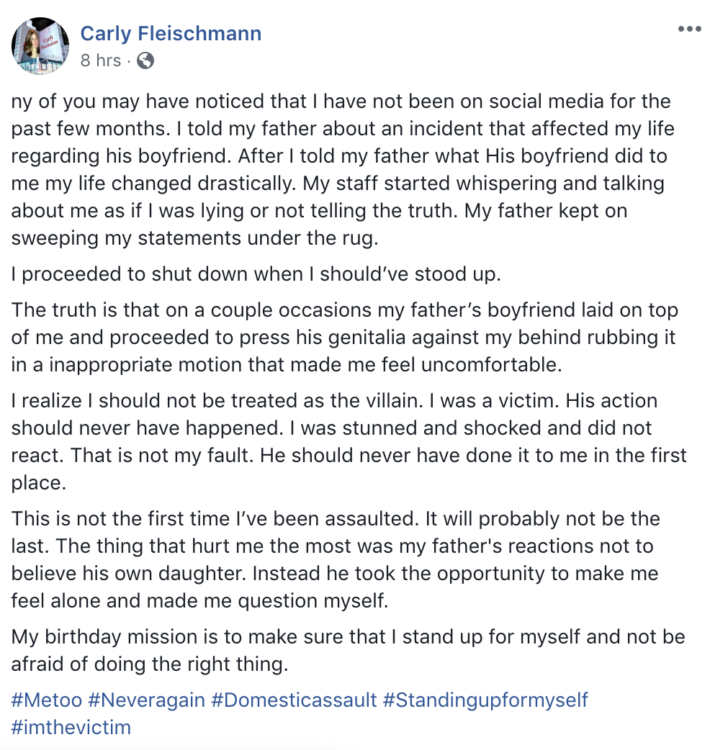 The full Facebook post reads [Warning: This post contains graphic language.]:
ny of you may have noticed that I have not been on social media for the past few months. I told my father about an incident that affected my life regarding his boyfriend. After I told my father what His boyfriend did to me my life changed drastically. My staff started whispering and talking about me as if I was lying or not telling the truth. My father kept on sweeping my statements under the rug.

I proceeded to shut down when I should've stood up.

The truth is that on a couple occasions my father's boyfriend laid on top of me and proceeded to press his genitalia against my behind rubbing it in a inappropriate motion that made me feel uncomfortable.

I realize I should not be treated as the villain. I was a victim. His action should never have happened. I was stunned and shocked and did not react. That is not my fault. He should never have done it to me in the first place.

This is not the first time I've been assaulted. It will probably not be the last. The thing that hurt me the most was my father's reactions not to believe his own daughter. Instead he took the opportunity to make me feel alone and made me question myself.

My birthday mission is to make sure that I stand up for myself and not be afraid of doing the right thing.

#Metoo #Neveragain #Domesticassault #Standingupformyself#imthevictim
The response on Facebook to Fleischmann's post has elicited a variety of comments, from those who have called the Toronto police on her behalf, from parents of nonverbal autistic children voicing concern for their own children, to those thanking her for speaking out.
A spokesperson for Toronto police confirmed to The Mighty that a complaint was made in October 2018 and an investigation started. Fleischmann declined to press charges at the time of the original complaint. Toronto police are aware of the Facebook post. The case is still open, police said. 
Arthur Fleischmann, who commenters believe to be Carly's father, also commented on the post, defending the actions of his boyfriend. 
"Carly – I'm sure he was not intending to make you uncomfortable," Arthur commented. "He thought he was hugging you and i'm sure would apologize if given the chance. Let's discuss."
Eight hours after Carly's original post, Facebook user Aaron Kalinowski commented on the post, "for anyone still concerned about Carly's safety the local police got involved and now she is with loved ones." Kalinowski told The Mighty he's a fan of Carly's and does not know her personally — that the source of his information came from another advocate. The Mighty reached out to the other advocate and has yet to hear back. 
Sexual assault against those on the spectrum or with disabilities occurs at even higher rates than those without disabilities. According to a U.S. Department of Justice National Crime Victimization Survey, women with intellectual disabilities are more than 12 times as likely to be a survivor of assault than those with a disability, yet it's often not talked about.
It's also common for those who are assaulted to be unable to react in the moment. It's part of a fight-flight-freeze response. When in danger, such as during a sexual assault, a person's nervous system kicks into high gear. This can be in preparation to fight or run away, but if the system gets too overloaded, there is another line of defense — to freeze. The human brain and body make the decision to freeze in a split second without conscious awareness. 
"Activation, dissociation and freezing are based on the evolution of survival behaviors," trauma expert Peter A. Levine wrote in his book, "Waking the Tiger." "When threatened or injured, all animals draw from a 'library' of possible responses. We orient, dodge, duck, stiffen, brace, retract, fight, flee, freeze, collapse, etc. All of these coordinated responses are somatically based- they are things that the body does to protect and defend itself."
Fleischmann wrote that she wanted to speak out publicly to remind others that what happened was not her fault and to reclaim her power.
"I proceeded to shut down when I should've stood up," Fleischmann wrote. "My birthday mission is to make sure that I stand up for myself and not be afraid of doing the right thing."
The Mighty reached out to Carly Fleischmann and has yet to hear back.
If you or a loved one is affected by sexual abuse or assault and need help, call the National Sexual Assault Telephone Hotline at 1-800-656-4673 to be connected with a trained staff member from a sexual assault service provider in your area.
Header image via Carly Fleischmann's Facebook page.