Why I Gave My Pharmacy a Christmas Card This Year
---
I cannot express the gratitude I owe my pharmacy. They have guided me through the hills and valleys associated with having many chronic illnesses, such as bipolar disorder, anxiety, obsessive compulsive disorder (OCD), postural orthostatic tachycardia syndrome (POTS) and epilepsy. I have moved around a lot in my university years, but I always come back to my home town eventually and every time they have been there to support me and care about my health.
When I had my first seizure, they were there.
After my first suicide attempt, they were there, making sure I only got safe doses of my medicine.
During my first and worst manic episode, they were there.
With my fainting spells before my diagnosis of POTS, they were there.
Through my compulsions and obsessions, they are there.
When medications make me wonky, they are only a phone call away.
I am relatively stable now, having many diagnoses in my pocket and a solid treatment plan in place. I am no longer a "medical mystery," but I will always be chronically ill and dependent on a pharmacy to safely oversee my medications.
Sometimes it's easy to forget how important our pharmacists are in our recovery and management of our chronic conditions. I bet it's easy for them to forget how valued they are. That's why I sent my pharmacy team a thank you Christmas card.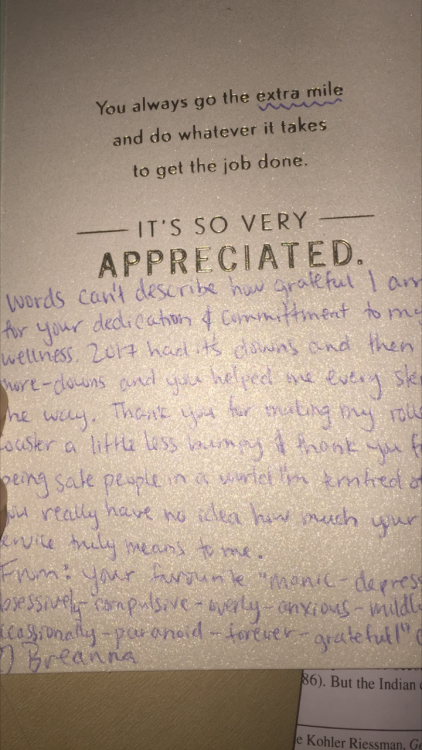 I wrote this on the card, "Words can't describe how grateful I am for your dedication and commitment to my wellness. 2017 had its downs and more downs, and you have helped me every step of the way. Thank you for making my roller-coaster a little less bumpy, and thank you for being safe people in a world I'm terrified of. You really have no idea how much your service really means to me.
From: your favourite 'manic-depressive-obsessively-compulsive-overly-anxious-mildly-epileptic-occassionally-paranoid-forever-grateful' customer"
(They laughed at my sign-off, at my request.)
It's not hard to remember to thank a doctor who revived you, the nurse who got the IV line on the first poke, or the surgeon who did a successful procedure and made a scar that was barely noticeable — but pharmacists are our hidden heroes, working diligently behind the scenes to ensure our safety, well-being and optimal health.
Thank one today, chances are they've done more for us than we know.
We want to hear your story. Become a Mighty contributor here.
Lead image via contributor
Originally published: December 14, 2017