Demi Lovato Apologizes to Fans After Sharing 'Funniest' Prank She Ever Pulled
---
Demi Lovato answered a slew of questions from fans on Twitter Sunday. One fan asked the singer to share the "funniest" prank she's ever pulled on someone. Lovato replied with a story about the time she surprised her bodyguard with a "lady of the night."
In a now-deleted tweet, Lovato said she hired a sex worker to surprise her bodyguard, Max Lea, while in Las Vegas. According to Lovato, the woman walked into his hotel room and "grabbed him in his 'area,'" and Lea freaked out.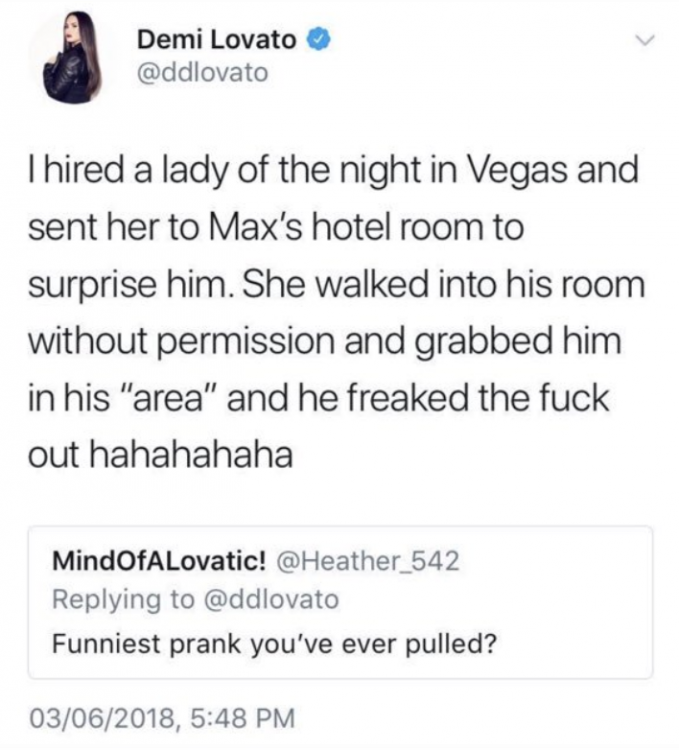 Fans quickly replied to Lovato's retelling accusing her of facilitating sexual assault, and that assault is not a "funny prank." Twitter users said that, even if she did not know the woman would do that, Lovato shouldn't find it funny.
I know but the fact that she laughed and found it funny is the problem. laughing at such an event is never okay, she violated his personal space. if the roles were switched and this happened to demi herself or any female, y'all wouldn't defend or justify any of this

— nate (@kissmylipa) June 3, 2018
Other fans defended the singer. Some said Lea was OK with the encounter. Lea added that he was not offended by the prank and came to Lovato's defense.
Really! You guys all need to 'Grow Up'! It was a joke and a fun prank from someone whose incredible to work for and with. And does everything she can for her fans, family and friends. Love you @ddlovato

— Max (@2Maxx22) June 3, 2018
After the backlash, Lovato tweeted that people would be offended by something as minuscule as "craving jelly beans." A comment that was met with more outrage, as Twitter users said it made light of sexual harassment and assault.
yeah cos craving jelly beans is the same as laughing at sexual assault

— ???????? (@nxfsos) June 3, 2018
Jelly beans and getting a stranger to grab someone's crotch are not the same thing

— ???????????????????????? ✨ (@simranm17) June 3, 2018
Lovato later tweeted out an apology to those who were offended by her tweet.
So sorry if anyone was offended ????

— Demi Lovato (@ddlovato) June 3, 2018
She also tweeted that people should have compassion for "someone who made a simple mistake" and that she doesn't need to be educated on sexual assault.
For all of those coming at me rn, listen to the lyrics of Warrior and maybe you'll have more compassion for someone who made a simple mistake. Of all people I know about sexual abuse. You don't have to educate me.

— Demi Lovato (@ddlovato) June 3, 2018
While women experience higher rates of sexual assault, men are not immune. One in six men will be sexually assaulted, according to national data, and one out of every 10 rape victims is a man, according to RAINN.  Men may be less likely to come forward about an assault because of societal standards of males. This could include the idea that a "real man" could protect himself or could never be assaulted.
Image via Creative Commons/jenniferlinneaphotography