Demi Lovato Honored Parkland Shooting Survivors in a Big Way at Her Concert
---
On Monday night, Demi Lovato kicked off her Tell Me You Love Me tour with more than just her hits. During the concert in San Diego, she invited students who had survived the Parkland shooting to join her on stage — and dedicated her song "Warrior" to them.
On February 14, 17 students lost their lives after a gunman entered Marjory Stoneman Douglas High School in Parkland, Florida. Lovato personally reached out to several students on social media and invited them to her concert.
"Seeing something that disturbing is just painful to watch, and my heart goes out to them," she told CBS This Morning, about her decision to reach out to the students, adding:
It has nothing to do with politics. It's about healing. How can we help these students heal from what they've been through These students who came here today and shared their stories are so incredibly brave and courageous, and they really are warriors in my eyes.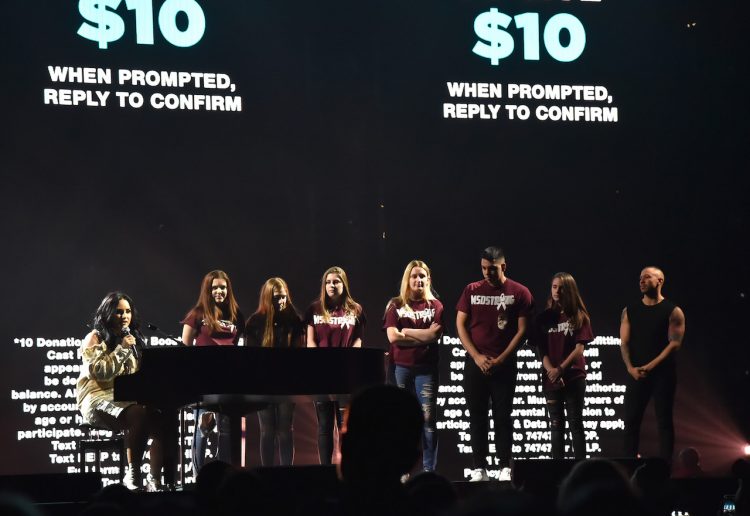 While the students were on stage, she also urged concert-goers to donate money to help provide mental health services to the Parkland community. On a big screen behind her piano, fans could donate $10 to the CAST Foundation — which will apply that money towards mental health resources for the students.
Lovato has long been open about her journey with bipolar disorder and addiction. In January, she announced that all ticket-holders would be able to attend group therapy and CAST Centers wellness workshops as part of her tour.
"[It's] basically like a therapy session before the concerts and we have speakers from all over and we're also helping out with different charities from around the country," Lovato told Good Morning America. "So it'll be an incredible, very moving and inspiring experience."
In a press release, Lovato said the first night of her tour was incredibly special, adding it was an honor to hear the survivor's stories. She said, "I want to make sure their voices are being heard and we can provide them with the mental health and post-trauma care they need."
Originally published: February 27, 2018