Why This Viral Story Is Emotional Abuse — Not Just a 'Bad Haircut'
---
Sometimes the news isn't as straightforward as it's made to seem. Juliette Virzi, The Mighty's associate mental health editor, explains what to keep in mind if you see this topic or similar stories in your newsfeed. This is The Mighty Takeaway. 
Two weeks ago on January 31, a mother named Christin (whose last name will remain anonymous to protect the privacy of her child) shared before and after photos of her daughter's recent short haircut on Facebook. Christin claimed her daughter's father and stepmother forced the girl to cut her hair as punishment for getting highlights for her birthday.
The post, shared to Christin's public Facebook account, included three photos — one of her daughter with long hair, and two of her with a cropped cut where she appears visibly upset, covering her face. Of the photos, Christin wrote,
This is what my daughter looked like Sunday when I took her home and the other two pics is what happened today before she was brought to me…all over me having highlights put in her hair for her birthday!
In the screenshot below, we have blurred the daughter's face and blacked out the mother's last name and location to protect the child's identity.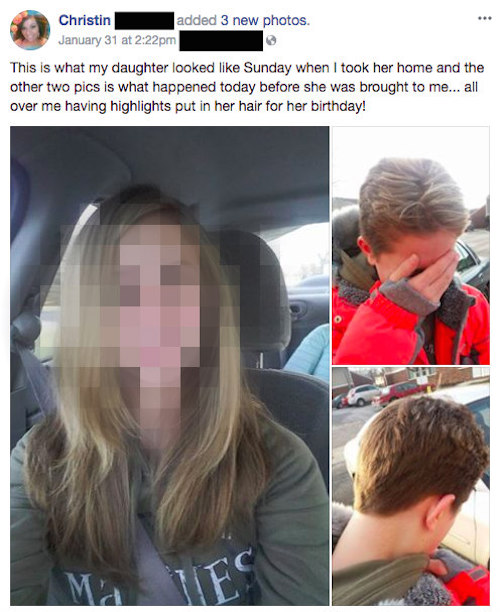 Christin's post quickly went viral, igniting online debate about whether the father and stepmother's actions constituted child abuse or not. BuzzFeed News reported on Monday that police were investigating a possible child abuse claim as a result of the story. The Mighty reached out to Christin for comment, but have not heard back.
Though opinions on this story were mixed, a number of commenters were quick to dismiss the situation as just a "bad haircut." But this story is so much more than a "bad haircut" — it's emotional abuse — and it's important we talk about why.
When I was in fifth grade, my mother cut off all my hair. My sister and I had lice, and because she was tired of combing through our long, thick hair to find lice eggs, she decided to cut it all off to save her time and energy. I was a "tomboy" at the time, so once my long hair went, so did people's ability to discern my gender. Adults frequently asked my mother how old her "son" was when they met me, and my classmates taunted me for looking like a boy. I cried often about this and felt ashamed of myself and insecure about the way I looked —  even after my hair had grown back.
My haircut was not a "punishment" as in Christin's daughter's case, but it was damaging because I was stripped of my right to make a choice about my own body and appearance. Rather than giving me the opportunity to discuss options like cutting my hair to a shorter length I felt comfortable with, I had no say in the matter and had to live with the consequences of someone else's choice. This in conjunction with other instances of emotionally abusive behavior reinforced a detrimental core belief I learned in childhood that I still struggle with to this day — my feelings don't matter and I don't deserve to have my own boundaries. 
Christin's daughter may have experienced similar feelings of embarrassment and loss of agency. According to BuzzFeed News, Christin took her daughter to a team of stylists after getting her short haircut, to regain some of her "confidence."
"When she first came in, she came in with her hood on. She didn't want anyone to see her. She was feeling pretty embarrassed," Shannon Vanderhost, one of the stylists told BuzzFeed News.
When it comes down to it, this story isn't just about a haircut, it's about using parental authority to unfairly punish or control a child when they are not yet old enough to know how to assert their own boundaries.
Here are three things to keep in mind when you see this news circulating:
1. Emotional Abuse Doesn't Always "Look" Like Abuse
Emotional abuse often flies under the radar because it's not as overt as other kinds of child abuse, like childhood sexual and physical abuse. According to Karyl McBride, Ph.D., LMFT, humiliation is a common form of childhood emotional abuse. This can include punishing or putting a child down in front of an audience. In this particular case, Christin's daughter must walk around with her undesired haircut, bearing the evidence of her punishment for months.
"Shaming and humiliation causes fear in children. This fear does not go away when they grow up," McBride wrote. "It becomes a barrier for a healthy emotional life and is difficult to eradicate."
2. Abusive Actions in Childhood Can Have a Long-Term Impact
In a long-term study on overly controlling parents, it was found that parents who exert too much control could cause lifelong psychological damage to their children. According to the study, psychologically controlling behavior can include being unwilling to let a child make their own decisions — something we see in Christin's daughter's case when she is punished for getting highlights in her hair.
"Psychological control can limit a child's independence and leave them less able to regulate their own behavior," Dr. Mai Stafford, of the Medical Research Council's (MRC) Lifelong Health and Ageing unit at UCL said.
It's important we identify and talk about childhood emotional abuse because its effects don't stay confined to childhood, and can damage a child's functioning in adult life.
3. Acknowledging One Situation of Abuse Doesn't Invalidate Another
When reading this kind of news, people are often quick to point out that a situation doesn't really "count" as abuse because it isn't as "bad" or "serious" as other instances of child abuse. Not only is this kind of comparison never helpful, it's invalidating and ignores the real psychological implications of emotional abuse.
According to the American Psychological Association, children who've experienced emotional abuse and neglect may face similar or worse mental health problems as those who were physically or sexually abused.
Acknowledging seemingly "minor" cases of childhood emotional abuse doesn't take away the validity or pain of survivors of other kinds of child abuse. When we dismiss childhood emotional abuse, we inadvertently invalidate survivors, trapping them in silence and shame.
Though Christin's daughter's story may look like a parenting "mistake" to some, it's important we call it what it is — emotional abuse.
If you or a loved one is affected by domestic violence or emotional abuse and need help, call The National Domestic Violence Hotline at 1-800-799-7233.
Originally published: February 15, 2018