There Is Life After Surviving Domestic Violence
---
Editor's Note
If you've experienced domestic violence, the following post could be potentially triggering. You can contact The National Domestic Violence Hotline online by selecting "chat now" or calling 1-800-799-7233.
On the eve of us closing on our new house, I find myself reflecting on how much life has changed for me in the past few years.
There was a time where I literally had nothing to my name. Let me back up just a bit first and explain this a little better.
A few years ago I found myself escaping from a relationship that was both physically and mentally abusive. Looking back, I fell for a man that was a giant red flag from the beginning. He told me he loved me, wanted to marry me and move in with me all within the first 30 days. If the roles were reversed and one of my girlfriends told me this, I would've told her to run fast and far as possible.
I thought I was living a fairytale, but I was actually living a nightmare. It ended when he tried suffocating me with his t-shirt. He kicked me and my son out of our home and we were left homeless. All my life's hard work and belongings destroyed right in front of my eyes. 
I'd like to say life got easier right away, but it didn't. It got incredibly hard, and I had to fight with every fiber of my being to be where I am today.
I found myself living in a homeless shelter for abused women. Reality was a tough pill to swallow for me. I grew up in an incredibly privileged household with the best of everything, and thought I was "better" than that. It didn't take long for me to realize how very wrong I was. I would gladly eat my humble pie all over again because I was surrounded by some of the strongest women I've ever known. We were all in the exact same situation, one not one person in this world deserves. I had to apply for medical assistance, food assistance and get on a waiting list for government housing.
There were days I would starve so my son wouldn't go hungry. He would ask me why I wasn't eating, and I'd lie and tell him I wasn't feeling well. And as a mother, I would do that over and over again so he would never have to experience what it's like to be hungry.
We would drive by houses for sale, and we would both dream what it would be like to once again have a home of our own.
In the meantime I met another man, and funny story — I told him I'd never date him because I thought he had a bad attitude. And let me tell you how good that felt to say after my last relationship. 
Long story short, that attitude and many other things about him are what I ended up falling in love with. That attitude actually ended up being everything we needed, because it wasn't a bad attitude, but perseverance, that helped push us all together today.
We've all had to fight through a lot to be sitting here today, getting ready to close on a house tomorrow. And I'll appreciate every single ounce of that house, because I know what it's like to not have my own walls.
I know what it's like to wake up and have your days be filled with worry and fight. Worry about where your next meal is going to come from, and the fight to get that meal.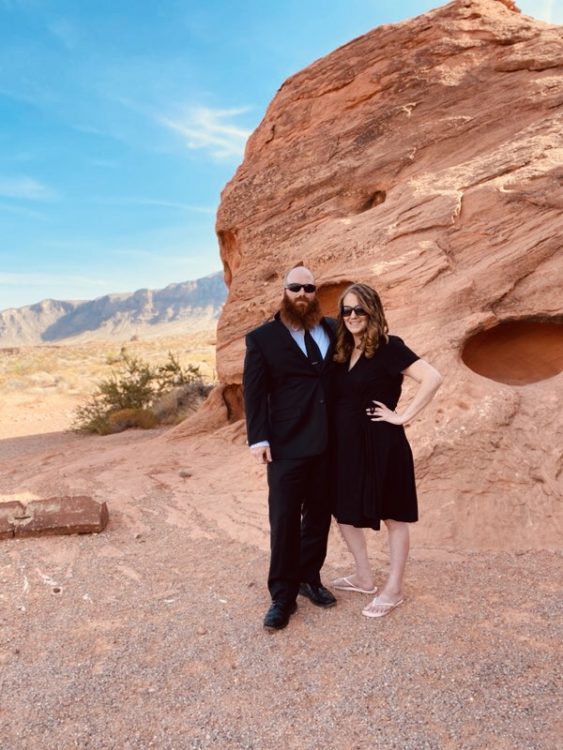 I want to tell every single woman that's struggling in an abusive relationship, to reach out to someone if you can. The domestic violence hotlines were my lifeline. There are so many programs out there that can and will help you. But lastly, I want to tell you that you're worth it. 
And for anyone struggling with homelessness, please keep fighting. It can get better.
Each of us played a key role in tomorrow. Paul, thank you for loving us all enough to help provide us this beautiful, but busy life. And thank you for giving me beauty in what I thought was only an ugly world for so long.
Getty image Ponomariova_Maria
Originally published: October 22, 2020