What I Wish You Knew About My Emotional Support Dog
---
This is Gracie.
She is a retired racing greyhound. She loves jerky, soft surfaces and wearing bandanas. Her hobbies include sleeping through most of the day and running faster than everyone else at the dog park. But she also has another role — she is an emotional support animal. ESA, for short.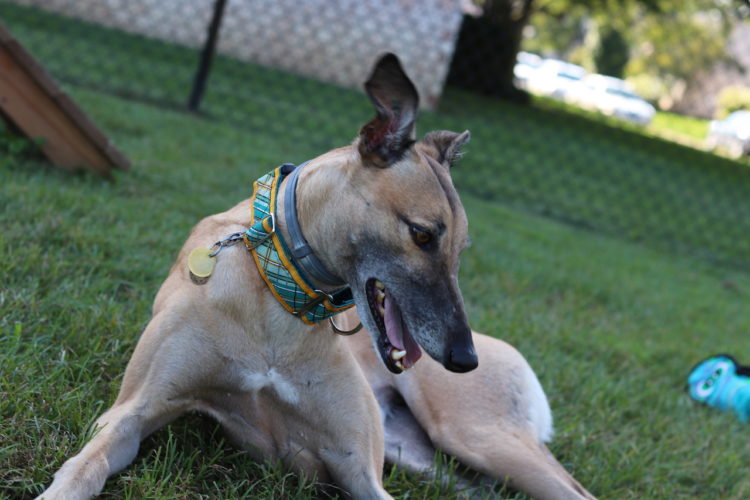 Gracie is my best friend, my closest companion and a support for my mental health struggles. As a graduate student who currently works from home, I spend a lot of my week writing in isolation. When I feel the need for some community interaction, I put my books and my laptop in my backpack and grab Gracie's leash. We go to one of two coffee shops in my neighborhood that allow support dogs. I find a table with floor space and I ask the people sitting near me, "Are you OK with having my dog next to you?" If the answer is yes, I lay out Gracie's travel blanket and sit down to work. Gracie lies down on her blanket and settles in for several hours of quiet writing time. She watches the action at the counter and lifts her head to be petted by familiar humans, and eventually dozes off. Once in a while, she will check on me and receive an ear rub, or maybe a potty break. When I wrap up my work and we step outside, Gracie's excitement is visible. She knows that her job is done and that she'll be rewarded with playtime and treats. She knows that she took care of me and now it's time for me to take care of her.
This article is for anyone who has questions about ESAs or has felt confused and on edge at the idea of allowing dogs in public spaces. It is also for everyone who has ever asked me, "Is that a service dog?" "Why are you bringing your dog with you?" or, "Can't you just leave her at home?" In particular, I am writing this for people who work for and at businesses where responding to ESA inquiries is a challenge. After a year of navigating emotional support dog access, I've experienced a broad spectrum of reactions to Gracie from overwhelmingly positive to downright awkward — from trips to cafes, bookstores and friends' apartments, to meeting up with friends and colleagues.
The things I have to say are based entirely in my own experience and are the result of a lot of overanalyzing interactions, venting to friends and strategizing solutions. ESAs are a grey area in the North American culture of pet ownership. We are still figuring out boundaries and norms. Gracie and I play a small but real part of learning with our community what our access can and should look like. Here are the things I wish you knew about my emotional support dog.
The label of ESA is not just an excuse to take my dog everywhere.
My need to have a support dog is real and the benefits she brings to me are important for my wellbeing. We really don't want to break any rules. I am not looking for a way to cheat the system to sneak in my dog. I would love to bring her everywhere with me, but I understand that is not possible. If you turn us away, it's OK. We will find an alternative or maybe I'll come back without her.
Yes, I do have a letter from a certified healthcare professional. But no, I do not have to show it to you.
I have done everything necessary to secure the required paperwork for owning an ESA. The only time I've actually used this paperwork is when I gave it to my landlord to receive the ESA housing accommodations. There is no law stating that I need to show evidence of ESA certification to people in public spaces. If there was an official collar for ESAs, I would gladly buy it for Gracie, but there isn't. Please take my word for it when I tell you that she is a support dog. I wouldn't disclose my need for support (a vulnerable act in itself) if it wasn't true!
Having her with me makes it so that I can patronize your business more often.
Without my support dog, I get anxious and edgy. I don't leave my house as often without her, and when I do go out my energy is much less relaxed. When I can bring her into a business with me, I am friendlier and more likely to spend money!
Your ability to see how my ESA is supporting me does not determine the validity of my need for her.
My need for an ESA is not visible to most people. I probably don't come across as someone who needs mental health support, and because of that people are likely to think my support dog is just an excuse to bring my dog with me. While there is one specific condition on which my ESA paperwork is based, my reality is that I have multiple intersecting physical, mental and emotional daily experiences that are positively impacted by having a support dog. I wish there was a simple way for me to explain to people the plethora of ways that Gracie supports me, but these are not things that are easy to say to strangers. Many of my friends don't even know the story of how and why I got ESA certification. While I love to talk about mental health and reduce stigma, that's not a battle I have the energy to fight every day when I go out for coffee. Please respect my privacy and my health needs.
The presence of my ESA might actually benefit your business.
For the businesses that welcome us, Gracie and I are loyal regulars. We encourage all of our friends to patronize those places, and we come back again and again. We love to support businesses that care about the wellbeing of their customers. I have also learned from hundreds of interactions that Gracie's soothing presence is relaxing and pleasant for others. Making small-talk about dogs with strangers has become a part of my daily routine. These are both people who want to get down on the floor with her and those who would like to admire her furry presence from afar. Gracie meets everyone from where they are. One of the greatest unexpected benefits of bringing her out into the world with me is seeing the way that she provides stress-relief for other people who are stressed, anxious or lonely. I am sure that lifting up the moods of your customers is good for business as a whole.
I intentionally adopted a dog who would be well-suited to joining me in public spaces.
Gracie is calm and quiet. Jumping on people or barking are not in her repertoire. She prefers to be left alone to nap on her blanket. Most of all, she loves to be around the presence of humans. It brings her peace just like her presence does for me. We are happiest together — whether at home or out and about — which is why she stays glued to my side. If my dog became stressed in public or was antisocial, I wouldn't put the pressure on bringing her out with me. My ESA and I share a deep and complex relationship built on a mutual desire to be together, and she understands that behaving in public is part of that.
I am continually training her to behave well in public.
We are a work in progress. Learning to handle excitement over other dogs, fear of loud noises and fitting into a busy café are just a few of the challenges that Gracie and I have to solve when we go out together. She has made leaps and bounds in her progress so that she can reduce any unwanted impact on others in public spaces. Whenever we run into a problem — whining, too much excitement, distressing someone with a fear of dogs — we always remove ourselves from the space immediately. I get a lot of compliments on her behavior which mean a lot to me because I take her training very seriously and I'm proud of her results.
My dog has feelings, too.
She has a personality, a history and a body. She can sense your negative energy if you don't want her there and it makes her less likely to relax and keep a low profile. This is another reason why a simple "no" is better than letting us in under the condition that we be monitored and glowered at by everyone. She also has long legs and sometimes needs to stretch, adjust and take a moment to find a comfortable position. We would never begrudge a human the right to do that, so please be kind toward her by not commenting disparagingly on her size. She is not doing anything wrong by being in her body.
It is helpful if you provide a clear policy and educate your staff.
A straightforward, "No, we don't allow emotional support dogs," is so much better than the oft received, "Uh… I guess that's OK." Being given different answers by different staff and eventually being sternly told to leave by a manager leads to embarrassment and resentment. A frequent area of confusion that arrives is that staff don't understand support dogs versus service dogs. Managers tell them that service dogs are allowed (as they legally should be!) but they think that support dogs are included in that category. The hot-cheeked shame of realizing that the salesperson by the door who said we were welcome to come in was unfounded and being stared out the door by a more senior employee (as well as every other customer in the room) is truly awful. When this happens, I regret trying to go out with my dog and I wonder what was wrong with how I asked. Please take a little bit of time to do some research, set a policy and share it at your next staff meeting.
Your tolerance of my health needs brings me so much joy.
Like a lot of us, I didn't know anything about ESAs until a few years ago when the news story about that person with the emotional support peacock was circulating. While for many people, this sensational headline was a source of humor and incredulous head-shaking about these strange times, for me it was a source of hope and opportunity. I never knew there were laws that allowed you have animal to support your health needs. It wasn't until years later that I utilized these laws myself, because it took a long time for me to build up the resources to take care of dog. Now that I have Gracie, a whole in my heart has been filled and my days are filled with so many more smiles and adventures than I ever had before. When I am given a "green light" to bring her with me to a friend's house, a meeting or a café, I feel a weight lifting from inside me. I know that today, I'll be able to breathe a little easier. Thank you to everyone who has welcomed my ESA into your space.
And finally – yes, you may pet my dog.
Image provided by contributor
Originally published: June 14, 2019